March
27th March
Dinner for His Honour Mr Justice Picken, Presiding Judge in Wales and His Honour Mr Justice Rowlands.
I was delighted to host a dinner at home for no less than two Judges and twelve others guests and it was a very enjoyable start to the Easter break.
24th March
Citizenship Ceremony at Llandudno
Together with Brian Cossey, the outgoing Chair of Conwy Council and Lady Hanmer, the High Sheriff of Clwyd in Nomination, I attended what was to be my last ever citizenship ceremony as High Sheriff.    Today we welcomed new citizens who originally came from Greece, The Philippines, Germany, Pakistan, Italy and Spain.  I was absolutely delighted to be presented with a beautiful bouquet of flowers by Registrar Suzanne Fisher at the end of the ceremony and I shall miss her friendly welcome and that of her loyal assistant Haydyn.
23rd March
High Sheriff of Clwyd's 2018 Community Awards, Ruthin School
This event took place in order to recognise volunteers and community projects across North East Wales.  I was very fortunate to be supported by Ruthin School and, in particular, by Ian Welsby, Vice Principal, who could not have been more helpful.  My grateful thanks go to the entire Ruthin School team, Helen Wilkinson and Damon Jones of Denbighshire Voluntary Services Council, Henry Dixon Master of Ceremonies, Dave Evans of North Wales Police and Victoria Colbatch-Clark who provided administrative support.
After the delicious buffet laid on by Ruthin School, we filled the School Hall with a capacity crowd and were entertained by young musicians to start the proceedings.  Thereafter I presented awards for the Crimebeat Youth Fund, the Association of Voluntary Organisations in Wrexham, Community and Voluntary Support Conwy, Denbighshire Voluntary Service Council, Flintshire Local Voluntary Council, the High Sheriff's Special Award and the High Sheriff's Personal Awards.
22nd March
High Sheriff of Gwynedd's Annual Crimebeat Awards, Bangor
I was invited by Professor Sian Hope to attend the ceremony that was held at The Management Centre, Bangor Business School.  The overall winner of this year's Gwynedd and Anglesey Crimebeat awards was announced and The High Sheriff also recognised the valuable work undertaken by members of Neighbourhood Policing Teams who work so hard to support our communities.
It was a memorable evening with the Under Sheriff Mr Gwilym Owen and the Citizens in Policing Manger/Special Constabulary Chief Office, Mark Owen, also addressing the audience.
21st March
Justice in a Day, supported by PACT, at Wrexham Police Station
This was the second time I've attended a Justice in a Day session with local schoolchildren and it was just as powerful and informative as the session I attended at Theatr Clwyd.  After a morning of role-play based on a true case, arranged by Theatr Clwyd's Sponsorship Manager, Annie Dayson and Emyr John, Creative Engagement Associate we attended Wrexham Court to hear a working magistrate pass sentence on the defendant in question.   The police then made a special exception for our group and showed us around the Custody Suite in the basement of the old police station which was certainly a salutary tour for all of us visitors.
21st March
Swearing-In Ceremony for New Justices of the Peace, Mold Crown Court
I was invited by the Lord Chancellor's Advisory Committee to witness the Swearing-In Ceremony for the 25 newly-appointed Justices of the Peace.  His Honour Judge Rowlands, The Lord Lieutenant and The Chairmen of North East Wales, North Central Wales and Montgomeryshire Benches presided over the ceremony and it was very interesting to meet many of the new magistrates in the Training Suite afterwards.
20th March
Visit to Mold Crown Court
I was invited by His Honour Mr Justice Picken, Presiding Judge of Wales, to join him on the bench to observe a murder trial.  Five civilian witnesses were cross-examined that day and it made for a fairly harrowing time to hear details of their experiences.  The case continues for a further week.
18th March
The High Sheriff of Shropshire's Legal Service at Ellesmere College
Charles Lillis, The High Sheriff of Shropshire and his wife Veronica invited my husband David and I to this very significant occasion.  Despite the approaching spring season we were blighted by another snowstorm the night before but our hosts managed to handle all the inevitable last-minutes adjustments to seating plans and arrangements with admirable aplomb and ensured the day ran as smoothly as possible.
We started with Lunch in the impressive Big School Hall, then robed and joined the four processions into the School Chapel.  These comprised The Ecclesiastical, The Judicial, The High Sheriffs and the Lord Lieutenant's.  It was a magnificent sight with all those involved dressed in appropriate attire.  The historic service was followed by Afternoon Tea for several hundred guests in Big School.
16th March
Theatr Clwyd 2018 Season Launch, Mold
I was delighted to be invited by Tamara Harvey, Artistic Director and Liam Evans-Ford, Executive Director at the Theatre, to hear about the new season of theatre, music, dance and community events.  I feel we are very fortunate to have such a thriving and vibrant cultural hub here in the heart of Clwyd.
16th March
Annual Open Meeting at Glyndwr University, Wrexham
The Open meeting was held at Glyndwr University in the newly developed student learning space 'The Study' to launch the Annual Review of the Work of the University and to present its future vision.   It also showcased the students' achievements and offered an opportunity for them to present their work in progress.   It was fascinating to observe some large and small drones at first hand and to be shown by one of the science post-graduates how they will be able to enhance work with Artificial Intelligence in the future.
I was accompanied by Lady Hanmer, the High Sheriff in Nomination for 2018/19 and she was pleased to meet Professor Maria Hinfelaar, The Vice Chancellor and members of the University Board of Governors together with teaching staff, students and numerous local dignitaries.
14th March
Citizenship Ceremony, Wrexham
There is always a warm welcome in Wrexham by Registrar Ruth Cooke and her staff.  Today the Mayor of Wrexham John Pritchard, the Lady Mayor Anne Pritchard and I witnessed 12 new citizens swear their oaths and, as always, it was a very poignant ceremony which I felt privileged to attend.
13th March
Dangerpoint Trustees' Meeting at North Wales Fire and Rescue, St Asaph
Today we welcomed two new Trustees to the Board and congratulated Julie Evans, Head of the Centre, who along with Cat Harvey-Aldcroft and the rest of the team, do a brilliant job in Talacre, teaching young people about the potential dangers all around us.
8th March
Citizenship Ceremony in Ruthin Registry Office
Today both the Lord Lieutenant and I were in attendance to welcome our newest British citizens and to witness them swearing the oath to Her Majesty The Queen.  As ever, it was a very moving ceremony and, for me, an opportunity to bid farewell to the helpful and professional staff who work at the Registry Office.
I was also invited to the GirlguidingCymru annual gathering in Cardiff today but was sadly unable to attend due to the long distance between Ruthin and Cardiff.
6th March
National Final of the Prince's Trust Awards in London
I was delighted to be invited to attend this prestigious event as I am supporting the Prince's Trust in Wales during my year of office.  It was held at the London Palladium and His Royal Highness, The Prince of Wales, President of the Prince's Trust was on stage to present awards to the Young Ambassador of the year, the Enterprise Award, the Breakthrough Award, The Rising Star Award, the Mentor of the Year, the Educational Achiever of the Year, the Community Impact Award and the Young Achiever of the Year.
This annual event honours the achievements of some of the journeys travelled by young people across the UK, who have overcome barriers to transform their lives and fulfil their potential.  In the past year, the Prince's Trust programme has inspired over 57,000 young people to make a success of their lives.
1st March
Chairman of Denbighshire County Council's Charity Dinner in Rhyl
My husband and I were invited to attend this very special Black Tie event by the Chair, Councillor Pete Prendergast.  It took place at the recently renovated 1981 Restaurant, part of the Pavilion Theatre complex, in Rhyl.  All proceeds from the evening were donated to two very deserving causes, Rhyl RNLI and St Kentigern Hospice St Asaph.  There was heavy snowfall that evening but, despite the inclement weather, the dinner was extremely well attended and we all enjoyed the drinks reception, followed by a lively round of Bingo, before settling down to a delicious dinner and some musical entertainment.
---
February
28th February
Theatr Clwyd Production, Mold
I was very disappointed to miss the Guest Night of a production of The Great Gatsby but the infamous bitterly cold 'Beast from the East' blew in and the inclement weather conditions caused havoc with many people's travel arrangements.
24th February
A Night at the Opera, a Gala Celebration Concert at Glyndwr University
My husband David and I were very kindly invited to a Gala Concert at the William Aston Hall in Wrexham by Professor Maria Hinfelaar, Vice-Chancellor of Glyndwr University and Matthew Ellis, Chairman of Wrexham Symphony Orchestra.  It was an evening of celebration to commemorate Glyndwr's 10th anniversary of university status and the Orchestra's 20th year as the orchestra in residence at the University.  The evening commenced with a drinks reception, followed by a buffet in the University's United Kitchen and then culminating in a wonderful selection of staged scenes from some of the most popular operas of all time including works by Verdi, Mozart, Puccini, Bizet, Strauss and Lehar, brilliantly performed by members of North Wales Opera Studios.   The Hall was totally full and everyone without exception really enjoyed the evening which was evidenced by a number of standing ovations.
23rd February
Justice in a Day, Theatr Clwyd and Mold County Court
This scheme, now in its eighth year, was created jointly by North Wales Police and Community Trust (PACT) and Theatr Clwyd.  It is designed to educate young people about the consequences of crime.  The interactive day-long drama education workshop brings together agencies from the criminal justice system and approximately 4,000 young people have benefited from this worthwhile and thought-provoking experience so far.   Around 40 Year 8/9pupils from local schools are invited to attend each session and these are held over a period of five weeks in Mold, Prestatyn, Wrexham, Llandudno, Llangefni, Dolgellau, Caernarfon and Portmadoc.
I spent the entire day there and witnessed first-hand how the actors and magistrates fully engaged with the young people present in a helpful, informative and unintimidating way.  Clearly the scheme works in encouraging them to make the rights choices in life and to avoid becoming involved in the criminal justice system.
22nd February
Citizenship Ceremony at Mold Registry Office
Today Nerys Ellis, Superintendent Registrar and her team welcomed six new citizens whose countries of origin ranged from The Republic of Ireland, the Czech Republic, Poland and Latvia. Both Brian Lloyd, Chair of Flintshire Country Council and I said a few words of welcome to our newest citizens and, as before, I found the whole ceremony very poignant, not least because this will be my last time attending the Mold ceremony.
21st February
Crimebeat Meeting at North Wales Police Divisional HQ, St Asaph
This was my last Crimebeat meeting as the serving High Sheriff although I will continue to sit on the committee for a further twelve months.  I have very much enjoyed the experience and have learnt a great deal about crime prevention among our young people and the lengths to which some adult volunteers will go in order to support them.
20th February
Dinner for Mr Justice Lewis, Presiding Judge for the Circuit of Wales
My husband David and I were delighted to welcome Mr Justice Lewis to our home in the Vale of Clwyd.  It was a very convivial evening with a range of guests from the worlds of the law, the arts and commerce.
20th February
Visit to Blind Veterans UK in Llandudno
The High Sheriff of Shropshire, Charles Lillis and his wife Veronica accompanied me on a visit to the hugely impressive Centre in Llandudno which helps all blind veterans regardless of age or when they served, to recover their independence and discover a life beyond sight loss.  We were warmly welcomed by Mr Paul Wynne-Williams, Facilities Manager and Nicky Shaw, Director of Operations.  They briefed us on the charity's mission of helping ex-service men and women who become blind either on active service or after they have left the forces. We were then shown around the home by Billy Baxter, an instructor, who is himself totally blind, and who has appeared on Top Gear with Jeremy Clarkson and driven round the famous track amongst his many other amazing feats. Billy's extremely positive attitude to leading a full life despite his blindness was inspirational as was the general feeling of the centre.
17th February
Citizenship Ceremony at Llandudno
On this occasion Peter Lewis, Vice-Chair of Conwy Borough Council and his wife Jane attended together with my husband David and I.   As usual Suzanne Fisher, Superintendent Registrar and her team made us all feel extremely welcome and we were delighted to witness nine new citizens, originally from Turkey, Tunisia, Thailand, The Philippines, Ukraine, Romania, and Germany, swear their allegiance to the Queen and our country.  For new citizens the path to making this momentous decision is a long journey and many have lived and worked in Britain for over ten years to gain this recognition.
7th February
PACT Meeting at North Wales Police HQ, Colwyn Bay
This was my last meeting as ex-officio member of the Trust.   It has been an illuminating experience, hearing about the work of North Wales Police and its community trust.  We are lucky to have such a dedicated group of trustees, working hard on our behalf to look after the people of North Wales.
2nd February
Meeting with Ali Ussery, Founder of Haven of Light
I met Ali at last year's High Sheriffs' Awards Ceremony and was very pleased to invite her to tell me more about her initiative to help victims of modern-day slavery.  Ali is supported in her work by Conwy Voluntary Services Council and The Bishop of St Asaph amongst others.  Haven of Light's laudable aim is to raise awareness of modern day slavery and human trafficking in North Wales where there are many more victims than was once thought.
1st February
Crimebeat Visit to Itaca (Information Technology andcoffeeand..) in Abergele
Today Dave Evans of North Wales Police and Manager of PACT and Crimebeat and I visited an Abergele Youth Inclusion project at ITACA, ably and enthusiastically run by Tomos Jones.  This project works mainly with young people who are in the Inclusion Support Unit at YsgolEmrysap Iwan who are all at risk of becoming excluded from mainstream education.
The project encourages the pupils to take part in the John Muir Award, an engagement initiative that encourages people to connect with, enjoy and care for wild places and provides an alternative learning environment from the classroom model.  Over the summer months in 2017 the project took place in various locations ranging from Gwrych Castle, PlasMenai, Rhyl Roundhouse, Bryn Pydew Nature Reserve and various beaches.
During the winter months there are more indoor activities and today we witnessed a number of young people learning to cook delicious and nutritious meals for themselves and their families.  Just before we arrived they had been given a talk on internet safety, increasingly a priority for vulnerable young people.
---
January
29th January
Holocaust Memorial Day Commemoration, Cardiff
My husband David and I travelled to Cardiff to attend Wales' National Commemoration Memorial Day at City Hall Cardiff.  This is the international day of remembrance for victims of the Holocaust and other genocides.  We honoured the survivors of regimes of hatred and took the opportunity to reflect on ways in which we live our lives today in order to bring our communities together to create a safer, better future.   It goes without saying that it was an incredibly moving and poignant occasion and I felt very honoured to be able to represent the county of Clwyd along with three other Welsh High Sheriffs, representing their counties.
Those participating in the service included The Rt. Hon. Carwyn Jones AM, First Minister of Wales, Councillor Huw Thomas, Leader of Cardiff Council, The Reverend Canon Stewart Lisk, Honorary Chaplain to Cardiff Council, The Rt. Hon The Lord Mayor of Cardiff, Rabbi Rose of Cardiff United Synagogue, the Cardiff County & Vale of Glamorgan Youth Choir, Lady Milena Grenfell-Baines who was saved from the Holocaust on the last train and Dr MukeshKapila who was part of the first British team to go to Rwanda after the genocide there and Head of the United Nations' operations in Sudan in 2003.
27th January
The Young Dragons 1st Aid Competition, Rhyl
This event was organized by Gerry Frobisher, North Wales Young Dragons co-ordinator in collaboration with St John Ambulance Service.   62 young people and their leaders, from all over North Wales, took part in the 5th Annual Competition at Rhyl Drill Hall.  A team of 13 volunteers from St John Cymru provided the scenarios, casualties and judges for the teams of two, representing uniformed youth groups from the Young Dragons, Scouts, Guides, Army Cadets, Sea Cadets and Fire Cadets.   Our role was to present Certificates and Shields to the winners.   It was clearly a very popular event with The Lord Lieutenant of Gwynedd Edmund Bailey, the High Sheriff of Gwynedd Professor Sian Hope, the Deputy Lord Lieutenant of Clwyd Colonel John Williams and myself all in attendance.   We presented awards and certificates to many participants.  It was a particular pleasure to witness twins Tabitha and Chloe Cook, both adult instructors, win the Young Adults' category as I understand they participate in the competition every year.
25th January
Past, Present and Future High Sheriffs' of Clwyd Luncheon, Soughton Hall
We invited all the High Sheriffs of Clwyd to join us for lunch at the historic hotel Soughton Hall, near Mold, and had a very convivial catch-up with around thirty of us.   Amy, Kayleigh and the rest of their team did us proud with a delicious three-course lunch and I very much hope we will be able to make this gathering of Sheriffs an annual event in the future.
22nd January
High Sheriff of Cheshire's Visit to Jodrell Bank Observatory
Sarah Callander-Beckett, High Sheriff of Cheshire, invited a number of High Sheriffs from the North-West to visit the Observatory.  Visiting High Sheriffs came from Greater Manchester, Cumbria, Lancashire, Staffordshire and Shropshire, all accompanied by their consorts.   It was my first visit to the Observatory despite having lived in the adjoining county of Clwyd for so long and it was a very informative day of discovery about space, engineering, history and science in general.    We were given an introductory talk by Lorna Harper, Deputy Director of Jodrell Bank Discovery Centre, followed by a talk by a member of the Square Kilometre Array Team.   Then Keir Powell-Lewis gave us a talk and presentation on garden developments at the Centre and we concluded with an excellent lunch and a walk around the enormous telescope itself.
19th January
High Sheriff of Staffordshire's Legal Service for the Hilary Term
My husband David and I were delighted to be invited to the Legal Service of Humphrey Scott-Moncrieff in Stafford.   It was the third legal service in his year of office so he and his wife Judy were superbly well prepared and very welcoming and professional hosts.    They were ably supported by Paul Slater, the Under Sheriff.   The formal day of opening of the High Court commenced with a Church Service at the Collegiate Church of St Mary in the presence of The Recorder of Stafford, His Honour Judge Chambers QC.    The service was presided over by The Reverend Prebendary Richard Grigson, Rector of Stafford.
I was invited to process together with the other visiting High Sheriffs from Derbyshire and Worcestershire and the full Shrieval and Mayoral party from the County Buildings to the Church and thereafter from the Church to the Crown Court to witness the formal opening.
After the Court opening and a fascinating talk by the High Court Judge about some of the cases heard in Stafford, dating back several hundred years, we returned to the Church for refreshments and were then treated to a really good lunch in the splendid surroundings of the Oak Room in the County Buildings.
10th, 11th and 18th January
Wrexham, Mold and Ruthin Citizenship Ceremonies
Unfortunately we High Sheriffs are just as susceptible to the flu as everyone else and I was very disappointed indeed to have to miss three citizenship ceremonies in January.   They represent such an important part of our role and I shall look forward to attending others in February and March.
---
December 2017
12th December
Dangerpoint Meeting, Talacre
Our final trustees' meeting of the year was held at the Centre itself in Talacre.   We offered congratulations to the team members present for such a successful concert on the 1st December and their many other fund-raising activities during the year.
5th December
Clwyd Special Riding Centre Carol Concert
I was invited to attend and to give a reading at the carol concert by friend and committee member Sally Anson.   The beautiful service took place at Eaton Chapel and was followed by a charity drinks reception in The Long Room.  Other readings were given by Lady Tamara van Cutsem, John Bromley-Davenport QC, Ann Lambert, Chair of the Clwyd Special Riding Centre and Christina Trevanion.   The choir, VoxVocavit, sounded quite spectacular within that historic setting.
4th December
Denbighshire County Council Carol Service
I attended the service at St Thomas' Church in Rhyl at the kind invitation of the Chairman of Denbighshire County Council.   It was very well attended by Members and Officers of the council and their families and the collection was made towards Rhyl RNLI and St Kentigern Hospice, St Asaph.
2nd December
Llanarmon-yn-Lal Christmas Concert
A service of Nine Lessons and Carols was held at St Garmon's Church.  The theme this year was Sacred and Secular 12 Days of Christmas and virtually all the congregation was dressed up as swans, milk maids, partridges, gold rings and the like.  It was a fantastic sight to behold thanks to the hard work of the inimitable Musical Director, Ruth Evans.   In order to enter into the spirit of things I was asked to join the group of swans, bobbing up and down with our feathers, as our turn came to sing.  A wonderfully festive and community-minded evening.
1st December
Dangerpoint Christmas Concert
Today marked the beginning of the season for Christmas Concerts.  Dangerpoint, an independent charity educating people about how to avoid risks, accidents and injuries and to help them stay safe in a fun and interactive way,held theirs at the wonderfully atmospheric St Asaph Cathedral.   Reverend Dot Gosling of Llanasa Church acted as Master of Ceremonies and we were entertained by pupils from Ysgol Bryn Garth, Gronant CP, YsgolMornant and YsgolTrelogan, many of whom had proud parents in attendance. Also participating were the Flint Ladies Choir and the North East Wales Sinfonia Quartet.    It was a fine testament to the hard work of all the Dangerpoint team.
---
November 2017
30th November
Mold Citizenship Ceremony
I was accompanied this time by Lady Hanmer, High Sheriff in Nomination for 2018, so that she could familiarize herself with the procedure in advance of taking up office in April next year. It was also a great opportunity for her to meet the Chair of Flintshire County Council Brian Lloyd and his wife Jean as their respective years will overlap for at least a month. Noelle Baston, Superintendent Registrar, presided over the ceremony and we welcomed new citizens from Thailand, India, Ukraine, Nigeria, Poland and France.
29th November
Informal dinner for His Honour Mr Clive Lewis, presiding Judge of Wales
My husband David and I were delighted to welcome His Honour to Gyrn Castle, formerly the home of my step-father and mother Sir Geoffrey and Lady Bates.
We allowed plenty of time for our guests to have a tour of the house which is steeped in shipping history before sitting down to dinner with two retired lawyers and a former transplant surgeon, now musical conductor, who provided sparkling company. All in all, a very relaxed and enjoyable evening.
23rd November
The High Sheriffs Association of England and Wales, Regional Meeting for Wales at Llangoed Hall, Brecon
This was my third opportunity to attend this enjoyable and informative event. It is a gathering of current Welsh High Sheriffs, High Sheriffs in Nomination for 2018 and 2019 and County Under Sheriffs. The day's programme is designed to offer advice to future High Sheriffs and to share the expertise of former and present incumbents. William Hopkins, our Regional Coordinator, made a great job of his first year organizing the meeting.
This year's speakers were Mr Byron Lewis, HM Lord Lieutenant of West Glamorgan, Mrs Elizabeth Hunter, HSA Council Member, Mrs Anne Morgan, HSA Council Member, Mr Philip Jones, Director of the Prince's Trust Cymru, Mr David Davies, High Sheriff of Mid Glamorgan, Mrs Sue Balsom, High Sheriff of Dyfed and Professor Sian Hope, High Sheriff of Gwynedd. Topics covered included the link between the Lieutenancy and the Shrievalty, Ladies uniforms and their hats, Declaration and first 6 months in office, Fund Raising, advice from the Association Council and future Nominations. Despite being a High Sheriff currently in office, I too learnt a great deal from the day and also very much enjoyed meeting some new Welsh colleagues.
22nd November
Prince's Trust Awards in Cardiff
Professor Sian Hope, High Sheriff of Gwynedd and I were invited to The Prince's Trust Cymru Awards Ceremony at the majestic National Museum in Cardiff as we are both supporting the charity during our year of office. In the past year over 3000 young people in Wales have changed their lives for the better with support from The Trust and the awards ceremony, sponsored by TK Maxx and Homesense, highlighted some of the incredible achievements and journeys travelled by young people in our region. There were 7 awards in all – Young Ambassador of the Year, Breakthrough Award, Engineering Rising Star, Enterprise Award, Educational Achiever of the Year, Community Impact Award and Young Achiever of the Year. It was a wonderful evening of celebration and we listened to an uplifting video message by HRH The Prince of Wales to close the event.
15th November
Royal Visit to Bangor Racecourse
In Clwyd today we were delighted to receive a royal visit from The Princess Royal who was the guest of honour at a charity raceday at Bangor Races. I asked my Under-Sheriff Henry Wilson and his wife Caroline to represent me whilst I went to the Citizenship Ceremony in Wrexham with the Deputy Mayor. It was disappointing about the diary clash but that is the nature of our role from time to time.
12th November
Annual Service of Remembrance in Wrexham
This was held at R.W.F Memorial, Bodhyfryd and the Officiants were the Bishop of Wrexham, the Vicar of St Giles' Parish Church and the Cathedral Dean. Also in attendance were the Mayor and andMayoress, Deputy Mayor and Deputy Mayoress, Dr Helen Paterson CEO and other Senior Members of WCBC, Lady Hudson DL and her husband Sir Mark Hudson, a number of MPs and AMs, together with representatives from all branches of the forces from The Royal Navy, Army, RAF, RNA, RAFA, ATC and Royal British Legion. Also represented were the North Wales Police, Welsh Ambulance Service and North Wales Fire and Rescue Service. Large numbers of wreaths were laid on the RWF Memorial and the First World War and Second World War Memorials. This was the first time I have attended a Service of Remembrance in person and it was even more moving and poignant than I expected. We will remember them.
9th November
Ruthin Citizenship Ceremony
On this occasion, Pete Prendergast, Chair of Denbighshire County Council, was unable to be there, so I had the pleasure of attending with DL Colonel John Williams instead who warmly welcomed our newest citizens to Clwyd.
9th November
PACT Meeting at Police HQ in Colwyn Bay
The first presentation was made by the truly inspirational Brenda Fogg, who came to Llandudno many years ago as a homeless person herself and has since set up Hope Restored to support others who have found themselves in the same predicament. It is clear that her work has literally been lifesaving for many people and she is a greatly valued member of the local community. Presentations were also made by the Chief Constable Mark Polin and the Deputy Police and Crime Commissioner, Ann Griffith, that looked at the challenges ahead for the police which include the new phenomena of 'cuckooing', county lines, modern-day slavery and internet crime. We also looked at new applications for financial support from PACT.
8th November
High Sheriffs' Consultative Committee Meeting
This is a biannual meeting, held at the serving High Sheriffs' home, to discuss administrative matters relating to current and future Shrieval issues. As always, very constructive and convivial.
5th November
A Service of Choral Matins at Chester Cathedral
The High Sheriff of Cheshire, Mrs Sarah Callander Beckett, was kind enough to invite many High Sheriffs from neighbouring counties to attend the annual Service to mark the beginning of the Legal Year. It was attended by Her Majesty's Judges, Magistrates and Representatives of Civic and Legal Bodies in Cheshire. High Sheriffs in attendance hailed from Shropshire, Greater Manchester, Merseyside and Staffordshire. We were fortunate enough to listen to Preacher, Robert Buckland QC, Solicitor General. It was a splendid occasion with all those who were invited to process clothed in their formal robes or court dress and the weather was kind enough to reserve a huge hailstorm for when we were actually in the Cathedral rather than when processing to and from the Town Hall.
2nd November
Glyndwr University Honorary Fellows Dinner
Unfortunately I was unable to attend the Graduation Ceremonies at the University whilst I was away in London but I was delighted to be able to return to Clwyd in time for the very special Honorary Fellows Dinner at Rossett Hall Hotel, hosted by the Vice-Chancellor Maria Hinfelaar. We celebrated the awards given to Colette Bleakley, Brian Howes OBE, Julia Grime, Mervyn Cousins and Bruce Roberts for their services to the University, Nathan Davies for his services to disability rights, Shani Rhys James MBE for her services to the Arts and Professor Rhys Vaughan Williams for his services to Engineering and Industry.
1st November
The High Sheriffs' Association of England and Wales 46th AGM
I attended my third High Sheriffs' Association of England and Wales AGM and Luncheon, this time held at the magnificent Fishmongers' Hall in London. There were around 200 guests comprising past, present and future High Sheriffs together with a number of Under-Sheriffs. This year our guest of honour was Lord Neuberger of Abbotsbury who was the first President of the Supreme Court, a position from which he has only just retired. As in previous years it was a wonderful occasion to see so many members of the Shrievalty gathered together and we all felt honoured to hear the moving speech from our retiring Council Chairman, Jeremy Burton, who will be much missed.
---
October 2017
25th October
Welsh National Opera at Venue Cymru, Llandudno
The Welsh National Opera were performing all week in North Wales and I was very kindly invited by Ruth Evans of WNO and Richard Thomas of Mostyn Estates to watch Tchaikovsky's Eugene Onegin. On this occasion my companion was Jonathan Major, a former High Sheriff of Clwyd, who explained to me the plot line of the opera which is all sung in Russian. We were greeted by the WNO Administrative Team for drinks, canapés and a short talk before taking our seats in the magnificent auditorium for a very special and unique evening.
21st October
Citizenship Ceremony in Llandudno
We welcomed three new British citizens on this occasion who originally hailed from Poland, South Africa and China. They are a credit to their families and friends as the path to attaining full citizenship status is long and challenging.
18th October
Dinner Party at RAF Valley, Anglesey
We were invited by the Station Commander Group Captain Nick Tucker-Lowe and his wife Nicola Thunhust to join them and other guests for dinner at The White House in Caergeiliog, their official residence. It was a fascinating evening, learning all about life at RAF Valley and the extraordinary levels of fitness and skill required by the pilots themselves to endure the extreme G-forces whilst flying the fighter jets. Nick and Nicola were extremely hospitable and we thoroughly enjoyed our visit.
18th October
Prince's Trust in Wales Breakfast and Networking Event
As I am supporting the Prince's Trust in Wales during my year of office, I was invited to join Phil Jones, Director of the Prince's Trust Cymru, and his hard-working team and a wide range of existing and potential partners to an event in order to hear about their plans to support more young people in North Wales to improve their lives through education, training and employment. The aim is to increase the number in Wales from 3000 to 6000 a year. Three young Welsh people told us how their lives have been transformed and turned around with help from The Trust and to hear first-hand their own life stories made a huge impact on the entire audience. It was a very uplifting occasion.
15th October
From the fast-paced world of the police to the more sedate world of the church, I attended the 150th Anniversary Service of St Bartholomew's Church in Sealand at the invitation of Reverend Danny Evans, Vicar of Broughton and Sealand. The church first opened its doors to the people of Sealand on 15th October 1867 and was built as a spiritual support for the community of the newly-reclaimed area of Sealand which straddles the English-Welsh border. Today's service reflected the one in 1867 but also looked forward to the future role of the church within the community. The current Bishop of St Asaph and the Dean of Chester officiated as did those in the roles back in the 19th century. Refreshments were then on offer under the canopied tent in the pretty church garden.
From Sealand I made my way to Prestatyn to attend the Civic Service of the Mayor Gerry Frobisher that was held at the historic St Melyds Church in Meliden. There were no less than 31 mayors in attendance and I have never seen quite so many gold chains in my life! It was a lovely occasion with many young people from the Young Dragons comprising cadets from Rhyl Sea, Prestatyn Army, St John Ambulance, Police, Fire, Scouts and Guides. The service was led by Reverend John Harvey. Thereafter we enjoyed a delicious tea at the neighbouring Red Lion.
14th October
A change of tempo and scene for our next assignment. My husband David and I were invited by the Prestatyn Police Force to join them on their Ride Along Scheme to witness for ourselves exactly what they do whilst on duty in the station, the van and on foot patrol. The purpose of the scheme is to provide an opportunity to gain a practical insight into the nature of police work during routine patrol activities that are carried out in public by North Wales Police's Local Policing Service front line officers.
We duly arrived at Prestatyn Police station and were provided with high visibility jackets by PCSO Dave Bill in preparation for our patrol in the van and on foot. For the first part of the evening Dave and his fellow PCSO Paris drove us around their 'patch' that covers the whole of Prestatyn and stretches to Rhuddlan and Dyserth. I was particularly keen to view Morfa's parkland in Prestatyn that is going to be restored to its former glory by a group of young people under the supervision of PCSO Dave Bill as part of the Clwyd Crimebeat scheme, supported by the High Sheriff.
For the second part of the evening, after visiting the officers at Rhuddlan police station, we joined PC Angela Seymour and her PCSO colleague in the van and headed back to Prestatyn whereupon we witnessed a 'blue light' incident in a car park! We were so impressed by the hard work and dedication to duty of all the PCs and PCSOs we met that evening and feel incredibly fortunate that we have such strong policing in our area and can feel safe and secure.
8th October
The Legal Service, the most important event of the year for Welsh High Sheriffs, took place this year at Llandaff. Next year it will be the turn of Bangor in Gwynedd. It is a service for all those concerned with the administration of justice in Wales. This was my first visit to the Cathedral and it very much lived up to expectation. Together with the High Court and Circuit Judges and QCs we assembled at Prebendal House next to the Cathedral to prepare for the Legal and Civic Procession. The judges were all resplendent in their full ceremonial robes and full-bottomed wigs. The Cathedral was full to the brim and the singing utterly magnificent.
After the service the entire congregation adjourned to the historic Cathedral School for refreshments and mingling.
7th October
A weekend away in Cardiff to attend the Welsh Legal Service at Llandaff Cathedral. On Saturday evening Gilbert Lloyd, High Sheriff of South Glamorgan arranged for all 8 Welsh High Sheriffs, their consorts and a number of Under-Sheriffs and High Sheriffs in Nomination to attend an elegant black-tie dinner at the majestic Mansion House in Cardiff. Gilbert's guests also included Morfudd Meredith the Lord Lieutenant of South Glamorgan and her husband Alan and Chaplain John Rowlands and his wife Catryn. It was a really enjoyable evening and it was made all the more atmospheric as we had to dine by candlelight when the power failed throughout the building!
6th October
My husband David and I, along with numerous other guests, were invited to Deeside Engine Plant by Toyota UK who were celebrating 25 years of engine manufacturing in Wales. The speakers included the Cabinet Secretary for Economy and Infrastructure, Ken Skates AM and the UK Government Minister for Wales, GutoBebb MP who reiterated what a huge success Toyota's presence in Deeside has been for the local economy and our work force and how delighted they are to see Toyota expanding still further in our part of North East Wales.
After the formal part of the presentation and speeches concluded we were given a wonderful buffet lunch that included some delightful Japanese delicacies amongst the British fare. Subsequently around 12 of us were given a guided tour of the Plant itself which was hugely impressive and efficient.
5th October
This was my third year attending the Lady High Sheriffs' Luncheon in London which was held at the Royal Thames Yacht Club in Knightsbridge. The lunch is an opportunity for present and past Lady High Sheriffs, together with those in nomination and Council members, to share experiences, ideas and encouragement. This year the lunch was organized by Council member Juliet Westoll, High Sheriff of Cumbria in 2012 and our guest speaker was Clare Hensman, Lord Lieutenant of Cumbria and previous High Sheriff of Cumbria and a past Council member. It was a delightful lunch with 34 of us in attendance with a strong Welsh contingent including Stephanie Catherall, High Sheriff in Nomination for Clwyd in 2019, Sian Hope, High Sheriff of Gwynedd, Kit Ellis, High Sheriff in Nomination for Gwynedd in 2018, Susan Jones, High Sheriff in Nomination for Gwynedd in 2019 and Council member Anne Morgan, High Sheriff of Mid Glamorgan in 2008 who offers us all so much good advice.
Unfortunately I was unable to attend the citizenship ceremony in Mold today but I gather from Brian Lloyd, Chairman of Flintshire County Council that it was a very special day, as always, for the new British citizens.
---
September 2017
28th September
Glyndwr University Court Meeting, Wrexham
In my role as current High Sheriff of Clwyd I was invited to join the University Court to attend their third such meeting which is intended to provide a channel of communication between the University and the wider community it serves. It provides an opportunity for the University to inform attendees of the current and future work of the University and, in turn, it benefits from gaining a better understanding of the needs of the organizations and the interests they represent and establishing a network of critical friends. Membership of the court comprise representation from The Lieutenancy and Shrievalty, AMs and MPs, Faith communities, HE, FE and schools, Public sector organizations, local Government, Business and Industry, the Media, Arts and Creative Industries, the third sector and senior members of the University staff. Both the Chancellor Trevor Jones and the Vice-Chancellor Professor Maria Hinfelaar gave excellent presentations and then opened up the meeting to general debate which was lively and innovative and gave all attendees plenty of food for thought about the future of our thriving community.
26th September
Dangerpoint AGM at North Wales Fire and Rescue Headquarters
This was my second visit to a Trustees meeting and it was very encouraging to see that the Dangerpoint Centre is thriving, ably headed up by Centre ManagerJulie Evans and her fantastic team. Hundreds of schoolchildren from Clwyd, Gwynedd and Cheshire pass through their doors every term and learn about the potential dangers that surround us in the home, workplace and countryside.
26th September
Meeting at Denbighshire Voluntary Services Council
This took place with Chief Executive Office Helen Wilkinson and Dave Evans of North Wales Police who manages the Crimebeat and PACT Trusts to put plans into place for the forthcoming High Sheriff's Awards Ceremony that will take place on March 16th 2018.
25th September
Meeting with Dr Helen Paterson, CEO of Wrexham CC
I attended a second enjoyable and instructive meeting with Helen who is, sadly, leaving us for pastures new in November. It will be Wrexham's loss as she has made a major contribution to community and civic life in the area during her 6 years' tenure.
24th September
Welsh National Opera Concert at St Asaph Cathedral
We were invited by Ruth Evans, Producer for WNO and her wonderful team, to attend the performance of the Magnificat in four different versions, by J S Bach, William Mathias, Paul Mealor and Oliver Tarney. The concert formed part of the 45th North Wales International Music Festival.
The choral singing by the Festival Community Chorus was unbelievably accomplished and brilliant Conductor Robert Guy led a range of hugely talented young musicians in his New Sinfonia Orchestra. Stars from the WNO were Soprano Katy Thomson, Mezzo Rebecca Afonwy-Jones, Tenor Huw Llywelyn and Baritone Dyfed Wyn Evans. An added dimension was brought to the evening by Bishop Gregory Cameron who interviewed Paul Mealor, Oliver Tarney and Rhiannon Mathias about the creative process as part of the concert.
22nd September
Citizens Advice Denbighshire AGM
I met Lesley Powell, Chief Executive Officer, of Citizens Advice Denbighshire some months ago and she was kind enough to invite me to address the staff and volunteers at their AGM at the New Pavilion in Rhewl and to present some certificates to those who had gone the extra mile in their work over the past year. I was warmly greeted by Trustee Board Chair, Alastair Morgan, on arrival and it was altogether an extremely enjoyable and informative morning. I was so impressed by the professional and enthusiastic outlook of the whole organization. The staggering sum of £440,000 is the monetary value of the time given by volunteers in the Citizens Advice offices in Denbighshire this year! In all 7054 clients with 8901 enquiries were helped, 360 households were lifted out of fuel poverty and 65 clients facing repossession received help in court. The list goes on.
21st September
Crimebeat Meeting, St Asaph
I attended another constructive meeting with my fellow committee members to discuss Crimebeat projects throughout the county in Rhyl, Prestatyn, Abergele, Mold, Holywell, Wrexham and other areas in need of support.
20th September
Royal Visit by The Earl of Wessex, Theatr Clwyd
We were honoured to receive a private visit to Clwyd by His Royal Highness The Earl of Wessex today. His day comprised visits to Deeside College, Soughton Hall and Theatr Clwyd and I was delighted to attend the latter event together with my husband David. In attendance were the Lord Lieutenant, Harry Fetherstonthaugh, Brian Lloyd, Chair of Flintshire County Council and his wife Jean, David Hanson, MP for Delyn and all the theatre staff, ranging from Tamara Harvey, Artistic Director and Liam Evans-Ford, Executive Director, on the management side to the costume makers and actors who were in practice for forthcoming performances of The Rise and Fall of Little Voice and Uncle Vanya.
13th September
Wrexham Citizenship Ceremony at the Guildhall
There were a range of new citizens from France, The Philippines, India, Poland and the first candidate ever in Wrexham from Eritrea taking their oaths of allegiance today. Mayor John Pritchard of Wrexham Council and his Mayoress wife Ann were in attendance together with Andy Williams, Deputy Mayor and Ruth Cook, county Registrar.
9th September
Llandudno Citizenship Ceremony
Today's ceremony took place in the smaller council chamber as there were only three candidates. All originally from the Philippines, they were delightful company and Brian Cossey, the Chair of Conwy County Council, Suzanne Fisher and her deputy Haydn and I chatted to them at length after the official proceedings had taken place to learn about their long journey to becoming British citizens.
7th September
Celebrations to welcome the Commonwealth Games Baton in Flintshire
In April 2018 the Commonwealth Games will be held on the Gold Coast, Australia and we were invited to join Flintshire's celebrations to help raise the profile of the games. Hosted by Colin Everett, Chief Executive Officer of Flintshire County Council and Aaron Shotton, Leader of the Council, we gathered together to welcome The Queen's Baton at Theatr Clwyd on its relay journey from Buckingham Palace to Australia. The relay will span 388 days, 71 countries and more than 200,000 miles before reaching the Gold Coast.
Many athletes including our very own Jade Jones were in attendance and the air was buzzing with excitement despite the slightly inclement autumn drizzle. Afterwards there were music and refreshments in the Theatre for all attendees.
7th September
Ruthin Citizenship Ceremony
A small but nonetheless just as special ceremony took place today in Ruthin Registry Office for three new British citizens.
2nd September
Freedom Ceremony in Ruthin for the Royal Welsh 1st Battalion
In June 2011 Denbighshire County Council awarded the Freedom of the County to the Royal Welsh Regiment in recognition of the eminent services rendered to the County and for their courage and bravery in the execution of their duty, both at home and overseas. Today the Battalion returned to Denbighshire and marched from the Cenotaph on Wynnstay Road through the streets of Ruthin with a magnificent Parade taking place in the Town Square. It was led by Major James Waters and CSM Stephen Smith and the crowds especially enjoyed watching the Regimental Goat who took pride of place. It was a wonderful atmospheric occasion as the streets were brimming with cheering onlookers.
The inspection took place in front of Councillor Pete Prendergast, Chairman of Denbighshire County Council, Colonel Nick Lock OBE, Colonel of the Regiment's Representative, Colonel John Williams MC Deputy Lord Lieutenant of Clwyd, Councillor Jim Bryan, Mayor of Ruthin and Councillor Hugh Evans OBE, Leader of Denbighshire County Council. We were all treated to refreshments in the splendid surroundings of the Assembly Rooms at the Town Hall afterwards.
---
July 2017
29th July 2017
Bishop of St Asaph Reception and Charity Performance at St Asaph Cathedral
Our host for this glorious event was The Right Reverend Dr Gregory Cameron who invited my husband David and I amongst many others to a Reception and Opera Through the Ages Charity performance to benefit the foundation and work of The Guardians of St Asaph and St Kentigern Hospice Others present included Lord Barry Jones and his wife, Lady Janet Jones, MP David Jones and his wife Sarah and previous High Sheriffs of Clwyd, David Meredith-Jones and Jim O'Toole.
We were treated to a wonderful production, arranged by Conductor John Hosking who lead the two solo Sopranos, Helena Leonard and Olivia Hunt, the St Asaph Cathedral Voluntary Choir and Graham Eccles on the Organ. The acoustics in the Cathedral are perfect for a performance such as this and it was a really beautiful evening.
The Bishop of St Asaph talked to us about the Guardians who give support to the Cathedral to preserve, maintain and develop its music, heritage and welcome to visitors and raise additional funds for the work of St Kentigern Hospice. I would definitely like to spread the word about their work and encourage others to sign up as members.
29th July 2017
Llandudno Citizenship Ceremony
This was my second visit to Llandudno Town Hall and we welcomed three new British citizens who originally hailed from Germany, South Africa and America. It was a lovely ceremony conducted by County Registrar Suzanne Fisher and her deputy Haydn Oliver. Brian Cossey, Chair or Conwy Borough Council and I were invited to say a few words.
27th July 2017
PACT Meeting, Colwyn Bay
Unfortunately the meeting took place at the same time as the Prince's Trust Presentation so I had no alternative but to offer my apologies.
27th July 2017
Prince's Trust Presentation at North Wales Training, Colwyn Bay
I was particularly pleased to be invited to attend the presentation event for the second Team Programme by the Prince's Trust in Wales as I am supporting this incredibly worthwhile charity during my year of office.
There was an introduction by Adam Gough, Prince's Trust Team Leader, North Wales Training, followed by very personal and moving words delivered by three of the young people who had completed the course. This was an opportunity to find out what activities the learners had carried out, how they have developed as a team and individuals and to celebrate their success. All the participants then received their certificates that were presented by Ash Dykes, explorer and extreme athlete.
23rd July 2017
Civic Ceremony for Chair of Flintshire County Council
My husband and I were invited to attend the civic service for Councillor Brian Lloyd, Chairman of Flintshire County Council at the majestic St Mary's Church in Mold. Chief Executive of Flintshire County Council, Mr Colin Everett, read the first lesson and The Rt Hon Lord Jones read the second. The memorable service was conducted by the Reverend Kevin Horswell, Vicar of Mold.
20th July 2017
Ruthin Citizenship Ceremony
This was my second ceremony in Ruthin and was attended by Pete Prendergast, Chair of Denbighshire County Council together with the Deputy Registrar and her assistant. Two people swore their oaths of allegiance to Queen and Country on this occasion, one originally from France and the other from Bangladesh.
17th July 2017
Visit to Ysgol y Grango, Wrexham
Dave Evans, Crimebeat/PACT Project Manager and I visited the school to make a presentation on behalf of Crimebeat to 7 young people who have distinguished themselves on the Attendance Programme which involved Youth Work in Education, Wrexham Football Club and the Youth Justice System. The recipients of the awards benefited from the programme by developing a more positive attitude towards learning and achieving and their school attendance record improved significantly. Dave and I were welcomed by Head Teacher, Stephen Garthwaite, PC Kim Jones, the School Community Police Officer, Debra Kennedy, Youth Worker and Julia Williams, Attendance Officer together with the school librarian and family members of the award winners.
14th July 2017
Garden Party hosted by The High Sheriff of Herefordshire
We were invited by The Reverend Lady Lisvane, High Sheriff of Herefordshire and her husband Lord Lisvane to a gathering of other High Sheriffs and local friends and family in their beautiful garden in Blakemere. It was wonderful to see Sue Thompson High Sheriff of Powys, Stephen Betts High Sheriff of Worcestershire, Andrew Tabor High Sheriff of Gloucestershire and their other halves again and to meet Mark Davies High Sheriff of Warwickshire for the first time.
14th July 2017
Summer Tour by HRH The Prince of Wales to Clwyd
As part of the civic line-up my husband David and I were invited to attend the two venues in Clwyd that His Royal Highness was visiting during his annual Visit Wales week. Our first port of call was the splendid HQ of Call Centre Moneypenny in Wrexham. In attendance, was Lloyd Fitzhugh, Deputy Lord Lieutenant, AM Leslie Griffiths, Councillor John Pritchard, Mayor of Wrexham Council and his wife Mrs Ann Pritchard, Edward Reeves and Rachel Clacher, co-founders of this hugely successful company, the MD Joanna Swash and numerous Moneypenny employees. The Prince was enthusiastically received by flag-waving schoolchildren along the route from car to entrance.
A quick dash westwards along the A55 took us to our next destination at Llaeth-y-Llan, near Henllan on the Denbighshire/Conwy border where we were royally entertained, in every sense, by Gareth and Falmai Roberts and their family who have built up a thriving yoghurt-making business on their dairy farm over several decades since 1980. His Royal Highness was greeted by the Lord Lieutenant of Clwyd, Henry Fetherstonhaugh, and given a tour of the new production facility. The pupils of Llannefydd Junior School sang Welsh songs with gusto and waved their flags and those in attendance included the Right Honourable David Jones MP for Clwyd West, Darren Millar AM for Clwyd West, Brian Cossey Chair of Conwy Council, many staff on the production, accounts, transport and quality sides of the dairy together with numerous family friends and local villagers. A veritable feast of home-made sandwiches, cakes and scones were enjoyed by us all. The prince then departed by helicopter to RAF Valley in Anglesey.
13th July 2017
Dinner with Mr Justice Lewis, Presiding Judge of the Welsh Circuit.
My husband David and I were delighted to meet Mr Justice Lewis in Chester. Our original date of 11th July was postponed because the murder case in Mold Crown Court he was overseeing came to an earlier end than expected and the detailed summing-up needed to be prepared. The jury had reached their verdict earlier that day and it was incredibly interesting to learn about the results of the case.
12th July 2017
Visit to Berwyn Prison
The High Sheriff Chaplain Reverend Philip Chew and I were invited to tour the new prison by Superintendent Jason Devenport who is seconded to the prison from North Wales Police and to meet Russ Trent, the inspirational Governor, who is doing sterling work to support the men during their sentences and to create the best rehabilitation opportunities possible. He believes the unique environment at Berwyn will give the men a chance to turn their lives around and therefore reduce crime in the community.
We toured the Visits Hall, the Men's Reception Area, Coleg Berwyn (in partnership with Novus Cambria) the Kitchen, Ogwen House and the Multi Faith Centre. I was particularly interested to meet Sian Rowlands, Assistant Librarian and to talk to her about books provision, both print and audio, and to see the wide range of materials available in the well-used and modern library. There are plans to expand the area as it is so popular which is very good news. I am very grateful indeed to Jason for giving us so much of his time and for answering our numerous questions in such detail. His enthusiasm and commitment to the job are truly admirable.
12th July 2017
Citizenship Ceremony, Wrexham Guildhall
I attended my second ceremony in Wrexham and was warmly greeted by the Mayor and Mayoress of Wrexham Council, John and Ann Pritchard and Ruth Cooke, county Registrar and her able team. I was pleased to meet Andy Williams, Deputy Mayor, for the first time and to hear about his day job with Wrexham Fire Brigade and his voluntary work as a first responder. We welcomed two families as new British citizens and, as always, it was particularly pleasing to see how much the children enjoyed the ceremony.
4th July 2017
Visit to meet a group of police cadets at Llandrillo College
As part of the High Sheriff's Crimebeat project we funded a team-building/leadership weekend camp at Tatton Park Scout Campus in Cheshire on 14th, 15th and 16th July and I was invited by West Conwy Cadet Leader, PCSO Chris Perkins, to meet a group of the police cadets who will be attending camp and to hear a fascinating talk and slide show about mountain rescue from the leader of Ogwen Valley Search & Rescue.
3rd July 2017
Chairman of Denbighshire County Council's Sponsored Concert at Llangollen International Musical Eisteddfod
My husband David and I were invited to the 70th Anniversary Opening Concert by Councillor Pete Prendergast, Chairman of Denbighshire County Council. We attended the drinks reception in the Royal Pavilion prior to the concert and had the privilege of hearing Terry Waite CBE speak about how individuals and choirs have come together from all parts of the word to sing, dance and perform and in so doing have brought a message of peace and harmony to thousands over the past 70 years.
The glorious uplifting concert was a celebration of brass and voices under the leadership of Conductor OwainArwel Hughes CBE and the musicians included Soprano MeinirWyn Roberts, Euphonium Soloist David Childs, the world class Cory Brass Band together with the Canoldir, Fron, Rhos and Colne Valley Male Voice Choirs. It was a really wonderful and memorable evening.
3rd July 2017
Visit to Mold Crown Court
I was invited by Mr Justice Lewis, Presiding Judge of the Wales Circuit, to sit with him to observe proceedings in the trial of Stephen Hough. The case largely hinged on new DNA evidence that had come to light since 1976 when the crime originally took place. We listened to the evidence of a number of scientists about the collection, labelling and storage of DNA and it was a fascinating morning for me. I was very grateful to His Honour for allowing me to join him as it was my first experience of seeing how a High Court works in practice.
---
June 2017
30th June 2017
RAF Valley Annual Reception, Anglesey
My husband, David, and I went to the very well-attended reception which was hosted in the Officers' Mess by the Station Commander, Group Captain Nick Tucker-Lowe and other Officers of Royal Air Force Valley. After meeting numerous Air Force crew from the UK and overseas, plus what seemed to be almost the whole of Anglesey's population, we were entertained by a RAF band from the Midlands who had battled the Friday evening M6 traffic to reach us just in time for the reception. We then enjoyed a majestic march-past.
The work undertaken at RAF Valley is fascinating, in terms of training aircrew and saving lives. All the RAF's future fast jet combat pilots pass through the Station, flying first the Hawk T Mk2 and then graduating to flying the Tornado, Typhoon and F35 Lightning 11. RAF Valley also supports a training programme for mountainous and maritime operations worldwide.
26th June 2017
Meeting with Iwan Davies, CEO of Conwy County Council
We met in the splendid council office in Bodlondeb, overlooking magnificent Conwy Castle. Iwan was the Returning Officer at Clwyd West Count on Election night and it was a pleasure to meet him again to hear all about the important work carried out by the Council in the Conwy area which has its higher share than average of older people hence the ongoing challenge to provide good social care in collaboration with the NHS. Also, I was very interested to learn about some smaller libraries becoming community-run with the help and support of the council to provide not just the usual library services but also help for those who need access to a computer and advice in order to complete complicated application forms and other paperwork.
22nd June 2017
Citizenship Ceremony at Mold
This was my second ceremony at Mold's historic Llwynegrin Hall and today Brian Lloyd, Chair of Flintshire County Council, Noelle Baston, County Registrar and I welcomed 4 new British citizens whose countries of birth were Australia, Nigeria, and two from Thailand.
21st June 2017
Armed Forces Day and National Reserves Day, County Hall, Ruthin
The Chairman of Denbighshire County Council, Peter Prendergast extended an invitation to Henry Fetherstonhaugh, The Lord Lieutenant of Clwyd, myself, a number of senior council members, a serving Royal Navy Reservist whose day job is with the Council and a former Reservist who now works for the council but spent time in the Reserve Army whilst studying at Liverpool University. The Chairman praised the armed forces in this commemorative week, prayers were said and then two flags were raised to celebrate the occasion.
19th June 2017
Luncheon at Cardiff Civil and Family Justice Centre, Cardiff
All 8 High Sheriffs of Wales were invited to attend lunch in Cardiff by His Honour Judge Robert Harrison, the Designated Civil Judge for Wales. The purpose of the gathering was to introduce us to the Senior Civil and Family Court Judges who work in the 17 courts of the Cardiff Civil and Family Justice Centre. In our role as High Sheriffs we entertain the High Court Judges who sit in our own county's Crown Court but the majority try criminal cases so it was really interesting to meet a wider range of the judiciary. In attendance were Mr Justice Francis, His Honour Judge Andrew Keyser QC (TCC and Mercantile Judge), His Honour Judge MilwynJarman QC (Chancery Judge) and Her Honour Judge Mererid Edwards (Family Circuit Judge) together with District Judge Hywel James (Civil and Family) and District Judge David Crowley (Civil and Family).
My day was made especially memorable as I decided to fly there and back from Valley Airport in Anglesey to Cardiff on the Welsh Government-subsidised service, run by Eastern Airline, and the 40-minute flight each way was the height of luxury with the most spectacular views across the whole of Wales for the entire duration of the flight as the weather was so good.
17th June 2017
Armed Forces Day Celebrations, Caernarfon
It was the county of Gwynedd's turn to highlight and honour the work of our armed forces and my husband, David and I were very pleased to be invited by Gwynedd Council to attend this prestigious event which took place within the medieval town of Caernarfon and the Victoria Dock. First we attended the Drum Head Service in the town square which was led by The Rev Canon Roger Donaldson and The Reverend Marcus Robinson and Her Majesty's Band of the Royal Marines, Collingwood. The huge crowd was welcomed by Honorary President and former MP, ElfynLlwyd, and we enjoyed the moving service on what proved to be the hottest day of the year so far. The service concluded with the Last Post and a minute's silence to honour the fallen and then the British and Welsh National Anthems.
As part of Edmund Bailey, the Lord Lieutenant of Gwynedd's party, we then witnessed the magnificent parade by representatives from all branches of the armed forces from the steps of the castle, followed by more wonderful military band music within the walls of the castle itself. This atmospheric and uplifting spectacle was rounded off by a light lunch at the historic Royal Welsh Yacht Club from where we could view the boat races and general festivities on the front.
Our party also included Professor Sian Hope, High Sheriff of Gwynedd, Cllr Annwen Daniels, Chair of Gwynedd Council, Cllr Ioan Thomas, Cabinet Member with responsibility for the Armed Forces and also Mayor of Caernarfon, Dilwyn Williams, Chief Executive of Gwynedd Council, Rear-Admiral Keith Beckett RN, Colonel F S Acton Deputy Commander of the Reserves and Air Commodore Adrian Williams, Air Officer Wales.
15th June 2017
The Guildhall, Wrexham County Council, Wrexham
I was invited to meet Dr Helen Paterson, Chief Executive of Wrexham Country Council, at the Council offices to hear about her particular areas of interest and talk about ways in which we could collaborate to further our shared interests in education and help to improve literacy skills among the young people of North-East Wales.
13th June 2017
Schools Visit to Dangerpoint, Talacre, Flintshire
At the invitation of Julie Evans, Manager of this purpose-built safety centre that helps teach children and young people how to stay safe in a variety of different scenarios, Professor Sian Hope, High Sheriff of Gwynedd, and I attended a school session all morning. I had heard marvellous reports about the centre from previous High Sheriffs, including Nick Bankes, one of their keenest supporters but sadly no longer with us. It definitely lived up to expectation and deserves to be far better known not just across Clwyd but further afield in Gwynedd, Cheshire and beyond. Julie and her able team are doing sterling work in preventing all manner of disasters in the home, workplace, school, beaches, sea, rivers, railways and so on. The children enjoyed learning much from the set pieces and from the friendly 'cartoon' character K-OS who answered many of their questions in a fun but informative way.
Later that day, Sian and I attended a Trustees' Meeting for Dangerpoint at the North Wales Fire and Rescue Centre in St Asaph Business Park. There we heard much more about fund-raising efforts for this extremely worthwhile charity.
12th June 2017
Denbighshire Volunteers Celebration Event, Ruthin
Following on from my visit to the Naylor Leyland Centre on 5th June, I returned to the office to participate in a gathering of third sector professionals to hear them speak about their amazing work in the community and to celebrate the ongoing work of some wonderful volunteers.
8th June 2017
General Election, Clwyd West Count, Venue Cymru, Llandudno
It is protocol for High Sheriffs to act as Returning Officers at General Elections if they so wish. In this instance, I opted to attend two Counts instead in order to gain a greater knowledge of how the system works. My first visit was to the Clwyd West Count in Llandudno where Iwan Davies, Chief Executive of Conwy Council, was the Returning Officer. Despite his busy schedule he very kindly took time away from his important role to introduce my husband, David and I to some of his key colleagues at the council who were supporting him in ensuring the Count was completed in the most efficient and timely way. I found it very interesting to see a number of marked ballot papers that were placed in various baskets for legal advisers to make the decision as to whether they were spoiled or valid. The Aberconwy Count was under way on the other side of the large hall and there was a dividing line between the two Counts.
8th June 2017
Vale of Clwyd Count at Denbigh Leisure Centre
We drove straight from Llandudno to Denbigh and arrived shortly before midnight to be told that the Declaration was likely to take place around 1.30am. We were all anticipating a closely-run competition between the Labour and Conservative candidates and we hoped there would be no need for a re-count. Mohammed Mehmet, Chief Executive of Denbighshire County Council, and his able team of council staff and volunteers did a brilliant job though and the result was duly declared at the anticipated time with Labour's Chris Ruane edging ahead of Dr James Davies, the Conservation candidate, on this occasion. It was very exciting to watch a live Declaration for the first time.
7th June 2017
High Sheriffs' Dinner at the Inner Temple, London
All 55 serving High Sheriffs of England and Wales and their partners were invited to dinner at the historic Inner Temple by the Treasurer, David Pittaway QC. The dinner was preceded by Choral Evensong in the Temple Church with the most wonderful music provided by The Temple Church Choir and Roger Sayer, their Director of Music. My consort for the evening was my daughter, Eleanor, a family law barrister, who is a tenant at Harcourt Chambers, a stone's throw from Temple Church and Inner Temple. She herself is a member of Gray's Inn so she enjoyed the visit to another Inn as a guest. The 8 Welsh High Sheriffs were all in attendance and we were able to congregate together for a few group photographs before being ushered into dinner.
5th June 2017
Denbighshire Voluntary Services Council, Ruthin
I was asked to a stunning photographic exhibition entitled 'We Can….' at the Naylor Leyland Centre in Ruthin by Helen Wilkinson, Chief Executive Officer of Denbighshire Voluntary Services Council. The aim of the project was to encourage people to look at the person behind various conditions and to break down barriers and ultimately reduce isolation and fear of the unknown. Each person who took part has a learning disability and all are studying at college in the hope of one day finding employment. This was one of a number of varied events which formed part of the Volunteers Week celebrations.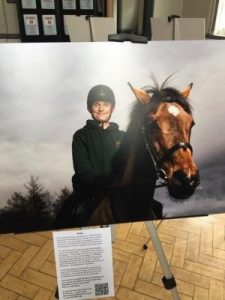 1st June 2017
Youth Volunteering Awards Presentation at Ruthin School
I was invited by Gerry Frobisher, the Youth Lead Volunteering and Wellbeing Development Officer at Denbighshire Voluntary Services Council, who is also the Mayor of Prestatyn, to attend and present certificates at this event together with Roy Tickle, the Mayor of Denbigh, Jim Bryan, the Mayor of Ruthin and Peter Prendergast, Chair of Denbigh County Council. Unfortunately I was unable to attend a further event to celebrate the work of young volunteers at YsgolClawdd Offa Prestatyn the following evening. Thursday's event was extremely well attended by the students who had carried out thousands of hours between them of community and school-based volunteering and many of their friends and family.
---
May 2017
31st May 2017
CYAST (Children and Youth Adult Support Team)Meeting at Greenfield Business Centre, Holywell
Dave Evans, of North Wales Police/Crimebeat and I visited the Centre at the invitation of project leader, Kate Wilde, to observe a volunteer from the Citizen's Advice Bureau, giving financial and budgeting advice to four young people who are making the difficult transition from living in care to coping with independent adult life. The project runs alongside a new workbook manual that CYAST has developed that will accompany young people in care from the age of 13 and is part-funded by the High Sheriff's charity, Crimebeat.
25th May 2017
High Sheriffs' Reception at the Old Bailey
My husband, David and I were invited to attend a Reception, together with all the other serving High Sheriffs and their consorts, by the Sheriffs of the City of London, Aldermen William Russell and Peter Estlin, at the magnificent Grand Hall in the Old Bailey. This was the first time such an invitation has been arranged just for High Sheriffs and we all thoroughly enjoyed the opportunity to see Britain's central criminal court first-hand. Several High Court Judges mingled with the High Sheriffs, giving us a flavour of their day-to-day work in this historic place.
20th May 2017
Llandudno Citizenship Ceremony
Today I attended my first citizenship ceremony at the fourth centre for Clwyd in the Conwy Suite at Llandudno Town Hall. I was greeted warmly by Suzanne Fisher, County Registrar and her able assistant, Haydyn. This was the largest group of new citizens I have met thus far and their places of birth ranged from Poland, the Czech Republic, Bulgaria, The Philippines, Russia, South Africa, Pakistan and India. I was so pleased to have an opportunity to talk to them all after the ceremony and hear about their interesting journeys to taking up British citizenship.
19th May 2017
Rural North Flintshire Community Hub – Launch Event
I visited Trelogan Community Centre with my husband, David, at the invitation of the North Wales Energy Advice Centre. This was the launch event for the Rural North Flintshire Community Hub to highlight the advice and support that NWEAC can offer to help combat fuel poverty which is rife in this particular part of Clwyd. Very informative and interesting presentations were made by Steve Woosey, Michele Jones and Laura Bellis of NWEAC, followed by Jo Seymour, Flintshire County Council Environmental Health Officer, Chris Ablett, Youth Volunteering Development officer of Flintshire Local Voluntary Council, Neil Pringle, Community Fund Manager for Gwynt y Mor and Silas Jones of Cadwyn, the Rural Development Agency. The meeting was very well attended and I think we all learned a great deal about the benefits of various agencies working together to support vulnerable households in Flintshire.
19th May 2017
Visit to Primary School Ysgol Frongoch, Denbigh in Bloom
I was accompanied by Dave Evans of North Wales Police where we were greeted by an incredibly enthusiastic set of young gardeners aged from 6-11 who have been nurturing new plants at school in preparation for re-locating them around Denbigh town to enhance the appearance of the focal parts of the town centre. This project teaches the children about the environment and gives them pride in their surroundings. A really heart-warming experience.
18th May 2017
Crime Commissioner of Clwyd's Award Ceremony, Kinmel Manor, Abergele
Together with my husband, David, I attended this event, hosted by Arfon Jones, Police and Crime Commissioner of Clwyd who was marking the completion of his first year in office and celebrating and publicising some of the amazing work carried out within the communities of North Wales.
I was invited to introduce Hannah Mart, who was the incredibly worthy winner of the Victims' Champion Award. Through Hannah's sterling work as a Children and Young People Sexual Violence Advisor, in collaboration with North Wales Police, she has set up the Young Women's Support Groups. The aim of the groups is to provide a supportive environment and to build resilience through shared education such as the STAR Project that encourages Safety, Trust and Respect and thereby aims to build young victims' self-esteem and confidence levels.
Other awards presented were the People's Award to Tanya Jones of Rough Sleepers Intervention Team, Wrexham, the Community Champion Award to Caru Amlwych, the Rehabilitation Award to Zoe Davies, the Drug Intervention Award to ARCH Kaleidoscope, the Equality and Diversity Award to RainbowBiz Ltd, the Young People's Award to Daniel Roberts, the Outstanding Achievement Award to ARC Communities, the Welsh Language Champion Award to GISDA of Blaenau Ffestiniog and, finally, the Anti-Slavery Champion Award to BAWSO of Wrexham.
17th May 2017
Dinner for High Court Judge
Dinner at Cerrigllwydion Hall for Mrs Justice Nicola Davies, who was sitting at Mold Crown Court. The guests were Under-Sheriff Henry Wilson and his wife Caroline, High Sheriff of Clwyd in Nomination for 2018 Lady Elizabeth Hanmer and her husband Sir Guy, High Sheriff of Gwynedd Professor Sian Hope, Former High Sheriff of Clwyd 2002 Commander John Bradshaw and his wife Frances, Former High Sheriff of Clwyd 2012 Henry Dixon, Mr and Mrs Mark Ferranti and His Honour Ian and Mrs Trigger.
17th May 2017
Crimebeat Meeting, St Asaph
Constructive meeting with David Evans, Project Manager of PACT and Crimebeat from North Wales Police and the rest of the committee to discuss applications for funding.
16th May 2017
Garden Party at Buckingham Palace
Lunch with High Sheriff of Shropshire, Charles Lillis and his wife Veronica and High Sheriff of Cheshire, Sarah Callendar- Beckett, her husband Peter and son Peregrine, followed by a glorious walk through gardens from Buckingham Palace which the seven of us entered from the Grosvenor Gate. Despite having driven around the perimeter of the Palace grounds on countless occasions I have never had the opportunity to view the gardens or Palace from the rear before and they both truly lived up to expectation, especially as we were lucky enough to enjoy the only sunny day in London that week. No umbrellas required despite the many being carried!
Members of the royal family attending included Her Majesty the Queen, Prince Philip, the Duke and Duchess of Cambridge, The Duke and Duchess of Kent, Princess Beatrice and numerous courtiers.
Afternoon tea was a lovely treat and we encountered a number of fellow North Walians amongst the throng of 7,000 people, including Ann Davies, Chair of Denbigh County Council and Mark Hudson,representing the Duchy of Lancaster and Sue, his wife, a former High Sheriff of Clwyd.
11th May 2017
CB1 North Wales Annual Dinner, Chester St David's Hotel, Ewloe
I was delighted to join the CEO of Prince's Wales Trust in Wales, Philip Jones, together with three senior members of his excellent team, Helen, Rhian and Sian, on their table at this impressive event, held at St David's Hotel on Deeside. We were addressed by many inspiring speakers, including the war hero, Simon Weston, CBI President Paul Drechsler, Sacha Davies of Horizon Nuclear Power, Tracey North and Michael Plaut,Chairs of CBI Wales. The Prince's Trust in Wales are working hard to raise the aspirations of young people in Wales and thereby helping them to build the future of Wales.
11th May 2017
Denbighshire Citizenship Ceremony
I was delighted to be invited to the Denbighshire Citizenship Ceremony today which took place at Ruthin Town Hall. Superintendent Registrar, Nerys Ellis, presided over the ceremony and both the outgoing Chair of Denbigh County Council, Ann Davies and I said a few words to welcome our four newest citizens who originally hailed from North Iraq and The Philippines.
10th May 2017
Wrexham Citizenship Ceremony
My second Citizenship Ceremony took place at Wrexham's Guildhall. On this occasion there were four new citizens together with their friends and family who attended. Officiating were Superintendent Registrar, Ruth Cooke and her able team. The Mayor and Mayoress of Wrexham and I were very pleased to play a part in the new citizens' special day, the youngest of whom was only 8 months old.
---
April 2017
27th April 2017
Flintshire Citizenship Ceremony
My first Citizenship Ceremony at Mold's historic Llwynegrin Hall where the Vice-Chair of Flintshire County Council, Mr Brian Lloyd, and I together with Superintendent Registrar, Noelle Baston, witnessed nine new British citizens take their oaths and swear allegiance to the crown. Their countries of birth ranged from Turkey, to Poland, to India and it was positively inspirational to hear their stories of the long road to gaining citizenship.
8th April 2017
Declaration Ceremony at St Saeren's Church, Llanynys
I was blessed with the sunniest day of the year thus far to hold my Declaration Ceremony at the beautiful ancient parish church of St Saeren's, Llanynys, presided over by the High Sheriff's Chaplain, Rev'd Philip Chew. This was followed by a wonderful reception at our home, Cerrigllwydion Hall, Llandyrnog in the Vale of Clwyd, which has been a family home for several generations.
My distinguished guests included the Lord Lieutenant of Clwyd, Mr Harry Fetherstonhaugh OBE, Judges Rhys Rowlands and Roger Dutton, Former Judge and now Lay Reader Ian Trigger, the Bishop of St Asaph, together with numerous past High Sheriffs of Clwyd and their spouses. The High Sheriffs of Gwynedd, Cheshire and Shropshire were also in attendance. Magistrate Susanne Dixon witnessed the signing of the Declaration and Mr Jim O'Toole, the outgoing High Sheriff and Mr Henry Wilson, the Under-Sheriff, also participated in the formal part of the ceremony. The service was accompanied by a majestic musical programme which showcased the local musical talent we have here in Clwyd and created a very special ambience.
My grateful thanks to all those who contributed to make this a truly memorable occasion.