October 2017
2nd October 2017
The University of Bolton Second Annual Leeming Lecture by His Honour Judge Mark Lucraft QC, Chief Coroner of England & Wales 
Gerry was kindly invited to attend the University of Bolton Second Annual Leeming Lecture by Professor Jennifer Leeming, Her Majesty's Senior Coroner for Manchester West and Honorary Director of the Centre for Contemporary Coronial Law.
University of Bolton is the only university that offers a Coronial Law Course.
The lecture was given by His Honour Judge Mark Lucraft QC, the Chief Coroner of England and Wales. He was appointed to the role in October 2016 and provides national leadership for all the coroners in England and Wales.
He was called to the Bar in 1984, where he practiced until being appointed to the Circuit Bench in 2012. In February 2017 he was appointed to be a Circuit Judge at the Old Bailey, where he still sits. He also became a Recorder in 2003.
During practice at the Bar he undertook a range of serious and complex fraud cases. He was involved in the investigation and subsequent prosecutions arising out of the collapse of Barlow Clowes, the death of Robert Maxwell, and the investigation into suspected price fixing in the pharmaceuticals supplied to the Department of Health. He was also one of the team prosecuting the cases arising out of the Hatfield rail crash.
He took Silk in 2006 and continued both to prosecute and defend in serious and complex cases: primarily fraud cases.
The lecture was extremely interesting and Gerry was intrigued to discover that the office of Coroner is a uniquely English institution, which was inherited by Wales after that Edwardian Conquest of 1282. The first mention of a Coroner was actually somewhere between AD871 and 910!
Interestingly, when you look into the birth of the Coroner system, you also have to check out the Sheriff! In the 12th Century the Sheriff had an evil reputation for extortion and embezzlement – oh dear! This was usually at the King's expense, as the Sheriff was in a position to manipulate the legal system to his own advantage. Basically, Coroners came into being to keep an eye on the Sheriffs!
Of course, Gerry is a goodie not a baddie, as are all High Sheriffs these days, but it did make him feel rather sheepish!
After the lecture, Gerry was invited to a formal dinner held at Turton Hall, the home of George Holmes, the Vice Chancellor of University of Bolton. The dinner was delicious and the conversation was very interesting. At one stage it was revealed that Turton Hall has a friendly ghost!
One day Warren Smith, now Lord Lieutenant of Greater Manchester, was invited by the Vice-Chancellor to dine there. He told the Vice Chancellor that he had visited the house before. At that time it was owned by a lady who was very friendly with Margaret Thatcher and raised funds for the Conservative Party. At one of parties, Warren made some sort of derogatory remark about the Iron Lady and the temperature in the house immediately dropped considerably. When he left, the temperature instantly rose again!
The Vice Chancellor also told stories about the time when the house was being refurbished prior to them moving in. They left the house and when they returned someone had been through all the wardrobes – but there was no-one there!
He was also on the landing one day and saw one of the door knobs turning. He thought it was his daughter, but when he called out to her she was in another room. There was no-one else in the house!
The ghost even rearranged their CD collection!
Curiouser and curiouser!
3rd October 2017
The Annual Judges' Service for Lancashire at The Minster Church of St John the Evangelist, Preston, followed by the Reading of the Royal Proclamation in Court Number 1 at Sessions House.
Gerry and Joanne were delighted to receive an invitation from the High Sheriff of Lancashire, Mr Robert Webb JP DL, to the Annual Judges' Service for Lancashire at The Minster Church of St John the Evangelist, Preston, followed by the Reading of the Royal Proclamation in Court Number 1 at Sessions House.
After a rather hairy journey when the SatNav sent them to the wrong place, they arrived just in time to see the procession heading into the Minster! They were stuck in traffic and they couldn't reach the Minster due to road blocks.
Gerry saw someone official and told them that they should be in the procession. He gave them directions to get around the Minster and park up, but they were very complicated and neither Gerry nor Joanne knows Preston very well. In the end, Gerry asked him whether he would jump in their car and direct them – which he duly did! What a wonderful man!
Gerry joined the procession just in time and Joanne went to take her seat. Phew!
From stress to serenity….
The Judges' Services in each bailiwick are beautiful and traditional, full of pomp and circumstance.
The Mayor's Procession led into the Minster, made up of The Regalia, The Mace, Select Vestry, The Mayor of Preston, The Mayoress of Preston, the Chief Executive, the Honorary Recorder, The Legal Officer, The Chief Superintendent of Police, the Chief Executive Office of Police & Crime Commissioner, the Deputy Mayor, the Deputy Mayoress, Honorary Freemen and Honorary Aldermen, the Chairman  of Lancashire County Council, the Leader of the Council, the Leader of the Opposition, Members of the Council and Visiting Mayors.
The Judges' Procession was made up of the Clerk of the Court, The Under Sheriff of Lancashire, The High Sheriff of Lancashire, The High Sheriff of Greater Manchester, The High Sheriff of Merseyside, the Vice Lord Lieutenant of Lancashire, High Court Judges, Circuit Judges, Recorders, District Judges, Magistrates, the Junior of the Northern Circuit, Members of the Bar, the President & Secretary of Preston Incorporated Law Society and other members of the Legal Procession.
They were followed by The Vicar's Procession of the Pilgrim Cross, the Choir, the Verger, the Select Vestry, the High Sheriff's Chaplain – Reverend Michael Hampson and the Vicar of Preston Canon Timothy Lipscomb.
Everyone was robed and the processions were dignified and respectful.
After arousing hymn and a welcome from the Canon, the High Sheriff of Lancashire made an introduction, telling of the history of the office of High Sheriff and that of the Minster. He explained that the Annual Judges' Service takes place to "pray for God's blessing on all those concerned with the administration of justice…so that the health and well-being of our fine city of Preston and our County of Lancashire will be protected and enhanced."
The choir were uplifting and the soloist, Louisa Stirland , was outstanding.
A Judges' Service marks the beginning of every Legal Year.
The tradition of having an Assize or Judges' Service dates back to medieval times and since then judges have gathered together at the start of the legal year to pray for guidance and to commemorate the principles of defending access to justice and the rule of law.
After an inspiring service, followed by the Reading of the Proclamation at the Sessions House, Gerry and Joanne were invited to join Robert, his wife, Carole and their guests for lunch at The Italian Orchard in Broughton – delicious food and good company.
It was definitely a very special day – food for the soul and for the body.
4th October 2017
The High Sheriff entertains the High Court Judges at Home
On the evening of 4th October 2017, Gerry and Joanne very much enjoyed entertaining the High Court Judges and other guests at their home.
It was a very convivial evening, Gerry & Joanne's cooking (with a bit of help from his restaurant's chef) – and the accompanying wine – was much appreciated and a good time was had by all!
5th October 2017
Spirit of Manchester Awards
The Spirit of Manchester 2017 Awards Ceremony was held at the Sheridan Suite in Manchester.
This is the 5th year of the Spirit of Manchester Awards. They are managed by Macc (Manchester's local, voluntary and community sector support organisation). They wanted to highlight and celebrate the amazing work of the many charitable organisations, community groups and  social enterprises in Manchester.
The Awards were presented by the lord Mayor of Manchester, Cllr Eddy Newman and were:-
The Volunteer of the Year
Won by Gilbert Morgan, a volunteer with BHA. He has been at the forefront of a health promotion programme targeting black men to raise their awareness of the increased risk of prostate cancer. He has been working in the community, doing radio interviews, attending events and even educating men whilst doing his day job as a security guard! He has a real zest for life having recovered from prostate cancer himself. His enthusiasm has already led to 10 African/Caribbean men becoming prostate cancer volunteers, with a target of 40 by the end of the year. He sees this challenge as an opportunity to save lives.
Volunteering Team of the Year
Won by Mad Lab Volunteers. Each month MadLab delivers 80+ free community interest groups from crochet to coding for 1000+ people! They are run by 20 volunteers donating over 1600 hours of time – education, job creation, skill sharing, increased well-being and confidence building. They also run and shape MadLab programmes: Make Stuff – a digital roadshow for families in deprived areas. Since 2016 they have delivered 19 events and trained 8000+ people!
Volunteer involving Organisation of the Year
Won by Future Directions CIC – a social care provider, providing support to people with learning disabilities. They have a dedicated Volunteer Coordinator and a clear vision for volunteering. They even have a Volunteer of the Year Award. Their volunteer roles are diverse and flexible to meet the needs of the organisation and the volunteers. For example, one volunteer meets up once a month with a person that they support for a game of chess (he was tired of beating the staff and needed a new challenge!).
Best Service User Involving Organisation
Won by Manchester People First – set up by learning disabled people to raise the issues that affect them. Their committee is 100% user led with ideas for activities and designing and delivery of workshops.
Most Inspired Campaign
Won by Big Change Manchester. Following a 900% increase in rough sleepers in Manchester between 2010 and 2016, The Big Change Manchester campaign was created, bringing together charities, grassroots groups, the council, businesses and citizens to work to end homelessness in Manchester. The campaign has raised over £75,000 and funded 142 rough sleepers so far, to help them to build independent loves. All involved in Big Change Manchester are volunteers, with none of the money raised going to pay salaries.
Best Community Space
Won by THE LGBT+ Centre. This is the first fully publicly-funded 'gay centre' in Europe (opening in 1988). Over the years it has been a safe haven for many LGBT people and their families. It provides an affordable space for grass-roots, community led initiatives. It even has a community café which provides a welcoming environment open to the public, which helps to promote inclusion and de-mystifies what goes on in a 'gay centre'.
Best Partnership Initiative
Won by the Anson Community Shop – a fantastic example of partnership working, helping tackle food poverty and social isolation by giving people the opportunity to buy food and other household items at hugely discounted prices, as well as breaking down barriers between the local community and support services.
Business Citizenship Award
Won by Sow the City who build healthier places where everyone can grow their own food. It started on 2009 with a few packets of seeds and some compost and is now the leading specialist food-growing company in the city. Food growing and being outdoors is excellent at boosting health and well-being, saves money and is good for the planet. A win, win, win!
Health & Wellbeing Award
Won by MRSN (Manchester Refugee Support Network) – the only organisation in Manchester supporting refugees and asylum seekers to improve their health and well-being and to improve social inclusion.
Equalities Award
Won by MASH Outreach Volunteer Team which supports street sex workers and provides a non judgemental and pragmatic response to an over-looked section of Manchester's community. Many of the women supported are migrants and the team also includes volunteers of varied nationalities to provide a listening ear and communicate effectively, as well as translating all of MASH's information into various languages. They also help to provide structured support for anyone who may be brought into the country against their will.
The Dr Sylvia Sham Award for Contributions to the Voluntary Sector
Won by Bernie wood who has worked with Talbot House Support Centre for almost 40 years, where they support the parents of children with learning difficulties. She is devoted to taking care of Manchester's hidden heroes and continues to have dreams and ideas for projects to support parent carers and enable their children to live as independently as possible. She is an amazing lady.
A raffle was also held for the Spirit of Manchester Fund, so that a wealth of talent, skills and energy in the local community can be unleashed with micro grants.
Gerry and Joanne had an incredibly inspiring evening and were proud to applaud the individuals, groups and organisations which make Manchester a welcoming and supportive city where we're proud of diversity and difference and passionate about supporting each other.
6th October 2017
St John Ambulance Greater Manchester Annual Presentation Evening for Volunteers
Gerry and Joanne were invited to attend the St John Ambulance Greater Manchester Annual Presentation Evening for Volunteers. It was held at Audenshaw Masonic Hall and they were cordially welcomed by Darren Clark, who is Chair of the County Priory Group, as well as a fellow DL. In addition, he was wearing a third hat on that evening as he was representing the Lord Lieutenant of Greater Manchester, who unfortunately was not able to attend.
They learned that St John's Ambulance has a long and illustrious history, starting its ;life as the Most Venerable Order of the Hospital of St John of Jerusalem. The order of St John shares its origins with the religious Knights Hospitaller who, in the 12th Century, serviced in a hospice in Jerusalem which cared for pilgrims. The English Branch was dissolved by Henry VIII in 1540 and briefly reinstated by Queen Mary in 1557. An early 19th Century move to revive the order in England eventually resulted in the creation of a British Royal Order of Chivalry.
Her Majesty Queen Victoria granted the Order of St John a Royal Charter and became its Sovereign Head in 1888 It has two key foundations: the St John of Jerusalem Eye Hospital and St John Ambulance.
St John Ambulance is the nation's leading first aid charity and their vision is that everyone who needs it should receive first aid from those around them and that no-one should suffer from lack of first aiders. An incredible 45,000 volunteers help around 130,000 casualties annually and more than half of its volunteers are under 25 years of age.
During this special evening, many types of awards were given
Youth Awards – including the Super Badger Award and the Grand Prior Award.
Adult Special Service Certificates – 500 Hours Service Certificate, 750 Hours Service Certificate, 1000 Hours Service Certificate.
Service Recognition Awards – 3 Year Service Pin, 6 Year Service Pin, 9 Year Service Pin.
The Order of St John Service Medal & Bars and even the Gilt Laurel Leaf, which recognises an incredible 52 years service.
Pride of St John awards for significant achievement over a number of years, leadership, community development, fundraising, being a friend of St John, for Units (Adult, Cadet and Badger)
Gerry and Joanne were totally impressed with the commitment of the volunteers and were grateful to be made so very welcome.
Gerry was delighted, as High Sheriff, to thank the all the volunteers for their good work and be able to send them all the congratulations of Her Majesty the Queen, who he represents as Head of the Judiciary in Greater Manchester.
They very much enjoyed talking to some of the award winners as they posed for photographs, as well as sharing a very tasty buffet of Meat & Potato Pie, Red Cabbage & Beetroot, followed by Apple & Sultana Sponge & Custard. Delicious!
7th October 2017
Citizenship Ceremony – Bury Town Hall
Gerry and Joanne joined the Mayor if Bury, Cllr Dorothy Gunther and her Consort, Nr Michael Gunther for the Citizenship ceremony at Bury Town Hall on Saturday 7th October 2017 at 10:30am.
Gerry thanked the Mayor and the new British Citizens for allowing them to share in the Citizenship Ceremony. It is a big day for them, and I felt privileged to be there to celebrate with them.
They came from many different countries all with their own rich heritage. But today they became British Citizens, as well as a citizens of Greater Manchester. He congratulated them, on behalf of the Queen and Lord Lieutenant, as they began a new and exciting journeys in their lives. Although many of them have lived and worked in UK for some time already, he added his own personal welcome as they became full British Citizens.
He told them that Great Britain and the Commonwealth countries have much to celebrate in their long history, and that they were now part of that history. At the same time, they would  also take part in the creation of their future, as they brought with them their own culture, their talents, skills and hard work into the communities of Manchester and the wider society in Britain.
He told them that he was born in China, so he is also a naturalised British Citizen. However, when he became a British Citizen, there was no ceremony – simply a brown envelope dropped through the front door. In their ceremony, the Mayor was in her full regalia and he in full uniform, so he hoped that they felt a real sense of occasion and celebration.
He shared the fact that his own personal experience of life in Britain has been nothing but positive. He has found that the words that are often used to describe British values – justice and fairness, tolerance and liberty – are all true. We have a society with many fine institutions, with many checks and balances, and as a result the rules of Law are properly exercised. We also have a society with great generosity and community spirit – and asked them to think of the number of charities and voluntary organisations out there. He also commented that perhaps we should also add the words, 'multi-cultural' and 'diverse', to being British – after looking at everyone in the room.
Over the years, his journey has been to learn, to understand, then to enjoy and participate in British culture and society. He hoped that they would do the same; and that they would enjoy their life as a British Citizens, as much as, if not more, than he has.
He also encourage them to partake in your local community and that in doing so, they would enrich the lives of many and in turn their own lives would also be enriched.
Finally, he assured them of the good wishes and support of their new fellow countrymen and women and, on behalf of the Lord Lieutenant and Her Majesty the Queen, wished them, on their very special day, a happy, successful and fulfilling life in Great Britain.
Gerry and Joanne very much enjoyed listening to everyone's reasons for coming to Great Britain and about their lives here so far – as well as posing for photographs.
8th October 2017
Manchester Annual Legal Service – A Service to mark the beginning of the Legal Year
The Annual Legal Service is held in Manchester Cathedral – the Cathedral and Collegiate Church of St Mary, St Denys and St George in the heart of the city of Manchester. The building is the old medieval parish church of Manchester. King Henry V first granted it Collegiate status in 1421 and it became Manchester's Cathedral on the creation of the Diocese of Manchester in 1847. It is believed that there has been a church on or near the site for over a thousand years – around the same amount of time that the role of High Sheriff has existed.
In those days, the High Sheriff was one of the most powerful people in the county or bailiwick. He represented the monarch and collected taxes, but his major role was to do with law and order; combining the jobs that are now carried out by the Police, the Court, Magistrates and Local Authorities.
In fact, the role of High Sheriff was mentioned in no less than 27 of the 63 clauses in the Magna Carta.
Today he still ceremonially represents the Queen as the Head of the Judiciary in the county, hence Gerry's major role in this beautiful and traditional service.
It was a dry and mild morning and it was a real treat to see a wonderful array of guests arrive at Manchester Cathedral –  the Under Sheriff resplendent in his elegant uniform welcoming everyone, Mayors in full regalia, the High Sheriff's of Lancashire and Merseyside and the Chief Constable of Greater Manchester Police.
In the mean time, numerous Judges were preparing to join the procession, with the Honorary Recorder of Manchester looking majestic in red robes and full wig.
A triumphant and dramatic fanfare by the Trumpeters of the Greater Manchester Police summoned the processions into the Cathedral and the whole congregation rose as one as they awaited the processions with anticipation and respect. A wonderful sight of heritage and tradition.
The glorious sound of the Stoller Organ filled the cathedral and the powerful and beautiful choir led the congregation in a rousing rendition of Praise my Soul the King of Heaven.
The hymns throughout the service had been chosen with care and reverence by the High Sheriff's Chaplain, the Reverend Angie Stanton of St Elisabeth's in Reddish.
The Sub-Dean welcomed everyone to the service with powerful words:
'We have gathered together with the High Sheriff of Greater Manchester, Her Majesty's Judges, the Heads of the Civic Authorities, and those associated with the administration of justice in Greater Manchester, and we meet in God's name. We are here to worship God, to hear God's word, and to pray for the world, especially our nation, that those in authority under our Sovereign Lady, the Queen, may serve truly, to the well-being of all her people, , and that all people may live in obedience to our laws and in charity with one another.'
The second reading was read by the High Sheriff:
Matthew 7:24-29
'Everyone then who hears these words of mine and acts on them will be like a wise man who built his house on rock. The rain fell, the floods came, and the winds blew and beat on that house, but it did not fall, because it had been founded on rock. And everyone who hears these words of mine and does not act on them will be like a foolish man who built his house on sand. The rain fell, and the floods came, and the winds blew and beat against that house, and it fell—and great was its fall!'
Now when Jesus had finished saying these things, the crowds were astounded at his teaching, for he taught them as one having authority, and not as their scribes.
After an inspiring sermon given by The Reverend Nigel Ashworth, the Rector of St Ann's, Manchester and an uplifting anthem sung by the Choir, the High Sheriff's Chaplain, the Reverend Angie Stanton movingly lead the congregation in Prayer.
At the end of the service, everyone rose to sing the National Anthem and remained standing whilst the Processions left the Cathedral.
After the service, everyone enjoyed Dim Sum Canapés prepared by chefs from the High Sheriff's restaurant and a Dessert Buffet displayed with ingenious vegetable carvings in the Regimental Chapel.
The High Sheriff's family kindly helped the waiters and waitresses by taking around trays of canapés and chatting to the guests.
It was a very special day.
9th October 2017
Lunch at the Nicky Alliance Centre to celebrate Sukkot
Back in June, Gerry and Joanne, were delighted to be invited to open the Nicky Alliance Centre's Art Exhibition at the Maccabi Sports & Community Centre in Prestwich.
They very much admired the art work, met lots of interesting people  and Gerry felt blessed to meet Isaac, a wonderful gentleman with a real zest for life, who looked about 70 years old but was actually 101!
Having had such a good time, they were very pleased to receive an invitation to the Nicky Alliace Centre itself to celebrate Sukkot with them and to come for lunch 'and stay as long as they liked'!
Gerry and Joanne were met by the CEO, Michelle Wiseman, given a tour of the Centre, met the members and very much enjoyed sharing lunch with them.
It was explained to them that Sukkot is the Jewish Feast of Tabernacles. During the existence of the Temple in Jerusalem it was one of the three pilgrimage festivals, when the Israelites were commanded to perform a pilgrimage to the Temple. It marks the end of harvest time and of the agricultural year. It also commemorates the Exodus and the dependence of the People of Israel on the will of God. The holiday lasts eight days.
They had built their own foliage covered booth, called a Sukkah, in which to celebrate.
The Centre provides day care for older, disabled and vulnerable members of the Jewish community, with weekly activities designed to help the members (of which there are over 200) remain active, promote their independence and well being, and above all, enjoy themselves.
They can even deliver Kosher Meals on Wheels to the door of their members on Tuesdays and Fridays. After enjoying lunch there,  Gerry and Joanne can totally recommend them!
It is so welcoming and has a real homely and community atmosphere.
Gerry found a t-shirt that he really wants to add to his wardrobe!!
Young at heart. Older in other places!
I am diplomatically making no further comment!!!!
9th October 2017
Stockport College University Centre Graduation Ceremony
Gerry and Joanne were invited by the Principal, Dr Mike Potter CBE and the Assistant Principal & Dean of Higher and Professional Education, Mark Harris to attend the guest reception for the College's key stakeholders in Stockport Town Hall, followed by the main Graduation Ceremony in the Ballroom.
After the reception, Gerry joined the formal academic procession into the Ballroom, for what is the biggest annual education awards evening in Stockport.
Stockport College provides one of the widest range of programmes of any Further and Higher Education Institution in Greater Manchester. They work closely with a number of leading universities, including the University of Chester, MMU and Sheffield Hallam University, as well as major industry awarding bodies, including Pearsons, the Chartered Institute of Building and the Association of Accounting Technicians. Their aim is to ne a 'one stop shop' for education and training in the area.
A warm welcome was given to all the guests by Mark Harris, followed by the Principal's Address.
The college has adopted the Greater Manchester Mayor's Homelessness Fund as their charity and an eye opening address was given by Guest Speaker Ivan Lewis MP.
A Community Award was presented to Parrs Wood High School, followed by an uplifting performance by the very talented Parrs Wood High School Choir, who had also sung at the One Love Concert earlier in the year.
Awards were also conferred in:
Access to Higher Education
Arts, Design & Media
Education & Applied Social Sciences
Construction, Engineering , Computing & Science
Professional Courses
As well as Special Recognition Awards in:
Academic Excellence
Excellence in Undergraduate Research
Applied Practice Excellence
The Dean's List
A Community Award was also presented to Daniel Hett, the brother of Martyn Hett one of the 22 victims of the Manchester Arena attack. He is a BAFTA-award winning artist and creative technologist who has and is still touring dozens of schools around the country, talking to children about the 'real effects of extremism'.  He will also be a guest speaker at the prestigious TEDx Conference when it returns to Manchester in February 2018.
The Key Note Speaker, Carly Tait, IPC European Championships Silver Medallist in 2016 and part of Team GB in the Rio Paralympics 2016 then spoke most eloquently and enthusiastically, encouraging all the students to launch themselves further and reach for their dreams. Carly is a British wheelchair athlete, specialising in sprint and middle distance events.
The Ceremony was then closed by Louise Richardson, the Chair of Governors.
10th October 2017
Citizenship Ceremony at Bolton Town Hall
Gerry, in full uniform, arrived at Bolton Town Hall with Joanne to carry out a Citizenship Ceremony during the afternoon of 10th October 2017.
Bolton derived from the Old English bothl-tun, meaning a settlement with a dwelling. Bolton's motto of Supera Moras means 'ovecome difficulties' and is a pun on Bolton-super-Moras meaning literally, "Bolton on the moors".
The Town Hall is a very  beautiful Grade II listed building and has a impressive and intriguing history. It was built between 1866 and 1873 to designs by William Hill of Leeds and George Woodhouse of Bolton. It was then extended in the 1930's to designs by Bradshaw, Gass & Hope to include more office space.
The cost of the original building was expected to be between £70,000 and £80,000 but doubled to £167,000 (which is equivalent to about £13,580,000 today!!). Bolton Corporation held a competition for the design and it was won by Cuthbert Brodrick of William Hill Architects.
It was opened by Albert Edward, Prince of Wales in 1873.
In 1978 Fred Dibnah made repairs to the baroque style clock tower and its 16 stone pillars, as well as gilding the sphere at the top.
During the Cold War, the county standby nuclear bunker was located directly below the Town Hall. It dates back to World War II and was modernised to provide protection from nuclear attack.
The Town Hall used to have a central hall lit by a clerestory (the upper part of the hall, containing a series of windows), but it was damaged by a fire in 1981 and rebuilt as two public halls – the Albert Hall and Festival Hall.
They were met by the Mayor of Bolton, Cllr Roger Hayes, and his Mayoress, Mrs Jaleh Hayes.
A total of 39 people received their Citizenship Certificates from the Mayor and the High Sheriff – from Poland, Sri Lanka, Iran, Iraq, Ethiopia, South Sudan, Mozambique, Cameroon and Pakistan.
Gerry and Joanne enjoyed hearing some of their moving and inspirational stories and were delighted to pose for photographs.
After the Ceremony, the Mayor & Mayoress kindly showed Gerry and Joanne around the Town Hall.
The emblem of Bolton, the elephant, can be seen all over the Mayor's Parlour – carved on chairs, on the fire place, on plaster work. Children who visit the Town Hall are often given the challenge of counting how many elephants that they can find.
No-one seems to be quite sure of the reason why Bolton adopted the elephant. One theory is that the association could go back to the Middle Ages when the animal would have been seen by very few Europeans and lots of strange stories were told about it. It also became an important Christian symbol and was often found carved on the end of benches, usually with a castle on its back (the idea coming from the howdah on Indian elephants  or perhaps from Hannibal's elephants. It is believed that there may have been an elephant prominent in the old parish church of Bolton and the association came from that.
Another possibility is that it comes from the cotton trading connection between Bolton & India. Elephants and castles were erected on the gateposts of Bridson's Bleachworks in Chorley Street, maybe  because of a visit to India or because cloth was exported there and the symbol was used to mark the bales.
The Mayor's Parlour also contained some beautiful silver ware and historical artefacts too numerous to mention. It was a fascinating tour
Some of Gerry and Joanne's favourite items were portraits of the Queen and the Duke of Edinburgh, taken in 1954 not long after the Coronation. The Sheriffina was rather taken with how handsome the young Prince Philip was!
The Mayor's visitors book  has also been signed by hundreds of people since 1875. Including all the reigning monarchs since George V onwards, politicians, philanthropists, musicians, authors, sportsmen and women, celebrities……
Here are just a few examples:
Phineas Taylor Barnum was a world famous American showman and manager. Co-founder of Barnum & Bailey Circus – "The Greatest Show on Earth".
James Keir Hardie was the first leader of the Labour Party.
Sir Henry Irving was the leading actor-manager of his time and the first actor ever to be knighted.
Bram Stoker was Irving's manager and later became world-famous as the author of 'Dracula' (the title character being supposedly based on Irving). They visited Bolton to lay the cornerstone of the Theatre Royal on Churchgate.
…..and it has now  been signed by the High Sheriff of Greater Manchester!!
10th October 2017
Withington Girls' School Founder's day
Celebration of the Founders of Withington Girls' School
Gerry and Joanne were proud to be invited to The Withington Girls' School Founder's Day Celebration held at the Bridgewater Hall, especially since, not only is their daughter, So Yi, an alumnus of the school but Gerry was also a Governor and Chairman of the Bursary Appeal for many years.
In fact, Gerry was there in many capacities: proud father, ex Governor, Ex Bursary Appeal committee member, High Sheriff and also representing the Lord Lieutenant of Greater Manchester.
This is possibly the largest amount of hats that he has ever worn at one engagement!
They were received by three beautifully dressed members of the Sixth Form, who accompanied them to the Corporate Bar, where they met with some of the Governors, the present Headmistress, Sarah Haslam and two ex Headmistresses, Sue Marks and Janet Pickering.
They were also introduced to Emma Chapman, a novelist and alumnus of the school, who distributed books during the service, as well as being the guest speaker.
In 2013, her first novel, How To BE A Good Wife, was published internationally to critical acclaim, with reviews in The Guardian, The Financial Times and the New York Times, amongst others. It was long listed for the Dylan Thomas Prize and chosen as a Target Book Club title. Hilary Mantel called it 'an impressive debut from a writer who shows insight and power.'
Her second novel, The Last Photograph, about a British photo-journalist's experiences during the Vietnam War, was published in July 2016.
She also runs the charity, Vietnam Volunteer Teachers.
Gerry and Joanne have previously attended some 13 Founder's Day Celebrations, so there was a real feeling of homecoming. The only difference was that he was in High Sheriff's uniform, though minus the sword which was barred by the Bridgewater Hall!
He was honoured to be asked to lead the Procession of the Platform Party into the Bridgewater Hall,  preceded by the beautiful  Allegro from Symphony No 6 in G Minor Op 42 No 2 by C M Widor and Fantasia and Fugue in C Minor BMV 537 by J S Bach and then accompanied by the whole of the Bridgewater Hall singing the resounding hymn, I Vow To Thee My Country.
Withington School is has been much blessed, with cohort after cohort of intelligent, multi-talented, self-motivated, disciplined and energetic girls. It has also been blessed with a string of efficient, effective, visionary and empathetic Headmistresses who, together with governors and senior staff, have created one of the most successful girls' schools in the country. The GCSE results this year achieved an incredible 97% of A and A* results, as well as 75% A/A* at A Level. Yet, contrary to popular belief, Withington is not simply an academic host house. The girls are all involved in a whole host of extra- curricular activities. It is a happy school and in many cases three generations of the same family have been educated there.
This is not a biased account from a former Governor, but simply the truth provided by a satisfied Dad, whose daughter was very happy there.
The Head of the Governors, Malcolm Pike presided over his first Founder's Day and recited the Founder's Vision most eloquently, as well as saying a heartfelt thank you to his predecessor, Liz Lee, who was Head of Governors for 16 years.
The Headmistress presented an impressive and inspiring report and then handed over to Emma Chapman to continue the theme of The Journey in her excellently delivered speech, which was enthusiastically applauded.
The speech by Head Girl, Sejal Karmarkar, describing her journey through the school, was also rapturously received with laughter and applause. It was obvious that she was a very popular Head Girl.
Readings were performed with style and composure, especially that from Ulysses by Alfred Tennyson which was declaimed with such feeling and finesse that you felt as though you had been transported to the Royal Shakespeare Theatre.
The School Orchestra played beautifully, with Gerry's personal favourite being the Star Wars Epic – Part II by the Senior Orchestra – the choice of music being a touch of genius – familiar and rousing.
For Gerry & Joanne the highlight was the Distribution of the Founder's Day Books. Every Sixth Former is given a book of their choice and walks up to the stage to receive it personally. Not only do they manage to cross the stage as elegantly on a cat walk in five inch heels, but the beautiful outfits from Indian saris, to Chinese cheongsams, ball gowns to mini skirts, perfectly illustrate the cultural diversity and community spirit of Withington Girls' School.
A very special evening.
11th October 2017
Citizenship Ceremony at Oldham Town Hall
The morning of 11th October found Gerry and Joanne at Chadderton Town Hall for the Citizenship Ceremony.
Gerry and Joanne were met by the Mayor of Oldham, Cllr Shadab Qumer. They were told that he was getting rather practised at Citizenship Ceremonies , as he also carried out the majority of them last year as Deputy Mayor, due to the Mayor being unwell for some time.
In addition to the Certificate of Naturalisation, the attendees were also given a mug showing the Oldham Coat of Arms, which was a lovely touch.
Some 15-20 people from a variety of countries received both certificate and gift. Gerry made his usual speech, passing on the congratulations of not only the Lieutenancy Office and the High Sheriff's Office, but also of the Queen.
Gerry and Joanne enjoyed meeting with the brand new British Citizens and posing for photographs. Many of them, especially a family from Australia, particularly enjoyed Gerry's sword and hat. The father's great grandparents had originated from Bolton and migrated to Australia many years ago, so the family had now come full circle and returned to their roots!
11th October 2017
Citizenship Ceremony at Stockport
The afternoon of 11th October found Gerry and Joanne, who live in Heaton Moor, on home turf in Stockport.
Stockport Town Hall was built in 1908 and is a Grade II listed building with a striking clock tower, known historically and affectionately as 'the Wedding Cake' , with stunning Renaissance architecture and a spectacular Marble Staircase.
Gerry has previously attended many Citizenship Ceremonies there in his role as Deputy Lieutenant.
The ceremony took place in the Sir A Brumwell Thomas Room, named after the original architect of Stockport Town Hall. It is a beautiful and elegant room with a magnificent chandelier hanging from the barrel roof.
Hospitably, Stockport offers  tea, coffee and biscuits to the new British Citizens  and their families after the ceremony, which adds a real sense of celebration  and community.
Gerry and Joanne enjoyed meeting everyone and sharing their day. They also had great fun taking and posing  for photos.
High Sheriffs are getting younger and smarter all the time!! Obviously, in the future the bailiwick of Greater Manchester is going to be in very safe hands!!
---
September 2017
Sunday 3rd September 2017
Bolton Rugby Union Club Annual Junior Open Day
This was a active day, spent on the fields at Bolton Rugby Union Club with fun for all the family, including free rugby training (not easy when wearing a sword!), refreshments, cakes, tombola, raffles, market stalls with arts, crafts and food, a Fun Zone including inflatables and games (Gerry kept his sword well away from the inflatables!), local group displays, face painting, Sale Shark players, tug of war, mascot races, live music, fitness challenges and lots, lots more.
The whole idea is to get youngsters into sport , learning team skills and generally keeping fit and healthy.
Gerry and Joanne were met by Eraina Smith and taken into the recently refurbished and very smart clubhouse where they were briefed on the happenings of the day and had a catch up with the Mayor and Mayoress of Bolton!
They were also joined by the Chairman, Mark Brocklehurst and the President, Alex Brodie.
Photos were taken with the U17s , the Coaches and the Mayor.
Gerry then cheered on some excellent rugby with feisty performances.
Sadly the rain began to come down and Gerry and Joanne sheltered in some of the large tents containing a variety of different stalls, including one with the creative name of Innoscent which was selling perfumes and fragrance oils. They also spoke with the local History Society, the Rotary Club, a stall selling delicious cup cakes and one close by offering slimming booklets (what a juxtaposition!).
Gerry and Joanne learned that one of the areas close to the Club is called Halliwell. It became a township in 12th – 13th Century and has a holy well which attracted pilgrims. They were also recommended to visit Smithfield Hall, a local Grade 1 Listed building.
They also met the Treasurer of the Club, Duncan Trench, who took them for a conducted tour of the new changing rooms and storage areas. The Club is wholly run by volunteers and they are rightly proud of their achievements.
Even though the weather was not very kind it definitely didn't dampen anyone's spirits . The atmosphere was buzzing and there were lots of young families around, enjoying the activities.
Many new young players signed up to play on the junior teams. Gerry reckons that young James, looking resplendent in Gerry's hat and sword, is going to play for England one day.
Gerry and Joanne had a really good time, said their goodbyes and headed off to their next engagement whilst munching freshly made pizza from one of the stalls!
Sunday 3rd September 2017
The Pan African Ahmadiyya Muslim Association (PAAMA) North Region UK Launch of Outreach Peace Awareness Campaign and Eid Reception Dinner
The Ahmadiyya Muslim Community was founded in the small, remote village of Qadian (Punjab, India) in 1889. It emphasises the spiritual and humanitarian aspects of faith, saying that Islam teaches man to love God and to love His creation and that Islam's true beauty lies in its powerful message of peace. There is a strong focus on education in the Community and the motto is 'Love for all. Hatred for none.'
Gerry and Joanne were met by Toby Ephram and taken to a side room for coffee and preparation.
They also met with the Under Sheriff, David Cam.
The afternoon began with an introduction of the programme by Mr Ahmed Owusu Konadu, Vice President of PAAMA UK. He stressed the peaceful nature of the Ahmadiyya faith and asked the members to help the Police as much as they could and to support the Prevent programme.
This was followed by small speeches, one of which was made by Gerry, who explained his role as High Sheriff, applauded the vision, philosophy and good work that they were doing and wished their campaign every success.
Erinma Bell, a fellow DL, also spoke eloquently and with strength.
PC Robert Duke and other members of the Police spoke about the causes of extreme radicalisation and the Prevent Campaign.
Before an extremely delicious Eid Dinner, an enthusiastic, interesting and educational Q&A session took place, followed by a photo session.
It was heartening to be reassured that the majority of Muslims in this country are making a positive attempt to encourage peace. It is a great shame that this has not attracted much media attention.
Thursday 7th September 2017
Royal British Legion Greater Manchester & Lancashire Area Awards, Village Hotel, Bury
Gerry and Joanne have been pleased to attend a number of moving and inspiring Royal British Legion events during the year so far and were honoured to receive an invitation to the first ever Royal British Legion Greater Manchester & Lancashire Area Awards.
The Royal British Legion is an organisation very much at the heart of a national network that supports the Armed Forces Community. They wanted to take the opportunity to recognise and thank the individuals who have worked beside them over the past year.
It is in this partnership with staff, volunteers, large public sector organisations and grass root charities that ensures that the veterans and their families in this area have the best possible support.
Gerry and Joanne received a warm welcome from the Area Manager of Greater Manchester and Lancashire, Alison Bunn. They learned that she studied at Sandhurst and she was interested to hear that their nephew, Kelvin, was currently attending Welbeck College and kindly offered to answer any questions that he might have about the Army.
Gerry was pleased to present the award to the Cadets of Greater Manchester and Lancashire.
There were also a number of other awards won by:
Membership Unsung Hero, Greater Manchester – Karen Brown of Ashton Under Lyne Branch & County Committee
Membership Unsung Hero, Lancashire – Heide Bamford, Mawdesley Branch
Greater Manchester Individual Supporter – Scott Briggs of Sale Sharks, Shark Forces
Lancashire Individual Supporter – Phil Burton
Fundraising Individual, Greater Manchester – Dave Fell, Poppy Appeal Organiser, Salford, who over the last 5 years has raised more than £117,000!
Fundraising Individual, Lancashire – Ram Laing
Fundraising Organisation, Greater Manchester – Charlotte Brown, Intu Trafford Centre
Area Partner Organisation (Private) – Co-Op, Manchester
Area Partner Organisation (Public) – Steve Rumbelow, Chief Executive, Rochdale Borough Council
Area Partner Organisation (Third Sector) – Liz Davies, Veterans in Communities (VIC)
Area Volunteer – Jim Sambrook
Gerry and Joanne enjoyed a delicious hot buffet and met a number of wonderful, hard working people, including Neville Beischer, the Head Master of Wright Robinson College. Wright Robinson were nominated for the Fund Raising Organisation, Greater Manchester Award . He kindly invited them to visit the college at a future date.
The national Poppy Appeal raised an incredible sum of £46,112,470 this year and Bury, Ashton Under Lyne, Bolton, Salford, Blackpool, Blackpool and St Anne's between them raised the awesome sum of £534,969.
LIVE ON – to the memory of the fallen and the future of the living.
8th September 2017
Boot Out Breast Cancer – Cheque Presentation
Gerry and Joanne were invited by long time friend and fellow DL, Lorraine Worsley-Carter to attend a 2017 kick start event for Boot Out Breast cancer.
They were welcomed by Lorraine and Sharon Cameron, Regional Director of the Principal Hotel Group and also met with Edith Conn DL.
Boot Out Breast cancer is a charity based in the Bolton area of Greater Manchester. The charity's mission is to provide equipment for a s many breast cancer units in NHS hospitals as possible.
It was set up in 2010 by Debbie Dowie, who was diagnosed with breast cancer in
August 2009. She decided to turn her experience into a positive one, created the charity and now, with a group of friends (Donna Rothwell, Joanne Crompton & Sharon Chantry), fundraises to provide this much needed equipment.
The fundraising kick start event was hosted by Principal Hotel in Manchester and at the event a cheque was presented to Debbie by the latest member of her team, Sally-Ann McGladdery, who has also recently suffered from breast cancer. It kick starts a year's fundraising with a target of £100,000, culminating with a Ball at the Principal Hotel in September 2018.
The cheque was presented today was for £5,220 and the sum was raised by Stand Cricket Club at a fundraising event at a first team match earlier in the year.
Over the last eight years the charity has raised an amazing £800,00, every penny of which goes to purchasing life saving equipment. A fabulous achievement.
When Gerry learned that he was going to meet Debbie, he learned from a mutual friend just how special she is. She turns her own personal problems into a triumph of life. She is bubbly, fun loving, extremely hospitable and apparently throws fabulous parties! She loves cooking and dancing, as well as being very hard working.
He was delighted to congratulate her on her wonderful achievements.
Gerry and Joanne were privileged to spend time with her, energised and moved by her example …and also requested to be added to her party invitee list!
What an incredible team of inspirational, determined and extremely brave ladies.
Wednesday 13th September 2017
Manchester Naval Officers' Association Annual Luncheon, Yang Sing Restaurant, Manchester
The High Sheriff and Mrs Yeung were honoured to be invited to the Manchester Naval Officers' Association Annual Luncheon and also delighted when Yang Sing Restaurant was chosen as the venue.
Gerry and Joanne enjoyed meeting up with some old friends – Sir Netar Mallick and Lady Mallick, Colonel Sir John Timmins and Lady Timmins and Major John Abbott and Mrs Jan Abbott – and also making lots of new ones.
They were welcomed by the President, Commander Philip Russ RD MA MNI RNR, and Lieutenant Commander Alan John Williams RNR and soon seated, where they also met Surgeon Commander John R N Curt OBE DL RNR, the retired President, and Mrs Margaret Curt.
Lunch was duly served and enjoyed and bottles of port were decanted and passed.
Gerry was then introduced to all the guests and made a speech. He told the guests his story, starting with his arrival in UK in his late teens – and a few of his experiences with the English language, including his astonishment that as well as the military definition, soldiers were also pieces of toast that were dipped in the yolk of your breakfast egg! He continued through his career as a restaurateur and entrepreneur, as well as his delight that he has been able to give a bit back by getting involved in the cultural, business, educational and charitable life of Manchester – as well as in his role as High Sheriff.
He was very proud to be presented with a Manchester Naval Officers' Association tie.
After the speech, in conversation with Commander Philip Russ, Gerry and Joanne discovered that he is also a Sea Cadet Area Officer in NW England. He covers a wide area and travels between Cheshire, Merseyside, Lancashire, Greater Manchester, Derbyshire and the Lake District. The Queen is the patron of the Sea Cadets and the Duke of York is their Admiral. They are also independent and have charitable status. That being the case, the continuous requirements of upgrading the infrastructure of all the facilities and premises in the district is a real challenge.
Gerry was also told that this lunch was the start of a new tradition as they have previously held only dinners. However, this was contradicted by another guest who remembered a lunch held at Manchester Town Hall in the 1990s at which the guest of honour was the Duke of Edinburgh.
Gerry suggested that, now that the lunch tradition has been revived, would they be able to invite the Queen & the Duke of Edinburgh to the Yang Sing!
Wouldn't that be an honour? Maybe they could be invited for a 70th Wedding Anniversary Oriental Banquet!
Thursday 14th September 2017
The Dedication and Blessing of the Stoller Organ with the Inaugural Recital given by Thomas Trotter – Manchester Cathedral
Gerry and Joanne were invited by the Dean and Canons of Manchester to attend the very special and uplifting Dedication, Blessing and Inaugural Recital of the Stoller Organ.
Gerry and Joanne have treasured and been blessed with the friendship of Sir Norman and Lady Sheila Stoller for some time (and Gerry was touched to receive a wonderful , warm and encouraging message from them after his Installation as High Sheriff). Their admiration knows no bounds for a couple who have generously and selflessly done so much to support Manchester over the years.
The Stoller Organ is glorious – both visually and musically. Its incredible sound within the beautiful acoustics of Manchester Cathedral recently added pomp, circumstance, tradition and inspiration to the Manchester Annual Legal Service of Gerry's Shrieval Year.
When the Very Reverend Rogers Govender was appointed as Manchester in 2006, he was asked to take on three projects, one of which was fund raising for a new organ, as music has always been central to the worship and community outreach of Manchester Cathedral. The Stoller Organ project has been a real team effort and more information can be found on the Manchester Cathedral website (http://www.manchestercathedral.org/music/the-organ). As the Dean beautifully and succinctly put it: 'To God be all the glory for the Stoller Organ!'
It was intriguing to learn that there has been an organ at Manchester Cathedral since at least 1635. It cost £20.00! It was finished in 1684 and stood on the screen until 1861, when it was moved to a side chapel.
In 1871 a new organ was built by Hill & Son and then rebuilt in 1910. It was revoiced and altered by Harrison & Harrison in 1918 and restored by them in 1934.
Sadly, in December 1940, it was partially destroyed in an air raid and a temporary one was constructed in 1943, which remained until 2015 (having been restored in 1974 & 1979.
The magnificent new Stoller Organ was built by Kenneth Tickell and Company and has an incredible 79 stops and over 4800 pipes ranging from 6 inches to 32 feet high.
The Blessing & Dedication Service, led by the Dean and the Bishop of Manchester, with a short reflection by the Lord Lieutenant was uplifting and full of celebration.
This was followed by a powerful and beautiful recital by Thomas Trotter, one of Britain's most widely admired musicians.
Gerry, who has no musical accomplishments, was amazed by his versatility and ambidexterity as he performed a number of beautiful and inspirational pieces:
Toccata & Fugue in D Minor – Johann Sebastian Bach
Danserye: Mohrentanz – Pavanne – Bergerette – Ronde – Saltarelle
Arr. T Trotter – Tielman Susato
La Chiesa del Sole – In Memoriam John Scott – Francis Pott
Sonata: The 94th Psalm – Julius Reubke
Scherzo from A Midsummer Night's Dream arr. S Warren – Felix Mendelssohn
Overture: St Paul arr. W T Best – Felix Mendelssohn
Gerry especially enjoyed the romantic overtones of Midsummer Night's Dream, a sound that he would not normally associate with organ music and the high notes of the Overture St Paul. Altogether a most beautiful experience.
The Stoller Organ can now be enjoyed for many years to come by all the visitors and worshippers at Manchester Cathedral , thanks to the donation from the Stoller Charitable Trust and all the other generous donors.
Saturday 16th September 2017
The Mother's Union Diocesan Festival Service
Gerry and Joanne were pleased to be invited to Manchester Cathedral to join in the Mother's Union Diocesan Festival Service. As a mother herself, as well as being very close to her own mother, Joanne was especially uplifted by the incredible work carried out by the Mother's Union.
As they arrived, they were greeted by Andrea Walsh and Maureen Moore, as well as by the joyful music and singing of the Witness Band and Choir, who performed throughout the service.
As well as the celebratory prayers and readings, Gerry was also touched by a moving poem read by Danny Collins from the Booth Day Centre.
He fought in the Falklands War, returned home to Liverpool, started up a small business and then gradually became alcohol dependant. One day he was found walking along a motorway, was hospitalised in Birmingham, discharged after a while; but he had no resources and started to live rough on the streets.
Six months later he travelled south and was living off the land for a while, occasionally helping as a farm hand in exchange for food.
He then found himself in Bristol and was rough sleeping again. He eventually returned to Manchester, was helped by the Booth Centre.
It was finally admitted by the authorities that he had been suffering from Post Traumatic Stress Disorder.
He became a volunteer for the Booth Centre and is now employed by them.
His poetry speaks so strongly about his experiences and his struggles.
Part way through the service, a lady wearing an apron and carrying a duster and cleaning materials appeared at the front of the Cathedral. She moaned that she was only the cleaner, treated as the lowest of the low, the bottom of the pile; nobody had bothered to tell her that there was a service today so she had arrived to clean! When she was told that it was a service specially for the Mother's Union, she said that they were good people, proper Christians, who do good work – set up shelters for the homeless, visit hospitals and things like that. She asked why they did it, is it because Jesus says they should or is there another reason? She said that we should do things like that because we are ministers for Jesus. Love and care shouldn't just be given to people we know, we should offer them to everyone. We should see Jesus in everyone.
It was really effective and touching – and it turned out the cleaner was actually the Reverend Sandra Kearney! She was a star!
There was also a procession when symbols of all the good works done by the Mother's Union were brought to the altar. They were described as symbols of God's love – making the world a better place – making a difference.
The Bishop of Bolton concluded the service by blessing the congregation.
Go now and proclaim the gospel,
Not just through words but deeds –
Through what you say,
What you do,
And what you are.
May others, as they meet with you,
Meet with Christ,
And know his living presence for themselves.
Amen
Everyone then gathered for tea and biscuits. Gerry and Joanne met a retired minister of Chinese origin. He is now 71 years old, but still actively helping out in the church in many different ways. His father had come to UK in the 1930s. He had a working class upbringing and admitted that he didn't do that well in school. He went to church one day and thought that the minister was very boring, so he decided he could do better! That was how he received God's call. He feels that it was a miracle and God has been with him all his life.
A wonderful story and a very special day.
25th September 2017
Our Faith, Our Planet, Our Community
The aim of our Faith, our Planet, Our Community was to bring people together to learn about climate change, promote shared values, enjoy food and fellowship and find out how we can all contribute to Manchester's plans to become a zero carbon, zero waste, climate resilient, green and healthy city. It was also a chance to discuss what commitments we need to make at a Greater Manchester level and how we can work together with the new Mayor of Greater Manchester to make them happen.
Gerry and Joanne were welcomed to Manchester Cathedral by Reverend Ian Rutherford, the Minister of Methodist Central Hall, who invited them  to attend the evening.
They were delighted to see that there were about 100 people at the evening.
The Dean of Manchester welcomed everyone, telling them that the topic of the evening was one of his personal passions.  He also introduced the speakers and performers.
First to perform were Pearls of Islam, two very talented  Islamic young ladies, who played soothing music with lyrics which were pearls of wisdom. Gerry particularly took note of a song called 'The 99 Names of God', because he had been given a copy of a beautifully created and illustrated book by that title as a gift by one of his friends, whose husband was the author.
A presentation on Manchester's Climate Change Strategy was made by Jonny Sadler, the Programme Director of the Manchester Climate Change Agency. In 2009 hundreds of residents and businesses came together to produce the city's ever climate change strategy, Manchester: A Certain Future, aiming  for a 41% reduction in carbon dioxide emissions by 2020, from 2005 levels.  In 2015, the city again made its views clear on climate change… ' a carbon neutral city', 'green industry powerhouse', 'the cleanest air', 'economically and environmentally sustainable', 'a world leader in urban sustainability and environmental regeneration'.
As a result, in January 2016, just one month after the Paris Agreement, Manchester published its latest commitment on climate change; 'to become a zero carbon city by 2050.' It was publishes as part of the Our Manchester Strategy for 2016-25.
This is a huge commitment, but the right one to ensure that we make our contribution as part of limiting the global average temperature increase to between 1.5 – 2 degrees centigrade, from pre-industrial levels.
To make this happen, all stakeholders in the city need to get involved.
From 19th July – 16th October 2016, Manchester Climate Change Agency asked the city for its views on climate change and the strategy for becoming a zero carbon city by 2050. Making use of these comments, the final strategy was launched on 5th December 2016.
He concluded his very informative presentation by describing the action plan related to building and energy, transport, resources, waste, use of more local products, creation of more green space, improving awareness through education and engagement etc.
The next speaker was Fr Eamonn Mulcahy who provided Faith Perspectives. He began with a statement that, since the Industrial Revolution, species have begun to disappear and that every hour  in the modern world an animal or plant becomes extinct. The human world population has grown from 2-3 billion in the 1950s to 7 billion today. He described how organisms are interconnected and used five alliterative words to describe how we should be treating our planet, with: respect, responsibility, reverence, restraint and repentance.
There was a poetry workshop by Sam Illingworth, followed by the keynote speaker, the Right Reverend John Arnold, Bishop of Salford.
He spoke of the encyclical, Laudato Si (Praise Be To You) which was written by Pope Francis in 2015 on the subject of Climate Change and Equality. In fact, Pope Francis gave a copy of this encyclical to Donald Trump in May 2017 when he visited The Vatican as he was considering leaving the Paris Agreement.  The Bishop said that our mission is to go out and spread the faith, represent God and carry out His work. He said that the Earth is our common home and that everyone needs to take care of it. He cited many examples of how we mistreat and abuse it: dumping rubbish, wasting food, contaminating the land, the rivers and the seas. Past generations had an excuse as they didn't understand what sustainability was. Now we do and it is our duty to act.
After another beautiful performance by Pearls of Islam, were Testimonies by various Faith Representatives: a Sikh Granthi, an Muslim Imam and a Jewish Rabbi in response to the previous presentations.
Gerry was also asked to make a response. He told everyone that he was proud to be a Chinese Mancunian and also took pride in the fact that Manchester is leading the way in the implementation of the Paris Agreement .  He joked  that his singing was totally out of tune and his poetry skills would probably be graded as a GCSE grade F!! However, on a serious note, he had picked up some very strong messages from the main speakers in that we can all become less of a slave to modern consumerism, be less wasteful, be more diligent in recycling, be more respectful, responsible and restrained.
On  a national and world wide level, every government in the world measures its success by GDP or the growth rate in GDP, as a way to demonstrate economic and social progress. But how does the world, our Blue Planet, with its limited resources, sustain an ever increasing population with ever increasing economic growth?
So, is it time for all of us to ask questions of the government, to ask if we should continue to use GDP as the sole means of our success? For example, should we take a leaf out of the constitution of a little country on the slopes of the Himalayas, Bhutan, and explore the concept of Gross National Happiness? Sustainable and equitable socio-economic development, environmental conservation, preservation and promotion of culture and good governance.
Should we ask ourselves if we have enslaved ourselves to modern consumerism, looking for the latest of everything? Are we guilty of being wasteful?
He asked one last question.
Forty years ago, as a student, he had already learned that our rain forests  were the treasures of the world, but were already disappearing. Since then we have been repeatedly told that they are continuing to disappear at an ever increasing rate.
Yet, while we have the WWF to try to protect our endangered species and UNESCO's efforts to save world heritage sites, we have not established a world wide fund to protect our rain forests.
Manchester is renowned to be bold and innovative. We have had many world firsts. Would it not be wonderful if Manchester could lead the way to initiate a globally renowned, world branded fund that will save the rain forests for our grandchildren and their grandchildren.
He left everyone with that thought……
The testimonies were followed by a poetry feedback and then Next Steps: an Interactive Session led by Phil Korbel of the Carbon Literacy Trust.
The Carbon Literacy Project is a massive collaborative project. It involves people and organisations from all sectors and walks of life working together and contributing time, materials and funding to advance understanding and action on climate change.
Its  work is held in trust for the benefit of the people of Manchester and beyond. As soon as the project was sufficiently established, an independent charitable trust was founded to take on responsibility for the project. The Carbon Literacy Trust was formed in September 2013  "to advance the education of the public in the conservation, protection and improvement of the physical and natural environment" through the dissemination of Carbon Literacy.
"Carbon Literacy is about understanding what I actually need to do, where I can get help to do it, actually doing it and seeing that I've done it."
The Dean brought the informative and encouraging evening to a close.
The evening brought together people from many different communities and gave them access to so much useful and inspirational information.
Manchester is working hard to reach its goal as regards Climate Change and we can all do our bit, as individuals, as businesses, as communities to make our goal a necessary reality.
We owe it to ourselves and our families, to future generations of our own family, to our wider Manchester family , our country and our world.
26th September 2017
Visit to Bridge College, Openshaw
Gerry and Joanne were introduced to Bridge College (part of the Together Trust) by the High Sheriff of Cheshire, Sarah Callender-Beckett, who was blown away by what she saw at their new facility in Openshaw. She put them in touch with the Principal,  Lisa Duncalf, and they were delighted when Lisa agreed to the visit.
Bridge College is a wonderful organisation that provides vital education and life skills for severely autistic and disabled youngsters aged 16-25 years. The college has an expert team of in-house teaching and support staff and therapists who get to know and work closely with each student to help with a positive transition to independent living.
The Trust is 150 years old and has many different sites, although Bridge College is relatively new. The college can call on many years of experience with the additional benefit of a modern building and facilities.
They are totally student centred, having 87 students and 164 staff, who provide focused support to learners with:
Sensory/Profound & Multiple Learning Difficulties:
•    Autism
•    Visual Impairment
•    Acquired Brain Injuries
•    Down's Syndrome
•    Cerebral Palsy
•    Communication Difficulties
They have physiotherapy, occupational therapy, speech and language therapy, a behaviour team, qualified nurses and assistive technology specialists. They also have multi million pound  state of the art facilities.
Gerry and Joanne were shown around the College and spoke in depth  over morning tea and coffee with the Principal and the new Fund Raising Manager, Esther Whitaker. They were inspired by the amazing work that the College is achieving and the enthusiasm of the students.
The students can develop their skills through subjects that they will enjoy and Bridge College has a strong track record in delivering a wide range of vocational and work related opportunities for their students:
•    Horticulture
•    Art & Media
•    Daily Living Skills
•    Community  Access
•    Music & Performance
•    Sport & outdoor Education
•    Duke of Edinburgh Award Scheme
Bridge College is doing an incredible job but their profile is not as wide as some of the better known charities, so fundraising is more of a challenge and quite a tough task. If you can help, get in touch (www.togethertrust.org.uk/special-education/bridge-college).
28th September 2017
Visit to Maggie's Manchester – Cancer support charity
Gerry and Joanne were invited to visit the Maggie's Manchester at the Robert Parfett Building in Manchester, to be taken for a tour around the Centre and to talk about the practical, emotional and social support provided for people affected by cancer.
As they arrived, they were overwhelmed by the open, airy, peaceful and serene building which houses Maggie's Centre.
The building designed by Sir Norman Foster and completed in April 2016. It is made up of a timber-lattice structure, an angular greenhouse and a flower garden. Sir Norman Foster is the founder of Foster & Partners and won a personal battle with bowel cancer over a decade ago.  The building offers a non-clinical environment where anyone affected by cancer can stop by for advice or support. Throughout the building there is a focus on natural light, greenery and views; with a greenhouse to provide fresh flowers and an emphasis on the therapeutic qualities of nature and the outdoors.
Maggie's is homely and welcoming, rather than institutionalised. There is a large room with smaller ante rooms and the whole building exudes hope and peace.
People can pop in on Monday – Friday from 9:00 am – 5:00 pm  just to talk or to take part in relaxing activities.
Gerry and Joanne were shown around by the Board Chair, Jim Martin, who was warm and welcoming.
They were also delighted to meet Sue and Jane, who are doing a fundraising trek an the Great Wall of China and who they have sponsored by funding their visas.
Good luck Sue & Jane!
28th September 2017
The Manchester Legal Walk
On 28th September over 350 solicitors, barristers, trainees, paralegals, academics and legal staff……..plus the High Sheriff and Sheriffina……joined the Manchester Legal Walk in aid of the North West Legal Support Trust!
The NWLST aims to improve access to justice for the most vulnerable in society and to do this by raising funds and distributing them to organisations that support those who need legal help but cannot afford it.
Even though it was September in Manchester and the chance of rain was high, Gerry decided to do the 10K walk in his full uniform, complete with sword! Although he decided to leave his boots at home and chose more comfortable footwear!
He gave a rousing speech on the forecourt of Manchester Civil Justice Centre, ending with the encouraging words : " ..I charge forward with my sword". The moment was captured on camera and the photo used on the front page of the next edition of The Messenger (the North West Law Magazine)!
Shortly after the speech, the walk started. Gerry and Joanne were accompanied by His Honour Judge Graham Platts for the whole of the route and joined by his wife in Oxford Road, who lectures in Law at University of Manchester.
Apparently Gerry created quite a scene as he walked along in his uniform. Many passersby did a double take as they noticed his sword!
Gerry and Joanne arrived back just after 7:30. The room was already completely packed with walkers and Gerry couldn't work out how they had managed to get back so quickly. Maybe they took a short cut!
Supper was served and Gerry and Joanne posed for many photos, including one with a team from Tuckers, who had never heard of the role of High Sheriff. After the walk we wrote to them and told them all about it!
29th September 2017
Visit to UKFast
Gerry and Joanne were introduced to Aaron Saxton, the Head of Training & Development at UKFast by a fellow DL, Mumtaz Bashir.
She was impressed not only with his enthusiasm and dynamism, but also that he was passionate in supporting young people within deprived communities.
When Gerry learned that UKFast, whose CEO and Founder is Lawrence Jones, is committed to transforming digital education in Manchester to ensure that children leave school equipped with the skills that they will need to thrive in our digital world, he was delighted to accept an invitation to visit their headquarters in Hulme.
Gerry did a bit of research and learned that UKFast is a family built company and the largest privately owned hosting provider in UK. They have over 18 years experience in cloud technology and dedicated hosting. Their focus is to provide the highest levels of service possible and to earn life- long loyalty from their customers.
Since Gerry also runs a family business, he was even more intrigued.
Gerry and Joanne were blown away by the facilities at the company. They entered a large open reception area, in which part of the floor is set out like a huge chess board with chess pieces around half a metre high. There are also comfortable and welcoming sofas.
They were shown around by Lawrence and his wife, Gail, who is Joint Managing Director. They explained that this was the A Floor – A for Action!
From the reception they moved on to a relaxed staff area with kitchen facilities and a delicious looking plate of cakes on the table. Both Gerry and Joanne became immediately aware that the staff were very relaxed.
There was also a huge gym that the staff can use at any time. Apparently at lunch time it is packed! There was even a small area where they could play video games.
Another area provides crèche and play facilities. Often the staff bring their children to work – and sometimes the clients bring their children too! Birthday parties are held there as well. This floor also houses an education centre where the staff can work with schools and teachers can be trained in IT skills. Much of the work that UKFast carries out for the community is done free of charge.
Lawrence and Gail then showed Gerry and Joanne B Floor – B for Business. This is entered through a very futuristic looking tunnel and contains cosy little pods where the staff can work with the clients.
There is a slide which runs from the second floor right down to the reception. Gerry had great fun trying it out!
Next was a technical area with long desks seating 6-7 people who make up a team. Each team has a number of accounts and each account is personally handled by a team. UKFast has increased its number of employees in order to improve customer satisfaction.
From day one, their focus has been to deliver the highest standard of hosting solutions alongside personal and excellent customer service. They don't use premium rate numbers, automated telephone systems or overseas call centres. Their UK-based support team is available 24/7 and 365 days a year via a freephone number. They guarantee that your call will be answered in three rings and they don't use scripted answers or automated messages.
What a breath of fresh air!
They even have a team who are expert in hacking. Every year there is a conference on hacking held in Los Angeles and the team from UKFast is the only British team who have ever won a prize. Impressive.
On the third floor, Gerry and Joanne were surprised to find an internal Oriental Garden…..as well as a huge bar! Every Friday the staff have bonding sessions!
In another room were very colourful chairs. On Monday the entire staff gathers together…..it's like a school assembly. The room is also used for yoga and wellbeing sessions, as well as Christmas parties.
UKFast has learned a lot from American companies such as Microsoft. In that they motivate their staff by allowing them to do their own thing and in response they give of their best.
The company is so relaxed that some employees even bring their dogs to work!
There are pods in which the staff can sleep, because often they have a very demanding 2-3 day project and simply stay at work. Apparently these pods are often used by new fathers when they return to work after paternity leave and are suffering from sleep deprivation!!
Lawrence told them that he started his working life as a pianist. Then he bought pianos and rented them out. He discovered that it was a good business. Next was an events company which was bought out by Granada TV. He stayed to work for them for a while but then moved on.
Because of the success of the piano business, he wanted to create another company involving rental. At this time the internet was just coming into being. He and Gail took courses about websites and the internet. They then provided cloud storage and moved on to more creative elements. The company grew and now has around 400 employees. They are about to purchase the building next door so that the business can expand further and include conference space.
His ambition is to buy up all the surrounding land and create a Manchester Silicone Valley.
He is definitely very entrepreneurial. When Gerry commented that there were lots of slates outside the building, Lawrence told him that he had bought a Welsh slate mine! He was looking for a large amount of slates whilst developing the building and came across the mine, which was losing money. He helped them to turn the business around, bought it and is thinking of turning it into a leisure complex!
Many of the surfaces in the building are made from corian, so he created a workshop which allowed him to buy the raw material and cut it themselves. He is the largest purchaser in UK.
Every year he takes a large group of people skiing in Switzerland. This meant that he had to take over a complete hotel which was very expensive, so he bought a hotel which he runs as a successful business for the majority of the year, but for a certain time it is closed to the public to be used for his skiing group.
Gerry was then invited into Lawrence's private area where he was interviewed for Lawrence's blog. One of the questions that he was asked was; "How would you like to be remembered?"
Gerry's initial response was to say, "Ask me again in 10 years!" but then said, for the time being, he would like to be remembered as "A gentleman from the Orient, who has transcended East and West!"
Very philosophical!
---
August 2017
1st August 2017
Visit to Volition, Manchester
Gerry and Joanne were invited to visit Volition by Tony Maunders, their Volunteer Programme Co-Ordinator who Gerry first met at a meeting with the Dean of Manchester earlier in the year.
They were welcomed by John Emsley, his fellow Volunteer Programme Co-Ordinator as Tony had an earlier 'run in' with one of their bees and was feeling a little 'stung over'! They also met Nicky, one of Volitions many success stories. She came to Volition for help in finding work after taking a break from employment to look after her child. They were so impressed with her that they employed her themselves and she is doing a sterling job!
They were then joined by Anthony O'Connor, Director of Fundraising & Development, who explained the background of Volition.
It started in 2011 and was launched by Manchester Cathedral with just 15 volunteers. They used the simple but effective idea that the Cathedral was a key place in the city that could bring key players together to make a difference and that people will help other people if only you know how to ask. They believed that volunteering could play a big role in tackling poverty, social exclusion and ultimately reduce unemployment.
They identify roles, projects and areas of community action where unemployed people can become a volunteer and work closely with GMFRS to create alternative volunteering options with a clear community focus. They then support them back to work with employers already on board as their partners.
They have some key values, things they believe in and include in everything they do:
• no goodbyes, we have time for you no matter what
• choice and free will achieves outcomes
• quality relationships not ticks in boxes makes the difference
• constancy, will always be here
• collaboration, people helping people
They aim to up skill, retrain and move on their volunteers to bigger and better things, with the support of their extensive and award winning Employer Partnership – businesses that go the extra mile, simply because they want to. They bring a wide range of added value to the support offered to volunteers such as work related training, mock interviews, and mentoring.
Volition volunteers are exactly that – volunteers. They can stay with Volition as long as they want to, and return whenever they need to. In fact some volunteers who have found a job as a result of the support of Volition, still volunteer with them or mentor other volunteers. There are no goodbyes!
The CEO of Smart Works, Fiona Gunnion, who Gerry and Joanne visited back in June, has also been in touch with Volition to tell them all about how they help women to get back into work.
Everyone works together.
They were then taken to the roof top of the Print Works where Volition has a vegetable patch, a greenhouse where huge cabbages and cherry tomatoes are grown by hydroponics (in a watery solution of mineral nutrients instead of soil) and four hives! It was a beautiful and restful place, with bees, butterflies and lots of delicious looking vegetables and fruits. A little oasis in the centre of the city. Gerry and Joanne could easily understand the therapy that it provides for Volition's volunteers.
They were kindly shown around by Fred Booth, director of the Print Works who is also a fellow Trustee of the Manchester based charity Disabled Living with Gerry. Gerry noticed that there were no pigeons around the garden, which he found unusual and Fred told him that wasn't surprising as there were some peregrine falcons nesting nearby!
He also kindly gave them a guided tour of the heart of the Print Works and showed them many old and interesting photographs.
An epilogue to the tale is that Gerry met up with Tony again a few days later and he had recovered completely from his encounter with the bees. He said that it was completely his fault as he hadn't kept his mouth shut and a bee had promptly flown inside! Ouch!
He was proud to update Gerry with the information that the honey harvest was due to take place in September and they were expecting to fill about 150 jars. Gerry, a real honey lover, has put in an order in advance!
Monday 7th August 2017
Great news from BRUFC, Rumworth School and Greenfold School
Following Gerry and Joanne's visits to Rumworth and Greenfold Schools earlier in the year, we are delighted to provide an update below as to the excellent work done by BRUFC.
Many congratulations to you all!
During 2016/17 Special Educational Needs (SEN) Schools Green Fold (Primary) and Rumworth (High) have made sporting links through Rugby Union with Bolton RUFC and in Rumworth's case additionally with Sale Sharks Community Trust.
However from September 2017 things will be even better as Bolton Rugby Union FC and Prime Sports NW CIC will be working in partnership for the following three years to extend the Rugby Union coaching to each of the Special Educational Needs (SEN) schools in Bolton thanks to a successful £52k grant funding bid through BBC Children In Need. This will mean additional support for ALL SEN schools in Bolton.
Rugby Union may not be the first sport you think of when visualising sport for those with all manner of disabilities but it has proven to make a huge difference and we hope will continue to do so over the coming years for those with disabilities in Bolton.
Rumworth School and Bolton Rugby Union Football Club have over the year formed a great sporting relationship. Rumworth school provides 11-19 provision for children who have a range of learning difficulties and additional needs, whilst Bolton through their Community Development Office, Peter Gore, have been able to secure funding to enable to provide the pupils with specialised coaching within their PE lessons. Over 40 pupils have been able to access the coaching and Louis Crichlow the coach for Bolton RUFC said "it has been so satisfying to see the progress and development of the pupils, the pupils have been really enthusiastic and have been a pleasure to work with".
Rumworth PE teacher Alison Moreton said "the relationship and support we have had from Bolton Rugby Union has provided our pupils with a fantastic opportunity. We have been able to introduce a new sport which has been delivered by highly specialised coaches who have helped develop not only our pupil's physical skills but also their social and communication skills".
The success of tag rugby within PE lessons, has led to the establishment of Rumworth's first after school club held in conjunction with Bolton Rugby Union FC and Sale Sharks Community Trust. The pupils have shown real commitment to the after school club and as a result have been able to develop further their skills and building up to a game situation. Hopefully with a few pupils making the next step to attending some Bolton Rugby training sessions.
Wendy Parsons, Deputy Head of Greenfold Special School said "Our pupils have gained so much more than the rugby skills. They have a meaningful context in which to work and play alongside their mainstream peers, which is invaluable. They have a new role model; this is particularly important for the boys as the school has a very high female to male staff ratio. They have had the opportunity to build a new relationship within a safe environment which is key to their future development." Teacher rachel Parker added "The best thing is to see to see all Children from across the school participating in Fun activities. Watching the progress from week to week setting different challenges and different session each week. I just wanted to reinforce how good the coach has been with our pupils. He has high expectations and doesn't place any limitations on them. His sessions are fun and engaging and he has a great manor with the children. He is also very good at directing support staff in the session."
Andrew Feeley the Head of The Orchards Federation made up of Cherry Tree Community Primary, The Orchards Nursery and Green Fold Special School was also delighted that Bolton RUFC arranged a visit by The High Sheriff of Greater Manchester. He stated "We were very proud to welcome the High Sherriff of Greater Manchester to the Orchards Federation last week. The Gerry Yeung toured the school with Bolton RUFC sports Coaches, he spent a great deal of time speaking with pupils from both Cherry Tree and Green Fold. The children were fascinated by his ceremonial uniform we would like to thank him and his wife for visiting our Federation"
The Green Fold pupils in their Bolton RUFC Den made from tackle shields and post protectors with the High Sherriff of Greater Manchester
The High Sheriff with Mr Feeley Head Teacher of  The High Sheriff with Bolton RUFC coach Mack Middleton
The Orchards Federation
Bolton Rugby Union FC and Prime Sports NW CIC will be working in partnership for the following three years to extend the Rugby Union coaching to each of the Special Educational Needs (SEN) schools in Bolton thanks to a successful £52k grant funding bid through BBC Children In Need.
Peter Gore stated that "the assistance from Children in Need is invaluable and we are very grateful to them to allow us to expand the coaching to make a huge difference for the SEN pupils of all ages with disabilities in our Community". Prime Sports NW Senior Coach JonPaul Hardman (himself an experienced rugby player with Bolton RUFC) added "To be able to make a small improvement in the lives of these young people is very rewarding but to give each person the opportunity to take an active role in society and to be the best they can be is the real success".
27th August 2017
Volunteer Police Cadets Summer Camp, Kingswood Centre, Cilcain, Nr Mold, Denbighshire
Gerry and Joanne travelled to just outside Mold in North Wales to join a large group of Greater Manchester Voluntary Police Cadets on the final day of their 2017 Summer Camp and to help to present awards at Sunday's ceremony.
The sun shone beautifully as they arrived at Kingswood Centre, nestled in the Welsh Mountains in the beautiful green countryside. The Chief Constable had already arrived and was busy studying the citations submitted by each Cadet Unit extolling their achievements during the year.
They were greeted by Jo Green, the Greater Manchester Cadets Co-Ordinator and Adz Ali, himself a Cadet Leader, and responsible for organising the 2017 Summer Camp. He did an excellent job.
They were also joined by Claire Light, Head of Neighbourhoods, Confidence & Equality, who was accompanied by her daughter Georgina and Georgina's friend, Camilla.
Gerry was delighted to see his own cadets, Shannon Donnelly and Natasha Watkins from Oldham Unit, who have worked very hard in supporting and accompanying him during his Shrieval Year.
The Awards Ceremony began, with presentations made to each Cadet Unit for:
* Cadet of the Year Award
* Cadet Leader of the Year Award
And also an award given to the:
* Cadet Unit of the Year
Gerry was delighted to present the first awards to the Cadets of the Year from each Unit, followed by the presentation of the other awards by the Chief Constable.
Gerry told the Cadets and their Leaders that they were all winners, not only for all their hard work during the year but the fact that they had taken part in a weekend of adventure and training and risen to all its challenges – its physicality, mental demands and team work. As cadets they have joined a very special community of like minded young people who want to improve themselves- and being part of that community to which they have committed wholeheartedly definitely makes them winners.He wished them all every success in their future and encouraged them to believe in themselves, to be bold, to be brave; but at the same time to be disciplined, diligent and determined in all their endeavours.
He then lead them in giving themselves a huge round of applause.
Wednesday 30th August 2017
Greater Manchester Lieutenancy Presentation to Winners of The Queen's Award for Voluntary Service 2017
The High Sheriff and Mrs Yeung were honoured to be invited by the Lord Lieutenant to attend the Greater Manchester Lieutenancy Presentation to Winners of
The Queen's Award for Voluntary Service 2017 at Gorton Monastery.
The Queen's Award for Voluntary Service is the highest award given to local volunteer groups across the UK to recognise outstanding work done in their own communities. It was created in 2002 to celebrate the anniversary of the Queen's Coronation. It is the MBE for volunteer groups.
On arrival, Joanne was seated and Gerry entered the glorious Great Nave in procession with Her Majesty's Lord Lieutenant and Vice Lord Lieutenant, where they were seated facing the guests; including the Lord Mayor of Manchester, many other Mayors, Mayoresses, Consorts and representatives from each successful volunteer group.
Bolton School – Bolton
Chadderton Park Sports Club – Oldham
Rochdale, Bury Bridleways Association – Rochdale
Society for Abandoned Animals – Trafford
Street Scene Greenfield Group – Oldham
The Community Media Crew – Manchester
The Recovery republic – Rochdale
Volunteers & Staff of Fusilier Museum – Bury
The welcome and introduction was made by Paul Denby MBE JP DL and the National Anthem was sung with great enthusiasm and the utmost respect.
Afternoon Tea was served with an abundance of delicious sandwiches, cakes and scones, during which the Lord Lieutenant visited the tables of all the successful volunteer groups and expressed his personal congratulations.
He then made a formal address and the presentations were made. A nominee from each of the winning groups preceded the presentation by reading their very impressive and inspiring citations. The presentation was followed by official photographs.
Once again, Gerry was immensely proud to be a Mancunian.
He was also delighted to enjoy a reunion with some of the people that he had previously met during his visit to Bolton School.
He also learned some very useful etiquette from Paul Denby, in that he should not hold on to his sword whilst sitting down and also that one should not sing the National Anthem if saluting. Life is a learning curve.
---
July 2017
3rd July 2017
The High Sheriff's Mayoral Dinner
Gerry and Joanne were delighted to invite the Mayors, Mayoresses and Consorts from all the boroughs across Greater Manchester to dinner at his restaurant, Yang Sing Cathay on 3rd July 2017.
He was delighted to receive a full turn out!
They were all driven to the Trafford Centre by their incredibly organised Mayoral Attendants, who all know each other and work together like a well oiled machine!
The Trafford Centre very kindly allowed the High Sheriff to use their Management Car Park, were everyone was met by the High Sheriff's PA and escorted to the restaurant by a member of the Trafford centre Team.
Once they were received by Gerry and Joanne and safely in the restaurant, the Mayoral Attendants retired to their own table where they too enjoyed a Cantonese banquet.
Gerry and Joanne had never seen so many Mayors, Mayoresses and Consorts together before and it was agreed that an appropriate collective noun would either be a 'magnificence of mayors' or maybe, rather tongue in cheek 'a chain gang'!
They had a pleasant evening, getting to know each other, so that the High Sheriff's office can work closely with all the Mayoral Offices during the year.
Gerry explained about the role of High Sheriff, both its history and his current jobs. He shared some of his experiences to date and told them about some of the places he had visited, including spreading the word about Smart Works as he had promised.
He also promised that he would attend at least one Citizenship Ceremony in every borough, told them about the High Sheriff's Award and that he would be happy to attend any events of functions to which he could add value.
A pleasant and really positive evening was had by all.
4th July 2017
The High Sheriff's Judges' Dinner
This was the High Sheriff's Judges' Dinner for judges! Even the majority of the guests were from the legal profession.
The food was delicious and the conversation flowed. It was agreed that a good dinner did not only rely on the excellence of the food. At a later date when people discussed a dinner that they had really enjoyed, what they remembered was the company and the atmosphere.
As a good time was had by all, the conclusion that everyone came to was that they had definitely enjoyed each other's company and the conversation.
In fact, one of the legal profession who shall remain nameless, commented that last time they had attended one of Gerry's dinners they had been reprimanded for arriving back late to the Judges' Lodgings! Rather than stating that they would endeavour to be home on time on this occasion, the quip was: 'Let's do it again!!'
10th July 2017
The High Sheriff's Dinner
Gerry and Joanne were delighted to share an evening with fellow High Sheriffs and spouses from Lancashire, Merseyside, Cheshire and Cumbria, as well as the Communications Director from the Duchy of Lancaster and her husband.
The idea was to get to know each other better, to learn from each other and to exchange ideas over dinner at Gerry's restaurant, Yang Sing Cathay at the Trafford Centre.
It was a very successful evening.
Everybody felt that it is a privilege to hold the office of High Sheriff and that it was allowing them to see many different aspects of their counties to which they would not normally have access.
They also agreed that their job was to make connections, bring people together and to become inspired as well as to inspire.
In fact they were all so enthusiastic about their role that they joked that they should ask the Queen to dissolve Parliament and let all the High Sheriff's run the country!!!
11th July 2017
University of Bolton Degree Congregation – Postgraduates
The Degree Congregation was held in the Albert Halls in Bolton.
The Albert Halls is a beautiful colonnaded neoclassical Victorian Grade II listed building, part Town Hall and part Theatre.
It was built between 1866 and 1873 for the County Borough of Bolton to designs by William Hill of Leeds and George Woodhouse of Bolton. The town hall was extended in the 1930s to the designs of Bradshaw, Gass & Hope.
They even discovered that, in 1978 Fred Dibnah made repairs to the clock tower and its 16 stone pillars and whilst repairing the tower he gilded the sphere at the top.
Gerry and Joanne were to attend lunch before the ceremony and had a parking place secured at Cheadle Square. However, they got temporarily lost in the one way system when they missed the entrance to the bollard being up! A huge thank you to the Development Director, Martyn Shaw, who eventually rescued them! Gerry is currently working with Martyn to develop educational collaboration between the University of Bolton and Shanghai.
During lunch they were honoured to be introduced to the Chancellor of the University, the Earl of St Andrews, who was very warm and welcoming.
They learned that he is very interested in cultural diversity and building bridges between civilizations. This interest is mirrored within the University and in particular represented by the Centre for Islamic Finance. His impact has obviously been greatly valued.
They also met the two gentlemen who were to be presented Honorary Doctorates on that afternoon by the Earl of St Andrews.
Ian Savage became a Doctor of the University for his outstanding services to the Media. The Bolton News has been the mainstay of the local community since 1867 and celebrates its 150th anniversary this year. It is Ian's task to put the award-winning newspaper together six days a week! Ian began his career as a trainee reporter at the Bury Times in 1985. He quickly climbed the ranks to senior reporter and then moved on to the Bolton Evening News. He had a brief stint with the Manchester Evening News in the early 1990's, returned to the Bury Times as Editor for three years and then became Editor of Bolton News in 2008.
Tawfic Khoury became a Doctor of Engineering for his outstanding services to Civil Engineering. He was born in the Lebanon, graduated from the University of California and has risen to become Executive Vice Chairman of the largest construction company in the Middle East: Consolidated Contractors Company. He has also overseen the adoption of industry-leading technology throughout the organisation.
They also met Yannis Katsaounis, who had been presented with his Doctorate of Business Administration for his outstanding services to International Services that morning. He was born in Greece and started his professional career in Athens in 1975. Two years later he started his own construction company, Plexus Ltd and then became involved in the technical department of Flour Mills of Nigeria in 1985. He is now Director, Executive Member of the Board of Directors and leads a team of engineering and procurement staff. Excitingly, he is also a World Champion Maxi Yacht racer and a rally driver, driving at an incredible 200 mph!
After lunch Gerry joined in the procession into the beautiful and majestic hall, to the rousing Prince of Denmark's march by J Clarke and the audience remained standing for the National Anthem.
The Congregation began with an introduction by Dr Kondal Reddy Kandadi and presentations were made to many happy and proud students.
It was an honour to be included in such a distinguished day.
13th July 2017
Remembering Srebrenica
Civil Remembrance Service in Commemoration of Srebnrenica Memorial Day held in Manchester Cathedral
This is the most powerful, sobering, disturbing, harrowing and emotional experience that Gerry and Joanne have had since the beginning of the Shrieval Year.
Whatever is written and shared here cannot even scrape the surface of the dreadful atrocity which occurred in 1995.
Even being a part of this service was heart wrenching and made everyone there ask soul searching questions about human nature.
Srebrenica and an area of 30 square miles around the town was declared a UN Safe Area in 1993, but this promise fell through when an unbelievable genocide began.
On 12th July 1995 the Bosnian Serb Army began separating all men aged 12-77. They were escorted to a large house for questioning.
23,000 women and children were deported over the next 30 hours.
The men held in the house were driven away. All their possessions were burned. Over the next few days Bosnian Serb soldiers brutally slaughtered 8, 372 men in Srebrenica alone.
The Column of 15,000 men set off on foot to try to reach Tuzla, over 100km away. They were shelled on their journey and a mere 3,000 survived.
It is estimated that somewhere between 20 – 50,00 women were raped during the war in Bosnia. Women were imprisoned in gyms, hotels, abandoned houses and concentration camps. They were raped with guns, truncheons and broken bottles.
A horrible, unforgivable, systematically planned ethnic cleansing exercise.
The service was termed 'Breaking the Silence' because most of the women treated in such a brutal and inhuman way wanted to keep it under wraps, hide it, never talk about it, because they thought of their indescribable experiences as shameful.
Bishop David Walker began the service with an opening prayer and spoke movingly of the background of the conflict.
Dr Robina Shah JP DL, introduced and coordinated speakers with empathy and quiet strength. In 2016 she travelled to Bosnia and has since helped to organise a hate crime conference in Manchester to raise awareness. A painful but inspirational film was then shown entitled 'Breaking the Silence' and Bakira Hasecic gave a harrowing account of her personal experiences.
Her 15 year old daughter had been raped in front of her.
The account was particularly heart wrenching as this took place in her own home, where she lived with her husband and two daughters. They had a decent life. When the war began, their next door neighbour was a policeman and they knew him well. They considered him a friend. One day, without warning, he brought 15 soldiers into their home. He pretended that he did not know the family.
She sobbed as she described to the congregation how the soldiers took it in turns to repeatedly rape her and her eldest daughter in front of the family.
Afterwards her daughters were sent away to live with their Grandmother.
She and her husband remained and one day she was summoned to an Official's office. They tried to make her drink spirits, which she refused. She was then raped.
After this, she and her husband decided to leave. When they returned after the war was over, they discovered that the police and soldiers were still in positions of authority. They taunted them.
None of the women would speak up because they felt ashamed of what had happened to them.
The war claimed 17 members of Bakira's family including her sister who was held captive and repeatedly raped before being killed. Her remains were later found in three separate mass graves.
She finally found the strength to speak out.. She established the Association of Women Victims of War. This has become her reason for living and she encourages other women to speak out and seek justice.
Bishop David Walker, Rabbi Robyn Ashworth-Steen and Assia Shah said heartfelt prayers.
Clare Light spoke about Hate Crime and We Stand Together defining the characteristics of hate as prejudice and Elinor Chohan spoke about Remembering Srebrenica.
Remembering Srebrenica works in three areas to tackle hatred and to create better, safer, more cohesive societies for everyone: by remembering, learning and therefore pledging to stand up to hatred and intolerance.
Performers from the National Theatre of Sarajevo performed music traditional to Bosnia-Herzegovina that was performed throughout the war as a way to remind people to try to live, as well as to try to survive.
In this part of the world we watch TV and war and conflict seem a huge distance away. Did we not realise what was happening or was it that we turned our faces away and ignored it until it was too late – until the mass graves were discovered?
We must learn a lesson that, however hard it is to face, we should not hide from the truth and that in the future we should fight against such evil.
'The only thing necessary for the triumph of evil is for good men to do nothing.'
'Nobody made a greater mistake than he who did nothing, because he could only do a little'.
'Those who don't know history are destined to repeat it.'
Edmund Burke
'We share in the grief of those whose loss can never be repaired. And we pay homage to those who died. May their souls rest in peace. May we all learn, and act on, the lessons of Srebrenica.'
Kofi Annan
Kate Green MP made powerful closing remarks.
The service ended with a poignant prayer from Bishop David Walker, whose words resonated around the cathedral………….and a poignant one minute of respectful and powerful silence.
16th July 2017
The Royal British Legion Greater Manchester County Annual Church Service
Gerry and Joanne were invited to attend the Royal British Legion Greater Manchester County Annual Church Service at the beautiful St James' Church in Gorton.
They were graciously received by David Brown, Greater Manchester County Chairman and Membership Council representative for Greater Manchester and Lancashire, and were pleased to meet up again with the majority of the Mayor's in Greater Manchester as well as catching up with the new Vice Lord Lieutenant, Paul Griffiths.
The music from the Band and Drums of the Royal Regiment of Fusiliers (Lancashire) played rousingly and inspiringly before the service as well as at various times during it.
Gerry and Joanne learned that the band, based in Bury, currently has around 30 members, with the drums numbering around 20. Not only do they play regularly in the local area, they also travel the length and breadth of the country and have performed abroad, as well as producing two CDs.
Hedley Richardson, the Church Warden, welcomed the congregation, who then sang together 'All people that on earth do dwell'.
There were readings by Mr David Brown, Mr Terry Whittles RBL National Chairman, as well as an inspiring talk by a Gorton Historian, Mr Frank Rhodes, who spoke about Gorton in WW1 and the Heroes Wood Project.
Reverend Jane Walker of St James' gave the sermon and Reverend Michael Williams offered prayers.
Wing Commander David Forbes MBE, County Vice President said the Exhortation and the Kohima Epitaph, between which was the haunting Last Post, a minute's silence and the Reveille.
The congregation stood and sang The National Anthem, and the British Legion March was played as the Standards processed from the church.
Gerry and Joanne very much enjoyed the performance of Magnetise by the Wright Robinson College Choir during the service, who also entertained everyone afterwards during the Strawberry Cream Tea served in Collier House
There were many parents of the choir members, as well as dignitaries, at the service and at the delicious tea.
Gerry and Joanne were delighted to meet with Curtis Dillon, whose daughter Holly sang beautifully. They learned that Wright Robinson College was in Abbey Hey and had been voted Outstanding by Ofsted. Curtis was also a past pupil of the school. He and Gerry joked that it must have got much better after he had left!! He was very proud of his daughter….and rightly so.
18th July 2017
Citizenship Ceremony in Salford
Usually, as a Stockport DL, Gerry only carries out Citizenship Ceremonies in Stockport or Manchester. However, he has promised all the Mayor's within Greater Manchester that he will try his best to attend a Citizenship Ceremony in each of their boroughs during his year as High Sheriff.
18th July was the turn of Salford.
The Salford Register Office and Town Hall is actually situated in Swinton and Gerry and Joanne were grateful to the Office for arranging a car park space for them and for meeting them as they arrived.
People from ten or more countries, including Pakistan, Gambia, Kenya, Nigeria, Congo and Malaysia, were present at the ceremony as they became British Citizens.
Gerry shared the ceremony with the Mayor of Salford, Cllr Peter Connor and Sue Lomas, DL.
He explained to the new British Citizens that he was there 'wearing two hats', as a DL and also as High Sheriff. He shared some of the history of his role as High Sheriff, as well as that of the Lieutenancy Office and was delighted and proud to share their special day.
He told everyone that his personal experience of life in Britain has been nothing but positive. He has found that the words that are often used to describe British values – justice and fairness, tolerance and liberty – are all true. That we have a society with many fine institutions, with many checks and balances, and as a result the rules of Law are properly exercised. That we also have a society with great generosity and community spirit – just think of the number of charities and voluntary organisations out there and that today, the words, 'multi-cultural' and 'diverse', should be added to being British – a wonderful illustration of this fact could be seen by looking around at everyone in the room.
He offered greetings from the Queen, the Lord Lieutenant, the Lieutenancy Office and the High Sheriff's Office!
After the ceremony, Gerry and Joanne really enjoyed listening to some of the stories from the new British Citizens and joining in many photo sessions.
……… As an epilogue, Gerry met with a Malaysian lady and her husband in the Trafford Centre who had been at the ceremony. They came over to speak to him, had a warm exchange and were introduced to her parents. A lovely addition to a very proud day.
19th July 2017
Pitch@Palace on Tour 8.0 at Open Future_North, Oldham
Today brought a Royal Visit with a difference!
Gerry and Joanne were invited to attend Pitch@Palace on Tour, hosted by the Duke of York. This pitch was held at Open Future_North , the new Oldham based accelerator run by Wayra UK, the accelerator programme which is part of Telefonica Open Future.
As an entrepreneur himself, although not in the Tech sphere, Gerry was intrigued to be given a chance to be part of the audience for some of the day's pitches, as well as being honoured to meet the Duke of York again.
As they arrived, they met with the Mayor and Mayoress of Oldham. They also met last year's winners, from Howz and Offer Moments – more about them later – and their old friend, Colin Tan, who was there as a judge. Colin is Entrepreneur in Residence at Dorforge Impact in Manchester.
The Conference began upstairs and the Civic Line Up waited downstairs to greet the Duke of York as he arrived. As the Civic Line Up was completed they waited on the stairs as the inspirational and motivational keynote speech by Lord Andrew Mawson OBE came to an end. Prince Andrew was very patient as he waited. This had obviously happened before!
Oli Barrett MBE, the co-founder of entrepreneurship campaign, StartUp Britain, social action agency Cospa Tenner and the Make Your Mark with a Tenner Campaign to name but a few – then introduced last year's Pitch@Palace Winners with his very impressive and smooth presenting skills.
First was Louise Rogerson from Howz. Louise is a Chartered Neuro- Physiotherapist and Director of Service Development. Howz have a new product to help you to stay linked with elderly relatives without disturbing their day to day life, but give you peace of mind. It analyses electricity usage and uses other sensor data to understand an elderly person's use of everyday objects, learning what is normal activity and alerting the family when things look out of the ordinary.
Then came Abdul Alim of offer Moments. He and his partner were watching a film, complete with popcorn (!) one day when the y had a light bulb moment! The film contained an animated billboard which talked to one of the characters. The concept really got them thinking. They created an app for shoppers telling them about special offers emitted by Offer Beacons as they walk past stores and food and drink establishments. Once they open them, they have a limited time to redeem them. The aim is to take their idea international.
They eloquently, enthusiastically and generously shared their experiences and gave the newcomers tips on how to pitch!
Prince Andrew than spoke passionately about the competition.
He explained that the Prince Andrew Charitable Trust set up Pitch@Palace CIC to support his work with entrepreneurs and to help guide and connect them and early stage businesses with potential supporters, including CEOs, influencers, angels, mentors and business partners.
It offers the chance to get Tech businesses in front of a global audience of influencers who can help to catapult it to the next level.
It was set up in 2014 and has since helped over 400 businesses. There are two Pitches a year and this year's theme was 'The Future of Mobility & Materials' which covers new materials; autonomous vehicles; human and social impact; material sustainability and recycling; the supply chain; and connectivity and 5G.
Winners secure a position at Pitch@Palace Boot Camp at St James' Palace, where they receive support and guidance on how to develop and hone their pitch, as well as support with investment, introductions and strategic guidance.
Everybody grabbed a quick lunch and then the pitches began…….
They were introduced by Gary Stewart, CEO of Wayra UK, who was also a mentor. Gary has an eclectic CV! After graduating from Yale Law School, he started his professional career in Washington and then moved to London, working at some of the City's most prestigious law firms. A move to Spain took him on a new path to entrepreneurship, launching a successful on-line property search engine. Then he joined the world leading IE Business School, where he became an Associate Professor and Entrepreneur in Residence. He continues to give back to the entrepreneur community at Wayra UK, as well as being a Mentor for Pitch@Palace.A very hard working man!
Gerry & Joanne watched the pitches of:-
FLYT which makes helicopter travel accessible to everyone by creating an on-line platform that allows users to charter idle helicopters.
ALGOLIB, which is the first cloud-powered, community based profit sharing platform for data analysis. By combining the latest technological advancements in smart algorithms and dynamic coding, ALGOLIB seamlessly delivers big data solutions for business.
BEATSTREAM MEDIA, which is an app that connects music venues to music lovers, away from venues, allowing venues to reach a wider audience.
Gerry was fascinated by the pitches, although he was the first to admit that the middle one went slightly over his head!!
He then decided to stay for one more pitch:-
GINIBEE, which is a Software as a Service platform that assists organisations in attracting and retaining talent. It makes Job Sharing accessible and easy for organisations to implement.
At this stage, although there were many more pitches to come, sadly Gerry and Joanne had to leave in order to arrive at a business meeting on time.
It was definitely a Royal Visit with a twist and they look forward to finding out which pitches made it through to Boot Camp!
Gerry was very impressed with the amount of time and dedication that Prince Andrew is putting into a very inspiring project.
20th July 2017
Visit to N-Gage at Catalyst Youth Centre in Burnage (www.n-gage.org.uk)
N-Gage is a Manchester based Christian Charity that gives young people (primary age to 18), who are at risk of educational or social exclusion, opportunities and skills to achieve their full potential.
It was founded by Christie Spurling, in response to his own experience of educational exclusion and works in partnership with schools, police and the City Council. N-Gage is completely young people centred and committed to working with those most difficult to reach, loving to see young people engaging with their neighbourhoods and bringing positive change.
Gerry & Joanne were introduced to N-Gage by one of their neighbours, who works with the charity.
N-Gage has two incredible youth buses which travel around the community, as well as a Youth Centre at Burnage. It provides all sorts of activities – art, singing, music (piano, drums, guitar), sport, computers – all within a safe space and with people to listen.
Gerry & Joanne were welcomed by youth workers (Nick, Helen, Jordan, Gemma and Kelvin) as well as a group of boisterous, energetic and enthusiastic kids.
Gerry told them all about being High Sheriff and they told him all about N-Gage.
They then enjoyed a group photo session, with Gerry's hat and sword doing the rounds of the kids.
The idea of N-Gage is to make people feel good about themselves and spending time there with the kids definitely worked for Gerry & Joanne.
A very special place – and both kids and parents obviously agree!
23rd July 2017
Civic Service of Celebration to mark the 40th Anniversary of the Hale Shule and the 30th Anniversary of Rabbi Joel Portnoy
Gerry and Joanne were delighted to be invited to the Civic Service of Celebration at Hale Shule on 23rd July 2017. They have many friends who are Jewish and have attended Jewish weddings and funerals before, but never a service.
As they arrived they were immediately impressed by the excellent organisation on the day. People were at the door, welcoming everyone as they arrived and checking names.
All special guests were assigned a person to look after them. Gerry and Joanne were greeted by Stephen and Gail Cantor, to whom they are very grateful for their warmth, patience and care. With the help of the booklet that they were given and the questions that they asked, Gerry and Joanne learned so much which enhanced their experience on the day.
As they already knew, originally, the Temple in Jerusalem was the focal point of Jewish prayer. This was destroyed by the Babylonians in the 6th Century BCE, rebuilt by Ezra and Nehemiah and destroyed again by the Romans in 70 CE. The only physical structure that remains is the 'Western Wall', also known as the 'Wailing Wall' or 'Kotel'. Since that time the main place for communal prayer has been the Synagogue (meaning 'meeting place'). Many physical sections of the Synagogue are based on the Temple. There have been Synagogues for over 2500 years and have an identical layout to the Hale Shule.
Before Hale Shule was built, the families in the area used to meet together in people's homes. The land was then donated by Joe Dwek and money was raised to build the Synagogue.
A synagogues, as well as being a House of Prayer is also a community centre for the Jewish Community.
Stephen stayed with Gerry downstairs and Joanne was taken upstairs by Gail and all men must have their head covered). Orthodox Jewish men and women sit separately during prayer services as a reminder that they are there to spend time in devotion to G-d not to each other.
The service started with a procession including Chief Rabbi Ephraim Mirvis, Rabbi Joel Portnoy and other religious figures.
The beautiful unaccompanied singing by Chazan Avromi Freilich assisted by the Ne'imah Singers was inspiring, pure and uplifting. Both Gerry and Joanne agreed that it was some of the very best that they had ever heard.
Solemn prayers were said for the Royal Family , for the State of Israel and for the safety of the brethren in Israel.
Everyone was then warmly welcomed by Rabbi Joel Portnoy and an address was given by Rabbi Ephraim Mirvis.
During his address, the Rabbi congratulated everyone on the 40th Anniversary of the Synagogue and the achievement of having 350 families who now pray there. He explained that the Synagogue is a place to meet G-d and each other and a place from which to reach out to other people. There are any grandparents and parents who come to the Synagogue, but how do we reach out to the next generation?
He also spoke about a visit that he had made to the Holy Land, during which he really wanted to go to Jeremiah's Grotto alone to reflect and contemplate. It was Christmas Day, snowing very heavily and when he arrived it was freezing cold but peaceful. There didn't appear to be anyone there.
Then someone ran over to him. The man was very excited, hugged him, thanked G-d that someone had arrived and then ran off.
The Rabbi explained that it is a tradition that the grotto cannot be left un-occupied, so his arrival had allowed the other man to leave!
He was now alone and enjoyed the peace as he prayed. However, after half an hour he was very cold. One hour later, someone else turned up and the Rabbi responded in exactly the same way as the man who had greeted him – thanking G-d that he had come.
He used this story as an illustration that all traditions must be passed on and that until we have passed them on to the next generation we cannot 'leave'.
He referred to Rabbi Joel Portnoy as 'legendary' and congratulated him on 30 years of service.
He spoke passionately and eloquently with an inner peace and joy – and completely without notes.
The Ark was opened. This is a cupboard which holds the sacred Torah Scrolls (sometimes quite ornate and splendid) and is the focal point of the interior of the Synagogue, on the Eastern Wall. All Synagogues are designed so that the Ark faces Jerusalem. This direction is called Mizrach.
The Torah Scrolls are handwritten in Hebrew by a scribe with a quill pen on parchment, which takes between a year and 18 months to complete.
The Ark is called the Aron Kodesh (Holy Ark) and is covered by a curtain (Parochet). The embroidered design at Hale Shule represents the Bet Hamikdash – the ancient Temple of Jerusalem. A light is kept continually burning in front of the Ark, just as it was in the Temple.
Prayers were said for World Peace and for the Community & its Founders. There were also prayers for former Rabbis and Founders. This final prayer was only said by a few people and later Gerry asked why this was. Stephen explained that this prayer was only said by people who have had a close relative pass away in the last year. They then say a prayer in honour of them every time they are in the Synagogue for a whole year. Stephen said a prayer because his Mother had passed away three months ago.
After the prayers, the Ark was closed.
Concluding remarks and thanks were made by the President, Neil Rosenthal. He also read out a message of congratulation from the Prime Minister, who said that this was a time when all faiths should work together and be united.
The service ended and was followed by a reception when Gerry and Joanne very much enjoyed talking to everyone, swapping stories and expressing their sincere thanks that they had been allowed to share in such a joyful afternoon.
24th July 2017
Manchester Metropolitan University Graduation Ceremony at Bridgewater Hall
School of Teacher Education & Professional Development, PGCE Secondary Education, Department of Professional Development & Education Innovation
Gerry, who was honoured to be awarded a Doctorate of Business Administration (Honoris Causa) by MMU in 2009, was proud to be invited to attend a Graduation Ceremony held at Manchester's prestigious Bridgewater Hall in his shrieval year.
He and Joanne arrived and met with the Deputy Vice Chancellor and Presiding Officer, Professor Jean-Noel Ezingeard; Dr Paul Bevan, Change Programme Director; Professor Jennifer Watling, Pro-Vice Chancellor International; Professor Alison Chambers, Pro-Vice-Chancellor of Faculty of Health, Psychology & Social Care and Professor Ian Barron, Acting Pro-Vice Chancellor of the Faculty of Education. As they were robing, the Lord Mayor of Manchester, Cllr Eddy Newman, also arrived with his Lady Mayoress and daughter, Naomi Newman who currently works at MMU.
Before the ceremony, a selection of classical, baroque and contemporary works was played by Mr Darius Battiwalla, concert organist and tutor at the Royal Northern College of Music.
Gerry took part in the Entry Procession, a formal procession which marks the opening of the Ceremony of Awards and is lead by the Macebearer.
The current Mace was a gift from the Dean of the Manchester School of Art, which celebrated 175 years of history in 2013 and was designed by Dr Angus McFadyen (a former student and lecturer at MMU). It exemplifies the highest quality of skills and craftsmanship which are taught at the University. In 2014 it was entered for the Goldsmiths' Craft and Design Council Awards run by the Worshipful Company of Goldsmiths and won a silver prize in the Senior Silversmithing category. It symbolises authority and protection.
Six members of Staff also carry the ceremonial staves, also designed by Dr Angus McFayden.
As the procession reached the stage, four rows of seats were filled with robed staff from the relevant departments of MMU.
After a short introduction by the Presiding Officer, Professor Jean-Noel Ezingeard, the Acting Pro-Vice-Chancellor of the Faculty of Education, Prof. Ian Barron's Address took place. He described the ceremony as one of life's special moments. He congratulated the students (from Hulme to Hong Kong!) and the staff for their commitment and dedication. MMU has been educating teachers, practitioners and professionals in allied areas for over 100 years. The Education Faculty has worldwide links, including Europe, Nigeria, Chine and USA. They also have a new PGCE course in Mandarin. He wished the students happiness, fulfilment and every success. He advised that they be proud of themselves,. Be confident and be passionate about everything that they did.
Next came the Presentation of the Students, accompanied by enthusiastic clapping, whistling, cheering and whooping, as they proudly walked across the stage and were greeted with a hand shake by the Deputy Vice Chancellor.
The Valedictory Address was made by Stephen Oliver. Stephen is an ex-governor who worked for Unilever and Scottish & Newcastle as Marketing Manager and Brand Director. He then set up his own business, Trig Point – a coaching company. He has a deep understanding of how business works and how to motivate positive change.
His daughter is an alumni of MMU who studied in Community Arts and Drama eight years ago. She a member of the Senior Teaching Staff on a school in a deprived area of Glasgow. She has been able to motivate her students and always starts the year by sharing them a quotation from Nadiya Hussain who won Great British Bake Off in 2015!
"I'm never gonna put boundaries on myself ever again. I'm never gonna say I can't do it. I'm never gonna say 'maybe'. I'm never gonna say 'I don't think I can'. I can and I will."
He reminded the students that as graduates in Education they have a unique opportunity to make a difference to people's lives. They can enthuse, motivate and pass on knowledge. He encouraged them to be brave, be positive, to make a difference and to realise that there are no limits.
The Deputy Vice Chancellor ended the Ceremony by asking all the students to give themselves a round of applause, give the staff a round of applause and then to stand up, face their parents, friends and family and give them a huge round of applause to thank them for their support. He reminded them that they were capable of achieving anything and were on the threshold of an exciting future in which they could inspire others as they had been inspired. They should live their lives with resilience, inclusiveness, tolerance and respect; which are fundamental to our way of life.
He concluded that they must be full of pride, excitement, delight and relief and looking forward to the future with hope and anticipation.
With the combination of the enthusiasm and positivity of the students and the incredible acoustics of the Bridgewater Hall the applause grew and lifted into a joyous tumult as the procession exited the Hall.
24th July 2017
Perception of Western China – Lowry Theatre
Gerry and Joanne were delighted to be invited by Lisa Yam, Chairman of the Federation of Chinese Associations, to attend a performance of the show, Perception of Western China. The performance showcased and promoted Chinese minority cultures and the songs and dances were performed by the Yunnan Province Song & Dance Ensemble, whose work is well known in China.
Gerry arrived in his uniform, having come straight from an MMU Graduation Ceremony at the Bridgewater Hall. His sword caused quite a security stir as he arrived at the Lowry Theatre and was taken into custody by the staff, who looked after it during the performance!
Present at the performance was the Consul General, Dr Sun Dali and the Deputy Consul General, Mr Lai Bo with their wives An Li and Xu Runmin.
It was also attended by the Mayors of Salford, Stockport and Rochdale and the new Vice Lord Lieutenant, Paul Griffiths was also present.
Before the performance began, speeches were made by the Deputy Head of the Communist Party of China Central Committee, Lu Wei, the Consul General and Lisa Yam.
Lu Wei said: "Both China and the UK are important representatives of Oriental and Occidental civilizations. The cultural exchanges between the two countries have been going on for hundreds of years and played an irreplaceable role in promoting mutual understanding between the two peoples."
He hopes more people in the UK will become familiar with China's multi-ethnic culture.
Yunnan is China's most diverse province and situated in the far south west of the country. It contains snow-capped mountains as well as tropical environments. During summer, the Great Plateau of Tibet acts as a barrier to the monsoon winds, trapping moisture and making it hot, humid and lush. Interestingly, it has the highest diversity of plant life in the country and although it is less that 4% of China in size, it contains about half of China's birds and mammals, including the Indochinese tiger, the Asian elephant and the Yunnan snub-nosed monkey. It is also famous for Pu erh Tea and terraced rice fields.
One of its most beautiful areas is the tropical rainforest of Xishuangbanna, where there is a peacock breeding area. It is the only oasis desert on the tropic of cancer in the world and one of China's top ten most beautiful forests.
Gerry and Joanne would love to visit Xishuangbanna at some stage, but I don't think that they will have time this year!
The name literally means 'South of the Clouds' and of China's 55 officially recognised ethnic minorities, 25 can be found in Yunnan.
The performances, of which there were 15, illustrated the beauty and colour of the province, even including one named: Dai Dance – The Peacock.
A colourful, vibrant and invigorating evening – full of life and creativity.
At the end of the performance all the dignitaries were asked to go on stage and meet the cast. This turned into a n interesting photo session and Gerry and Joanne very much enjoyed talking to the talented supple dancers and singers.
They left the theatre with minds and hearts full of colour and music ….and Gerry even remembered to reclaim his sword!
25th July 2017
Sitting in Court with the Honorary Recorder of Manchester, Hi Honour Judge David Stockdale QC
The High Sheriff was honoured to be invited to sit in Court at the Courts of Justice, Crown Square, Manchester by the Honorary Recorder of Manchester, His Honour Judge David Stockdale QC.
Mrs Yeung, having never been summoned to perform Jury Service, was also very interested to attend and HHJ Stockdale very kindly extended the invitation to her.
Gerry and Joanne arrived at Crown Square and were met by HHJ Stockdale's clerk, Ray, who escorted them to his office.
The morning did not start according to plan as the Defendant did not turn up! The etiquette if the court room is the Judge does not enter until everyone is present and the case is ready to commence. That being the case, HHJ Stockdale remained in his office, awaiting a summons from his Clerk.
The Clerk appeared with a letter provided by the Defence Barrister. The letter was from a psychiatrist stating that the Defendant was suffering from depression. The letter did not state that he was unfit to attend Court.
HHJ Stockdale considered the position and checked similar cases. The letter had not been expected as the Defendant had only been in his Barrister's office a few days ago and had stated the he was ready to attend Court and wanted to clear his name. HHJ Stockdale's conclusion was that the trial should go ahead.
He asked the Clerk to contact the Police and request that they bring the Defendant to Court.
As it happens, the late appearance of the Defendant actually provided a lot of time for HHJ Stockdale, Gerry & Joanne to talk about the legal world and also about some very interesting and intriguing cases. They also learned that it costs circa £8,000 to set up a day in Court!
They learned much more from his words of wisdom than simply the procedural matters of the Court.
By lunch time the Defendant had still not been found. Gerry and Joanne joined HHJ Stockdale for lunch. They also met with HHJ Cross QC, with who Gerry was scheduled to carry out an Award Ceremony on the following Monday, as well as other Judges and a young intern called Angus James Russell who had studied at St Andrew's University. He had special permission to enter the Judges' Dining Room that day, as it is not usually accessible to interns! This was because he had visited China a few times and had learned some Mandarin, so he and Gerry (whose first language is Cantonese) practised together. It turned out that one of the expressions he had learned was how to order a beer, which was the first thing that Gerry and Joanne's daughter, So Yi learned to say in Mandarin too! He had also attended Manchester Grammar School and one of his closest friends was the son of two of Gerry & Joanne's friends! It's a small world!
At 2:00 pm the Defendant arrived
The Jury of 15 people were in another room and HHJ Stockdale sent his Clerk to inform them.
HHJ Stockdale entered the Court, informed the Barristers that the case was to proceed and gave directions as to how the case was to be managed over the next three days in order that it would come to a conclusion, as it had actually commenced in October 2015.
Fifteen potential members of the Jury then came into Court, twelve were selected and three were requested to leave. The twelve were then sworn in.
The Prosecution Barrister spoke to the Jury about the case, the details of which were that the Defendant had befriended a man in his late 60's. He did some jobs for him in the house and the man paid him in cash. The man was in the habit of keeping cash in the house ( a few £1,000), but decided that because the Defendant was there he would move it to the boot of his car because he thought it was safer. However, because he repeatedly went to the boot of the car to obtain cash, the Defendant soon became aware of its whereabouts. The money disappeared and the man believed that the Defendant had stolen it. He spoke to two female relatives about the matter. They went to see the Defendant. He admitted that he had taken the money but promised the he would return it. He did not. They then reported the matter to the Police. However, the Defendant then denied that he had stolen the money. He had only said he had taken the money because he was frightened.
The Defendant then complained that he could not hear properly and Court was adjourned whilst a loop was set up.
A video interview then took place with a witness for the prosecution.
By this stage it was 4:00 pm and Gerry and Joanne had to leave the Court because they had a business meeting to attend.
They do not know the result of the case.
It was a fascinating taste and sight of a world with which they had previously had very little experience. They hope to be able to make another visit before Gerry's shrieval year comes to an end.
Our judiciary process may sometimes appear to be tedious and is undoubtedly expensive. However, for all its faults, our criminal justice system is the envy of the world and many delegates within the legal profession visit the UK specifically to learn from us.
26th July 2017
Citizenship Ceremony in Wigan
Gerry & Joanne safely drew up in the parking space kindly organised by the very helpful Jo O'Connor in the Mayoral Office. Wigan Town Hall has a rather involved history. The present Town Hall is the third building used for this purpose in Wigan. The original was constructed in 1720 by the Earl of Barrymore and Sir Robert Bradshaigh, the town's representatives in Parliament. It was demolished in 1882.
The second was built on a plot at the corner of King Street and Rodney Street between 1866 & 1867. It was designed by local architects Nuttall & Cook and had a two storey Italianate style structure. It cost £12,000 to build, which is equivalent to about £17.5 million today! It was used until 1990.
The current Town Hall was formerly the Wigan Mining & Technical College, which was built between 1901 and 1903 by Briggs & Wolstenholme in Flemish Baroque style and was designated as a Grade II Listed Building in 1990.
Gillian Greeson received Gerry and Joanne at the entrance and they were then accompanied by the Mayoral Attendant to the Mayoral Parlour.
The High Sheriff, the Mayor and Mayoress and a very smart Army Cadet by the name of Chloe Evans processed into the Atrium, led by the Mayoral attendant carrying the ceremonial mace.
The Atrium has plaques all around the room recording the names of all the Mayors of Wigan since 1282, which was the year that Wigan received a Royal Charter. In those days only the rich and powerful became the Mayor and Gerry noticed that many names were repeated and came back for a second year.
The Registrar invited Gerry to speak and he welcomed the new British Citizens , who were originally from Poland, Nigeria, Zimbabwe, Zambia and Jamaica, .and told them about his own history and the role of High Sheriff.
The Mayor then spoke briefly and presented certificates them all. It was a traditional and very welcoming ceremony.
Everyone then shared tea and refreshments and Gerry and Joanne enjoyed the chance to talk to most people and to take photographs.
They talked to a Polish couple and told them that they had been to a Polish wedding the previous summer. It was agreed by all that Polish weddings are very joyous occasions, involving many meals and much vodka! The gentleman was an engineer and the couple had only taken half a day off to collect his certificate. They were very surprised and delighted by the ceremony, which they were not expecting, and sadly had to rush off very soon to go back to work!
The Nigerian gentleman was a Care Worker and was married to an English lady. He had been in UK for many years. They have just had a baby, who had lovely eyes! His Mum and his sister also attended the ceremony. They were all very keen to have photographs taken with Gerry and Joanne.
After the ceremony, Gerry and Joanne returned to the Mayor's Parlour, within which is an office and a very spacious reception room. The room contained very many interesting artefacts , antique furniture and a beautiful fireplace and had an interesting chat with the Mayor & Mayoress, who had very kindly invited them to stay for lunch.
Lunch was served and they were joined by Jude Sutton and her gorgeous 8 year old twins, Alvin and Emily. They both contracted Type 1 Diabetes (Alvin at the age of 3 years and Emily at 2 1/2 years old), which is very unusual because there are no other cases of diabetes in their family. Jude is the co-ordinator for Junior Diabetes Research Foundation (JDRF) and she, the children and the Mayor and Mayoress were making a video for the charity. JDRF is one the charities that is being supported in the Mayoral year and it provides support, information, research and campaigning for children and young people with Type 1 Diabetes, whilst also working to try to find a cure – 'We will create a world without Type 1 Diabetes' (www.jdrf.org.uk).
Alvin and Emily use an 'artificial pancreas' which automates basal insulin delivery using an insulin pump, a continuous glucose monitor (CGM) and an algorithm.
The pump looks like a pager and delivers insulin to the body through a catheter under the skin, but it has to be manually adjusted.
The CGM checks glucose levels on a minute to minute basis. This information can then be used to adjust the pump.
These don't yet 'talk' to each other and that is where the algorithm comes in. It is a sophisticated computer programme that takes the live CGM data, works out whether your insulin levels are too high or too low and tells your pump just how much insulin too give. A wonderful piece of kit, which helps people enormously.
JDRF is doing incredible work and would like to make it possible for everyone suffering from Type 1 diabetes to have one of these.
Alvin and Emily's Dad is a retired Lancashire cricketer, who is obviously still very fit and has just taken part in an Iron Man Competition (2.4 mile swim, 112 mile bike ride and 27 mile run) to raise funds for JDRF.
Gerry offered the family a dinner at Yang Sing Cathay, especially to keep Dad's energy levels up! He also asked whether they needed any auction or raffle prizes to help with their fundraising.
30th July 2017
Special Service to Mark the 200th Anniversary of the rebuilding of the Tower and the Nave of Stockport Parish Church, St Mary's in the Marketplace
St Mary's in the Marketplace is the oldest parish church in the town of Stockport and it is recorded in the National Heritage List as a Grade 1 listed building.
As Gerry and Joanne arrived they were warmly greeted by the Church Wardens, Sue Heap and Adam Pinder.
Can I also say my own huge thank you to Sue, who kindly arranged parking and was very kind, patient and helpful when I called and interrupted her as she was making an on line order to ASDA for the food which was served as the delicious buffet after the service!
In the church there was also a 200th Anniversary Exhibition illustrating the history, story and architectural development of St Mary's. Whilst browsing through the exhibition, Gerry and Joanne met a fellow DL, Phil Horton, and one of the Church Wardens pointed out to them all that part of the church is much older than 200 years. A church was already on the site in 1190, but now only the original oratory (now an annexe to the vestry) remains. Around 1310 a new church was built and only its chancel remains. The rest of the present church was built between 1813 and 1817 to the design of Lewis Wyatt.
As they were admiring the artefacts of the chancel, they were invited by the Rev Mike Newman ( Minister of St Cuthbert's, who is also seconded to St Mary's ) to look at the original oratory. He told them that the church is one of the oldest in Manchester. The only two older are a church which stood on the site of the Cathedral and St James' in Didsbury.
As well as Rev Mike Newman, the service was offered by the Bishop of Stockport, the Rt Rev Libby Lane.
The congregation celebrated with beautiful hymns, prayers and readings.
There was also a presentation made by Gill from the Stockport Heritage Trust (www.stockportheritagetrust.co.uk – which has a heritage centre in the church and is open 10:30 am – 3:30 pm on Tuesdays, Fridays and Saturdays and 10:30 am – 2:00 pm on Thursdays) She talked very knowledgeably on the history of the church over the last 200 years, from the renewal of the stained glass window in Victorian times to the recent vestry repairs funded by the Heritage and Lottery Funds.
The Rt Rev Libby Lane gave a moving and encouraging sermon, telling us that the church brings together the new and the old, history and modern worship. She commented that work that has been carried out over the last 200 years is the continuation of all the work that had gone on before, built on the foundations of past generations. Continuity is the key and work will continue for the next two centuries and beyond. In the same way, her vestments were also an illustration of continuity, the design being some 500 years old. The church and its people are like mustard seeds, a tiny seed which has continued to grow over the years and is now firmly rooted. The nutrients of the past are still feeding the growth and development of today. Growth requires change and we can be anxious about change or excited by it. It we embrace change which has its roots firmly embedded and fed by the nutrients of the past then the growth will be positive and will provide resources for the future.
For all that has been, we give thanks.
For all that will be – Amen
Gerry is not a Christian, neither has he been drawn or enlightened to become a believer of any other religious doctrine. However, whenever he is in a place of worship, a spiritual home, he is always aware of a feeling of respect and thus he contemplates religious teaching: morally and philosophically, as well as its cultural and social sway, its history and its heritage and the physical beauty of its buildings.
The Parish Church of St Mary's in the Marketplace indeed gave rise to all of these thoughts and wonders.
31st July 2017
Court Award at Courts of Justice, Crown Square, Manchester
Under Section 28 of the Criminal Law Act 1826, Courts may order High Sheriff's to pay a financial reward to those who, in the opinion of the Judge at a Criminal Trial, have been active in the apprehension of offenders.
As well as a monetary reward, the recipient is also presented with a Certificate signed by the High Sheriff as a further token of appreciation of their bravery and willingness to uphold the laws of the country.
Gerry was proud to be approached by His Honour Judge Cross QC to be present at an Award's Ceremony in honour of Mr Ismail Lasania.
In June 2015, he was driving into the car park of Aldi in Bolton when he saw a group of very frightened looking women running towards him. He stopped the car and discovered that a robbery was taking place. He and the women saw a man, part of a gang, running away from Aldi carrying a large machete.
Mr Lasania jumped back into his car and followed the man. He could see a get-away car waiting for him ahead. He stopped his car close to the get-away car. There was a garage there and he grabbed a heavy item from the garage and threw it at the car. In the mean time, the man with the machete was getting into it. Mr Lasania threw another item and managed to smash one of the car's windows, but the car still sped away.
The robbers got away with almost £80,000 and another gentleman who had tried to stop the robbers as they left the store suffered a deep machete wound to his leg, which needed seven stitches. He was also given a reward but chose not to attend the ceremony and received it privately.
The culprits, who also carried out other similar robberies, have since been apprehended and jailed.
Mr Lasania and his wife attended Court and he was presented with a cheque and his Certificate. His Honour Judge Cross QC expressed his personal gratitude, as well as that of the Justice system and the appreciation of the public. He formally acknowledged his public spirit and bravery.
Gerry was proud to assist in the presentation and to add his own thanks and admiration. He also invited Mr Lasania and his wife to bring their family to visit his restaurant, Yang Sing Cathay, for a complimentary meal to celebrate the event and as a further token of his appreciation.
31st July 2017
Court Award at Courts of Justice, Crown Square, Manchester
Under Section 28 of the Criminal Law Act 1826, Courts may order High Sheriff's to pay a financial reward to those who, in the opinion of the Judge at a Criminal Trial, have been active in the apprehension of offenders.
As well as a monetary reward, the recipient is also presented with a Certificate signed by the High Sheriff as a further token of appreciation of their bravery and willingness to uphold the laws of the country.
Gerry was proud to be approached by His Honour Judge Cross QC to be present at an Award's Ceremony in honour of Mr Ismail Lasania.
In June 2015, he was driving into the car park of Aldi in Bolton when he saw a group of very frightened looking women running towards him. He stopped the car and discovered that a robbery was taking place. He and the women saw a man, part of a gang, running away from Aldi carrying a large machete.
Mr Lasania jumped back into his car and followed the man. He could see a get-away car waiting for him ahead. He stopped his car close to the get-away car. There was a garage there and he grabbed a heavy item from the garage and threw it at the car. In the mean time, the man with the machete was getting into it. Mr Lasania threw another item and managed to smash one of the car's windows, but the car still sped away.
The robbers got away with almost £80,000 and another gentleman who had tried to stop the robbers as they left the store suffered a deep machete wound to his leg, which needed seven stitches. He was also given a reward but chose not to attend the ceremony and received it privately.
The culprits, who also carried out other similar robberies, have since been apprehended and jailed.
Mr Lasania and his wife attended Court and he was presented with a cheque and his Certificate. His Honour Judge Cross QC expressed his personal gratitude, as well as that of the Justice system and the appreciation of the public. He formally acknowledged his public spirit and bravery.
Gerry was proud to assist in the presentation and to add his own thanks and admiration. He also invited Mr Lasania and his wife to bring their family to visit his restaurant, Yang Sing Cathay, for a complimentary meal to celebrate the event and as a further token of his appreciation.
---
June 2017
1st June 2017
The Duchy of Lancaster – Royal Garden Party Luncheon – The Bentley Room, Mosimann's
Today Gerry and Joanne visited London to attend the Royal Garden Party. Before travelling to Buckingham Palace, they were delighted to be invited to lunch at Mosimann's by the Duchy of Lancaster along with the High Sheriffs of Lancashire and Merseyside and their spouses – Robert & Carole Webb and Stephen & Gill Burrows.
It was a wonderful lunch, expertly organised and it was a real treat to dine at one of London's most famous eateries.
In addition, they learned such a lot about the Duchy of Lancaster and its fascinating history.
On one of the tables was displayed replicas of some of the royal seals of various Kings and Queens. On the death of the monarch, the seal is smashed with a hammer, which was also on view.
Gerry and Joanne also saw the actual bodkin which is used by the Queen at the Pricking of the Lites ceremony, when the High Sheriff of Greater Manchester is chosen. Tim Crow, the Solicitor for the Affairs of the Duchy of Lancaster told them that on 8th March 2017 when he presented the lites (a list of nominees on a piece of parchment) to the Queen for pricking it was mid to late morning and the Queen had already carried out three hours of royal duties!
We take our hat off to Her Majesty!
Tim Crow then walked everyone through the classic streets of Belgravia and across to Buckingham Palace.
The Royal Garden Party – Lord Lieutenant's Day.
Before entering the grounds of Buckingham Palace, a thorough ID check was carried out by a Police Constable and the High Sheriff of Merseyside discovered that he and the PC had attended the same school in Glasgow – although it was many years apart!
The Duchy of Lancaster's party were allowed to enter and walked through to a beautiful extensive lawn at the rear of Buckingham Palace, along one side of which was a long white marquee where beverages, cakes, scones and all kinds of goodies could be enjoyed. On such a warm and sunny afternoon there was a long queue of ice cream!
On the left hand side and backing on to the lake, was the Royal Tea Tent, reserved for members of the Royal Family.
The warm air was filled with the glorious sound of a band playing.
At 4pm the Queen and the Duke of Edinburgh, looking elegant and happy, appeared on the rear terrace. A clear way had been designated for them, with people lining the route 10-20 deep watching them coming down the steps. They walked to the Royal Tea Tent, shaking hands and talking to everyone that they passed.
A parade of the Yeomen of the Guard took place whilst they were in the Royal Tea Tent and they then escorted the Queen and the Duke of Edinburgh back to Buckingham Palace.
There were thousands of people at the Garden Party. During the afternoon Gerry and Joanne met many friends: amongst whom were other High Sheriffs, the Dean of Manchester who was there with his wife and daughter, Gerry's Chaplain the Reverend Angie Stanton and Sian Yowell, the Bishop of Gloucester, Rachel Treweek and Timothy Duke, the Norroy & Ulster King of Arms.
They also saw politicians, including Philip Hammond and Graham Brady, MP for Altrincham and Sale West and Chair of the 1922 Committee.
It was a wonderfully colourful, glamorous and very British afternoon – with morning suits, beautiful dresses, hats, fascinators and lots of robes. There were many clergy in red robes who Gerry and Joanne discovered were the clergy of the Royal Family. The atmosphere was relaxed with a definite touch of class!
Gerry and Joanne had a wonderful day.
4th June 2017
Citizens in Policing Awards 2017
The Citizens in Policing Awards is an annual event which celebrates the huge contribution made by Special Constables (SC), Police Support Volunteers (PSV), Volunteer Police Cadets (VPC) & Leaders and Citizens in Policing (CIP) to Greater Manchester Communities.
Gerry and Joanne arrived at the Hilton Hotel, Manchester Airport where they were met by a very smart young lady cadet and escorted to the JFK Suite where the GMP Quartet were playing and refreshments were available.
They spoke to a variety of interesting people, including Tina Shelton, the organiser of the event, who is herself a CIP Coordinator and won a CIP Support Award on the day and Tracey Snelling, who is a PSV and won the PSV Individual Award.
They were also delighted to catch up with Mike Walmsley, the Chief Officer of the Greater Manchester Police Special constabulary.
Gerry spotted a group of people in red coats and discovered that they were The Glossop Mountain Rescue Team. One of their members, Ian Bennett promised to take Gerry out with them for a day, although he joked that he would have to stick to the left hand side of any paths so as not to encroach into the bailiwick of the High Sheriff of Derbyshire!
The guests were then seated in the Schiphol Suite ready for the Awards Ceremony
There were 11 awards in total and Gerry presented certificates and had photographs taken with the winners and runners up of the VPC Individual Award and the SC Individual Award.
The winner of the VPC Individual Award was Hassan Khan, Head Cadet at Blackley VPC. He has played a key role in tackling hate crime, cyber bullying and antisocial behaviour in the community. He has also worked to break down barriers between the inner city community where he lives and the Police. He has also worked hard to complete his Bronze and Silver Duke of Edinburgh Awards and is close to achieving his Gold.
The Runner Up was Hannah Young, who was sword bearer to Gerry's predecessor as High Sheriff, Lady Smith of Leigh. In that role she also took part in Gerry's Installation Ceremony in April. She was key to designing the new VPC and Sword Bearer Cadet Ceremonial uniform. As Senior VPC she has taken the lead at Cadet Meetings, been instrumental at fundraising for local charities and encourages other young people to join the cadets.
The winner of the SC Individual Award was Jared Simpson, who has been instrumental in two key areas of Policing in Oldham. After being made aware of antisocial behaviour and underage drinking in Royton precinct he visited all licensed premises in the vicinity and encouraged them to join Pub Watch. He attended the meetings and continues to patrol the area. In 2016 he was first on the scene when a child was hit by a motor vehicle and showed leadership and integrity in the critical incident which followed.
The Runner Up was Vikki Barnes, who has worked tirelessly to improve the overall standard and professionalism of the Special Constabulary at Wigan Division. She has also forged excellent links with the regular supervisors and officers on the Division too. In 12 months she has volunteered more than 1600 hours to policing.
The Awards were followed by a delicious lunch.
Gerry and Joanne were sat at a table with volunteers, Gemma Vaughan, who has just started as a regular Policewoman, James Briggs, who is due to start soon and Vikki Barnes who has wanted to join the Police all her life, became an SC and decided that becoming a regular Policewoman was not for her. Her day job is now an Air Hostess, though she remains as an SC.
It was a heart-warming and uplifting event and the atmosphere of the day was summed up by a quotation from Special Sergeant, Tracy Higginson:
"I am a great believer in 'you get out of it what you put in' – I enjoy getting involved in the many aspects of policing."
Greater Manchester is blessed by dedicated and incredible Citizens in Policing.
One Love Manchester Concert
During the Citizens in Policing Awards, Gerry and Joanne were honoured to be asked to join dignitaries of Greater Manchester for a One Minute's Silence at 6:45pm before the start of the One Love Manchester Concert.
The dignitaries gathered at the Bishop of Manchester's residence and were taken by Police escort to Emirates Old Trafford Cricket Ground. Many roads around the Ground were closed in order to heighten security.
The Police moved barriers to allow the cars to pass through. Talbot Road was full of people walking to the concert.
The dignitaries were taken back stage. The stadium was 70% full and people were still streaming in.
The atmosphere was full of anticipation and emotion.
The crowd responded positively and enthusiastically to speeches made by Andy Burnham, the Mayor of Greater Manchester and David Walker, the Bishop of Manchester.
Andy Burnham's moving words summed up the feelings of many people: 'I don't know what to say under the circumstances, but the fact that you are all here today speaks more than a thousand words.'
Ariana Grande brought together an incredible array of talent, including Justin Bieber, The Black Eyed Peas, Coldplay, Robbie Williams, Take That, Miley Cyrus, Marcus Mumford, Niall Horan, Little Mix, Katy Perry, Imogen Heap, Pharrel Williams and Liam Gallagher.
The music spoke loudly and passionately -and performers and a crowd of some 50,000 people came together as one to share a very emotional evening.
They were joined by 11.63 million people who watched on TV and over £2M was raised for the families of the victims of the Manchester attacks.
The British Red Cross reported it received more than £10 million in donations in the 12 hours following the concert.
Again the emergency services rose to the occasion and kept everyone safe. Police and people celebrated Manchester …..in fact, Mike Walmsley, Chief Officer of the Greater Manchester Police Special Constabulary was seen enthusiastically joining in a conga with concert goers!
6th June 2017
Visit to Withington Girls' School
Gerry & Joanne spent a very enjoyable afternoon, meeting 10-11 year old girls from Withington Girls' School, who enthusiastically asked him about his role as High Sheriff so far.
They arrived at school to be welcomed by Headmistress, Sarah Haslam and were taken for a tour of the new Junior building and then to the Junior Hall to meet the girls.
Gerry explained that their daughter, So Yi , was an Old Girl of the school and had been in Upper 2 in 1998. He showed them a picture of her in uniform (which has not changed since then) at the same age and also a photo of her as she looks now.
He also explained that he was a past Governor of the school and worked hard to raise £2M for the Bursary Fund. In fact his name can still be found on one of the bricks making up the 'bursary wall' of donations.
They were fascinated by the history of the role of High Sheriff and its origins in Anglo Saxon times, as well as by the fact that the High Sheriff is mentioned in no less that 27 of the 63 clauses in the Magna Carta. They were also impressed when Gerry proved that he had done his homework and found out more about the history of those periods!
Gerry also told them about the High Sheriff's uniform and how he travelled to London to be measured up and to have it made. They enjoyed looking at the uniform, wearing his hat and examining his sword.
A highlight of the afternoon was the saga of the lost sword on his recent trip back to London!
Gerry explained how his family crest was created and was told that the girls were going to do a project in school to create their own family crests. Gerry and Joanne promised to return to see the finished articles.
The girls were bright and enthusiastic, asking pertinent questions and whole heartedly joining in the session.
The afternoon ended with afternoon tea in the Headmistresses' Office.
A great time was had by all!
7th June 2017
High Sheriff's Dinner at the Inner Temple, London
Gerry and Joanne were invited by Mr David Pittaway, the Treasurer of the Honourable Society of the Inner Temple to a High Sheriff's Dinner.
The evening began with an enchanting Choral Evensong service in the beautiful Temple Church.
The Temple Church was built in the late 12th Century by the Knights Templar as their English headquarters. It is the church of Inner and Middle Temple, two of England's four ancient societies of lawyers, the Inns of Court; we are here to serve the two Inns' members and staff'
During the service, they learned that the Magna Carta was actually drafter at the Temple. It was King John's London headquarters (1214-5) and from there he issued two vital preliminary charters. In January 1215 the barons confronted him for the first time at the Temple with the demand that he subject himself to the rule of a charter.
The hero of Magna Carta was William Marshal, Earl of Pembroke. He mediated between John and the barons, secured the agreement embodied in Magna Carta and was one of the King's advisors at Runnymede. When John died the Marshal became guardian of the boy-king Henry III and of the kingdom. He re-issued Magna Carta under his own seal in 1216 and 1217, and so ensured its survival. He was buried in the Temple's Round Church, where his effigy still lies.
The role of High Sheriff' is the only other office that is older than the Temple itself and is mentioned in 27 of the 63 clauses in the Magna Carta.
The High Sheriff's then moved into the beautiful Inner Temple Hall, where they enjoyed interesting and informative speeches, gourmet food, deliciously matched wines and delightful company.
Gerry and Joanne were seated next to and opposite two of the Masters of the Temple; teachers who guide the young pupils in law. They also enjoyed conversation with many other High Sheriffs and exchanged ideas and information.
They enjoyed the experience very much.
8th June 2017
The Signing of the Roll & The Portrait Hanging of the High Sheriff of Greater Manchester
Gerry & Joanne began the day at the Judges' Lodgings in Manchester where they were kindly invited to morning tea/coffee by the resident Judges and were joined by the Under Sheriff, Mr David Cam Dl and his wife, Jin Ee.
They discussed, amongst many other things, the possibility of a campaign to recruit more Chinese JPs.
The formal ceremony took place in the Assize Hall at Crown Square, to which Gerry & Joanne travelled in convoy with the Judges.
Previous to their arrival was that of the Vice Lord Lieutenant, Mrs Edith Conn and the Lord Mayor of Manchester, Councillor Eddy Newman.
As the dignitaries arrived they were accompanied by mounted Police and announced by fanfares from the Police Trumpeters. It was a formal and inspiring occasion. As they entered the Assize Hall they were received by the Hon Recorder of Manchester, His Honour Judge David Stockdale QC.
The short but moving and traditional ceremony was attended by many of the Mayors of Greater Manchester, the Judiciary, past High Sheriff's and friends and family of the present High Sheriff.
As the High Sheriff and Mrs Yeung arrived, they were met by the High Sheriff's Chaplain, Rev Angie Stanton and his Police Cadets, Shannon Donnelly and Natasha Watkins and escorted into the Assize Hall.
The Police Cadets guarded the High Sheriff's Portrait throughout the ceremony, whilst he signed the beautifully calligraphed Roll. The portrait will eventually join those of all the previous High Sheriffs along one of the corridors in Crown Square.
Towards the end of the ceremony, the High Sheriff was blessed in his role by his Chaplain, who amongst her beautiful words prayed that God would:
Bless Gerry as he supports our civic life that he might be a power for good in our city
a symbol of its inclusivity and welcome, an advocate for those who stand with the marginalised and a support for those who uphold the rule of Law and serve the common good with their lives.
Fill him with Your Joy, Confidence and Wisdom, bless him at home and at work, awake and asleep, be on his right hand and on his left hand, a constant source of encouragement and peace.
Inspired and uplifted, the guests retired to the Judges' Dining Room for tea and coffee.
The High Sheriff and Joanne then kindly hosted early lunch for their friends and family at San Carlo. Unfortunately they could not be joined by the Judges as they were called back to Court.
9th June 2017
Visit to Bolton Lads & Girls' Club to meet Staff & Pupils of Rumworth School, Bolton
Gerry & Joanne visited Bolton Lads & Girls' Club where Rumworth School hold their PE lessons.
They were met by Alison Moreton and two Rumworth pupils, who showed them around the club.
They then went outside to watch Louis Critchlow from Bolton RUFC and Kadoo who was coaching Rugby skills . He has been working with Rumworth all year and they are thoroughly enjoying learning new skills
Gerry talked to the girls and boys and watched Louis take them through a Gladiator Drill where they needed to beat two defenders without losing both tags to score a try.
After going back indoors, they watched the cricket practice and were then treated to a great cup of tea and some lovely cakes!
They were joined by the Deputy Headmistress who told Gerry that She remembered him from visiting his restaurant, Yang Sing, when she was younger and that she shared many a delicious lunch with her Dad when she was doing Teacher Training!
Gerry's hat was passed among the children and tried on many times!
The sword was also very popular and one of the boys asked whether Gerry used it to defend the Queen! Lots of questions were asked about the uniform and the sort of things that High Sheriff's are expected to do. Gerry and Joanne also enjoyed asking questions about the school, sport and BRUFC's involvement with the school.
Rumworth is a school for 11-19 year old pupils who have a range of learning difficulties and additional needs. It is rated 'Outstanding' by Ofsted They cater for up to 240 students and support them to be more confident, resilient and independent. Their aim is to teach life skills so that the students can gain employment. One of their mottos is: You can do it. We can help.
The school is doing a fantastic job. and sport is almost a therapy. The students were relaxed and happy and many of them excel at sport and were in their element.
Bolton RUFC do incredible work with schools , using rugby as a means to connect with youngsters and teach valuable life skills and lessons. They work hard to help young people in their community to develop and grow as individuals whilst connecting with and enjoying sport. In 2015 they won the SRA School Links Award which was presented by HRH Earl of Wessex.
Fantastic community work all round!
Meanwhile, the cricket and rounders continued inside and Gerry had a go at batting. He is proud to say that he remains 'not out'!
Some final group photos were taken and there were lots of goodbyes exchanged.
Gerry and Joanne were invited to lunch at Rumworth, as they have a bistro standard kitchen. In return Gerry and Joanne
invited some of the pupils to come over to Yang Sing Cathay and Wokooshii to learn how to make some dim sum and enjoy some Chinese food.
Watch this space!
9th June 2017
The Opening of the Sale Festival Photographic Exhibition & Prize Giving
Gerry and Joanne arrived at the Waterside Arts Centre to take part in the opening of the Sale Festival Photographic Exhibition.
A few days earlier, Gerry had been over to meet John Earnshaw and his colleagues to see, study and judge the prints and decide on the top three prize winners in the Senior Section (as well as another three who would receive Commended Certificates) and the 16 prints he judged to be the 'best of the rest'. All of these prints had then been framed for the exhibition.
He then chose the First and Second Prize Winners in the Junior Section.
He had a great time studying all the prints and as overwhelmed by the quality of the entrants.
On the night it was his job to try to explain why he made his choices and support the Mayor of Trafford who presented the prizes.
Whilst he is not a photographer, he explained that he felt a good photo should tell a story and give rise to an emotional response – happiness, sadness, laughter, horror. It could depict a sense of grandeur or tranquillity in nature etc There are also the technical skills of composition, colour, exposure etc.
The winners were:-
Junior Section – Runner Up
Another Rainy Day in Ireland by Rosie Sharkey
Gerry loved its bold composition with a sense of desolation and melancholy of a wet sodden day when the rain seems as though it will never stop. You can almost sense that this is the view of a child who is bored and frustrated
Junior Section Winner
On a Shoestring by Georgia Scheerhout
The photo has a Mediterranean feel and the observation of the photographer has captured everyday ordinary objects in a way that is fun and mischievous. The angle from which the photo is taken invites you to look up and explore a shabby alley and discover colour.
Commended in the Senior Section were:
Gerry loved the simplicity, the mathematical geometrical composition and the interesting perspective of a pyramid that is in the distance and one that is 'in your face'. The heat of the desert is also captured in the glow of light on the rocks.
The Second Prize Winner in the Senior Section was
Blackpool by Tim Holt
As soon as Gerry saw this photo he smiled! Then a word popped into his head – cantankerous….followed by bad tempered, irascible, irritable and grumpy! The photo completely captured the spirit of a grumpy old man and expressed the feeling – 'Don't come near me! Don't mither me! Leave me alone! Go away!'
The First Prize Winner of the Senior Section was:
Clara in the Corn by Chrissie Hayward
This is a beautiful and subtle photograph of a young girl half-hidden in a cornfield, her blonde hair and the ripening corn being a perfect blend of colour. The young girl is very thoughtful, absorbed by something which we cannot see. Only half of her face can be seen and her eyes are half closed. You wonder what she is thinking. There is an element of mystery involved. It is compelling, intense, has depth and leaves you wanting more….
Gerry and Joanne had a lovely evening, speaking to the photographers and learning more about their very impressive skills. They also met the two beautiful daughters of Chrissie Hayward who were the subjects of Clara in the Corn and Flower Girl.
12th June 2017
Meeting Young Chinese Lawyers at Dean's Court
Every year a group of young Chinese lawyers visit UK, spending six weeks in London and one day in Manchester!
Gerry, as High Sheriff of Greater Manchester, was asked by the Honorary Recorder of Manchester, HH Judge David Stockdale QC, to meet with them during their visit and talk to them about life beyond London!
They were bright young lawyers from a variety of cities in China and specialised in many different areas of law.
Gerry enlisted the help of Rhys Whalley, the CEO of Manchester China Forum to accompany him and was also grateful to Tim Newns of MIDAS who provided useful data and information to add to the presentation. They had a very brief window of opportunity to extol the virtues of Manchester.
He also decided to wear his full uniform (complete with sword!) so that the lawyers could also enjoy the tradition of his role.
Gerry and Rhys were welcomed most warmly to Dean's Court Chambers by David Stockdale and Joe Hart and were introduced to the group., who had, earlier that day, enjoyed visits to Old Trafford, Manchester Crown Court, had a pub lunch and been to the People's Museum.
Gerry told them a bit about himself, his role and the history of the High Sheriff.
The lawyers were delighted when Rhys introduced himself in Mandarin and then explained in English the work of Manchester China Forum with China, relating to connectivity, investment etc.
Gerry had the last word when he explained that Manchester is big enough to be commercially and culturally exciting, but small enough for everyone to work together…….and that as long as they got to know a few of the people currently in the room, through them they would soon get to know everyone in Manchester!
Everyone then got to know each other much better over tea and a selection of very delicious cakes!
15th June 2017
Henshaw's 180th Anniversary Awards
Henshaws is a charity supporting people living with sight loss and a range of other disabilities. The charity provides specialist college facilities, arts and crafts, community services, housing, training and services for businesses and disability support services.
The Awards Ceremony took place at the Midland Hotel in Manchester to recognise those with visual impairments who have gone far beyond expectations this year, as well as marking Henshaw's 180th anniversary.
The ceremony was attended by, amongst many others, the Lord Lieutenant (who is also the President of Henshaws), the Vice Lord Lieutenant and the Mayor's of the boroughs of Greater Manchester.
Gerry and Joanne were chatting with Andrew Rose, one of Henshaw's Board Members. He became visually impaired about seven years ago, due to a hereditary condition. Prior to that he was an accountant, but since then he has become very involved with Henshaw's, particularly on the technology front. The incredible development of technology has opened up so many more possibilities for visually impaired people and he wants to share that development and information far and wide.
Henshaws is the oldest charity in Manchester and, in the past, it has been one of Yang Sing's chosen annual charities, along with Guide Dogs for the Blind. In fact, some years ago, Gerry went on a blindfolded walk around Manchester with the help of a Guide Dog. It really helped him to empathise with some of the difficulties that visually impaired people need to deal with.
The guests were seated in the Trafford Room and entertained by virtuoso pianist, Stefan Andrusychyn and award winning opera singer, Denise Leigh, both of whom are visually impaired and also happen to be husband and wife and romantically met through music!
Gerry & Joanne were seated on a table with the Lord Lieutenant, the Vice Lord Lieutenant, the Lord Mayor of Manchester, the Mayor of Oldham, Nick Marr (the CEO of Henshaws) and two trustees from the Zochonis Trust.
They discovered that Nick Marr has written a book called 'How to Run a Charity'. Gerry has decided that he will buy a copy to read anf to educate himself better.
The compère for the afternoon was Tom Walker, who was also visually impaired. He was very lively, with an impish sense of humour.
Everyone was also entertained by an excellent guitar group called Biscuit.
There were a variety of awards, including the Young Person of the Year (Aged under 12) which was won by Jackson Edward.
There was also a father and son, who each won an award. Paul Forster winning a Technology Award and Jamie Forster winning the Young Person of the Year Award (12-25 years of age). Dad could not be there, so Jamie collected both awards, telling everyone in his speech that his ambition was to play football for England.
The Gillian Lawrence Award given to people who have managed to overcome personal challenges, was won by Bryony Fielding who was very tearful and emotional in receiving her award. When asked by the compère how she felt, she quipped that the tears were probably because of the amount of delicious cakes that she had been tempted to eat during the afternoon, which had ruined her diet plan!
A presentation was given which showed the history of Henshaws and how, over the years, the charity has learned, innovated and used ever changing technology to improve the lives of visually impaired people.
As the inspirational afternoon came to an end, Nick Marr made his closing speech and stated that Henshaws is an organisation for the visually impaired, but has a vision to achieve beyond expectations.
16th June 2017
Visiting Green Fold Special School in Farnworth, part of the Orchards Federation , on Save the Children Den Day
Gerry and Joanne visited Green Fold School to meet the children on National Den Day. They were invited by Rachel Parker and also by J P Hardman and Peter Gore of Bolton Rugby Union Football Club, who work with the school to provide rugby sessions for the children every Friday.
Rugby was slightly sidelined on this day, because the children were building dens on the field to celebrate Save The Children's Den Day and were learning about the importance of shelter to children all over the world.
As they arrived at the school entrance, Gerry and Joanne were met by a group of excited children accompanied by Rachel and the Head Master, Andrew Feeley.
The immediate star attraction was Gerry's sword!
Gerry and Joanne were taken to the playing fields where children were building some incredible dens from cardboard boxes and bed sheets and all sorts of things! In the middle of the field was the BRUFC den made with rugby post protectors and tackle bags and filled with numerous rugby balls. Not sure if they were to be used for training or to repel invaders!
The kids were having a great time and a mixed ability group were being encouraged to run with and pass the balls.
Green Fold School is a special school which is part of the Orchards Federation. It caters for children aged 4-11 with a wide variety of complex educational needs. It is a place where each pupil is allowed to express themselves as individuals and learn in a style that best meets their needs. Their ethos is Growing, Sharing, Learning , Laughing and Celebrating Success Together
All the children came over to ask what Gerry and Joanne were doing there and soon they were helping to build the den whilst being asked lots of questions. Is it a real sword? Can I touch it? Soon the children were queuing up to have their photograph taken wearing Gerry's hat and holding his sword, with Gerry standing by their side! He commented to one girl that wearing his hat would spoil her hair and her response was: 'I don't care!'Gerry felt as though he had never been so popular!!
He was asked whether he had ever met the Queen and answered that he had and that we should all try to be like her because she works so hard. One little girl said that she had seen the Queen six times, but she didn't remember because she was a baby!
After some brilliant questions and a long photo session, Gerry and Joanne visited all the dens which had been built around the field. When they returned to the BRUFC den they were invited inside and got involved in a large scrum – which became another photo session!
They then went back into the school and were taken around the classrooms where children with varying degrees of disabilities and learning difficulties were having lessons.
Gerry fell in love with a little girl named Angel, who was bright, feisty and, refusing to be held back by having no arms had learned to use the mouse and access the computer with her feet. They had a bit of a chat whilst Gerry admired her skills and he was delighted when she shouted "Bye! See you!" as he left. He was overwhelmed and inspired by her spirit and determination to overcome obstacles.
Some of the children were making cakes and enjoying the results.
Gerry and Joanne were humbled by the love, patience and skills of the teachers and teaching assistants who were working with the children.
They discovered that Green Fold also provides hydrotherapy, rebound therapy and many sensory experiences which help the children to increase contact with the outside world and build their confidence.
During tea in the Headmaster's Room he explained that he came from a mainstream school and it has been a steep learning curve for him. Orchard Federation is made up of The Orchards Nursery, Cherry Tree Primary and Green Fold Special School – with a total of 600 children. Although the schools have separate academic/learning programmes, socially there is a huge cross over between them.
They have a scheme where some of the older children from Cherry Tree were awarded the title of Play Leader with the privilege of coming to play and spend time with some of the children with physical and learning difficulties at play time. They take great pride in this privilege. It is an admirable model and teaches the children empathy and understanding.
Andrew commented that the teachers are very special. They need not only love and patience but also a good understanding of the medical conditions and needs of the children. Each child is treated as an individual.
Gerry and Joanne had a very very special day.
Their experiences at Green Fold and at the Henshaws Awards really reinforced their belief that we live in a caring and protective culture and we take care of and learn from vulnerable people. Such goodwill, generosity of spirit and joy of life is very precious and is to be celebrated.
21st June 2017
Gerry & Joanne's second Judges' Dinner was held at their home in Heaton Moor.
Gerry created the menu and one of the chefs from Yang Sing Cathay kindly assisted the success of the evening by moving temporarily from Yang Sing Cathay to home, leaving Gerry & Joanne to host the dinner and enjoy the results of his culinary talents as well as the company of their guests.
They rounded of the evening by sampling a rather delicious bottle of Hennessy XO Cognac. XO has to be ten years old to be given the name, but this particular bottle was given to Gerry as a gift from a friend from Hong Kong, who had bought it at least 40 years ago, on his Installation Day. It was therefore at least 50 years old and had matured beautifully!
24th June 2017
Service for the Re-Dedication of The Northenden War Memorial & Armed Forces Day in Northenden and Wythenshawe
Gerry and Joanne were honoured to be invited by Mr Graham McIsaac, The President of the Northenden Branch of the Royal British Legion to attend the re-dedication of the Northenden War Memorial.
The area around the War Memorial has been refurbished with financial support from the National Lottery Funded War Memorials Trust, from the Neighbourhood Network of the Wythenshawe Wards of Manchester City Council and the Manchester Airport Community Fund.
Gerry & Joanne were met as they arrived by Graham McIsaac.
The Guests of Honour were the Lord Lieutenant of Greater Manchester and Mrs Kath Robinson Dl and the service was respectful and inspirational. Every name inscribed on the War Memorial was read out loud. As Gerry listened and then read out the names of the 10 people allocated to him, he was moved to realise that some surnames were repeated, meaning that some families lost more than one family member – sons, fathers, brothers.
Wreaths were laid, fervent prayers were said and many people stood in silent unity as they remembered the courage of the people who gave their lives for us all.
'They shall grow not old, as we that are left grow old, age shall not weary them, nor the years condemn, at the going down of the sun and in the morning, we will remember them.'
After the service, tea and coffee was served and the Armed Forces Day then began.
There was a display of military vehicles, which was very interesting. Gerry and Joanne also watched a re-enactment carried out by the 1879 Group and talked to some of the members afterwards.
The 1879 Group was formed at the Museum of South Wales Borderers in Brecon in 1998 by a dedicated group of people who had a consuming interest in the Anglo-Zulu War of 1869.
One of their aims is to locate, renovate and re-dedicate the graves of those who made it back to Britain. Some members carry out research into Anglo-Zulu history and keep alive the memory of the soldiers on both sides of the Anglo-Zulu War.
They showed Gerry and Joanne a bell tent that was used to sleep 12 people, who lay in a star shape, with their heads and the majority if their body inside the tent and their feet stuck outside!
Gerry & Joanne also spoke with a 95 years old lady who told lots of stories of her work as a nurse in a burns unit looking after soldiers during WWII. She is definitely the most sprightly 95 year old that they have ever met. She still enjoys visiting Northenden Club (which was called the Old comrades Association when it first opened) and spending time with her friends. Her favourite tipple is rum, which is probably the secret of both her longevity and her energy!
26th June 2017
The visit of the Duke & Duchess of Cornwall to Manchester
The visit was made to express condolences and provide support after the dreadful Manchester attack.
The Royal Couple first made a private visit to Manchester Arena and met with some of the staff and emergency services who were first on the scene of the bombing.
They then travelled to the Town Hall, where crowds of people waited to welcome them and there were many press representatives.
Gerry and Joanne joined the civic line-up and shook hands with His Royal Highness and the Duchess, who then split up as the civic line up was completed.
His Royal Highness joined a round table meeting, in which Gerry took part, during which they discussed the impact of the attack and the positive things that are being done in Manchester, following the atrocities. It was a very forward looking discussion, demonstrating Manchester's resilience. The message that came through loud and clear from representatives from different faith groups, community groups etc was that they are all proud to be Mancunian and that the dreadful atrocities have made everyone stand in solidarity together – that Manchester is responding with pride, belief, determination, togetherness and efficiency – and that everyone is thankful to have emergency services and a City Council upon which we can rely. It was also mentioned that a fund was set up straight away and that within ten days cash was being distributed to the victims.
Whilst the discussion took place, the Duchess of Cornwall met with some of the victims of the attack. She spoke at length with a young girl, who was in a wheelchair, and whose friend had been killed in the blast. Her parents described the horrendous night, the fact that it was the first time that their daughter had been to a concert without them and how they had cried in fear as they searched for her.
The Duchess was very sympathetic and caring. She invited them all to come to London when their daughter was feeling better for Afternoon Tea. One of her staff gave the parents a business card to allow them to get in touch
The Royal couple then met up again in the Great Hall as they spoke with representatives of hospital groups, the Red Cross, faith groups, the Prince's Trust and Mosaic Group, the British Asian Trust, the Etihad Respite Centre, Manchester Youth Council Group and Support for Victims and Families and the Community.
His Royal Highness made a compassionate, encouraging and supportive speech, sharing this personal experiences in the wake of the London Bridge Terror Attack and the Terror Van Attack outside a London mosque and offering sincere and heartfelt condolences.
27th June 2017
Sixth Form Community Action Celebration Evening at Bolton School
Gerry arrived at Bolton School and was immediately helped by a very polite and helpful young man, who directed him to the Leverhulme Suite of the Riley Centre. He took great interest in Gerry's uniform, as he is interested in all things military and his career ambition is to join the Army.
It turned out that he was one of the Sixth Formers to receive an award that evening and one of eight students who were chosen to made a presentation regarding their voluntary community work.
Gerry was received by Sophie Entwistle, Head of Community Action and introduced to Mr P Britton and Mrs S Hincks, the Heads of Bolton School. He was impressed and inspired to learn that one in five of the school's pupils have bursary support and that they were working hard to increase that figure to one in four.
Bolton School has nursery, primary and secondary facilities and is very enterprising, renting out its space in a variety of ways – even as a wedding venue – during evenings and holiday periods to create further funds that can be used to help the pupils. The grounds and buildings were immaculate.
Gerry also learned that the hall that he was taken into had started its life as a swimming pool! He was introduced to Sixth Formers, proud parents, Governors and the Head of the Governing Body.
Sophie opened the evening, telling everyone that Bolton School was proud to be the first ever school to be presented with the Queen's Voluntary Service Award. They encourage all their Sixth Formers to get involved in their local community and this year they were celebrating the momentous achievement of registering 9,243 hours of voluntary work.
The top 80 performing Sixth Form students attended the presentation evening and picked up Bronze, Silver or Gold awards depending on whether they had committed over 20 hours, 50 hours of 100 hours in helping the local community. 143 students had achieved at least a Bronze status, with as many as 25 attaining the Gold award, helping out in a wide range of institutions including Brownies, Beavers and Scouts, at Bolton School's SHINE Saturday morning programme, as classroom assistants or mentors at local schools, working with the homeless in Greater Manchester, offering translation services, working in hospices and care homes, assisting with local charities such as Urban Outreach and Bolton Lads and Girls Club – and in many other ways.
Some of the students then shared presentations about the work that they had done.
Ali, who volunteered at Bolton Hospice, advised the audience: "If an opportunity comes your way in the future, take it:. Anika, who worked as a Student Leader at Gordonstoun's Summer School for four weeks, said that it was one of the greatest experiences of her life and that it was something that she would never forget. Maryam recalled how her time at Urban Outreach had been "something I looked forward to" and that volunteering was something that she will continue with throughout her life
.
Gerry was delighted to hand out the awards.
He congratulated the students and the school on their inspirational success. He told them about the history of the role of High Sheriff and that his main job now is the privilege of connecting and engaging with the charitable, voluntary, faith, ethnic, cultural and business communities in the county.
He encouraged the students to continue with their good work, allow their civic pride and community spirit to grow and to engage more and more with their community. This would enrich the lives of the people that they helped and in turn enrich their own lives.
He was sure that there would be future High Sheriffs amongst them!
He then used his sword to 'cut' a beautiful and delicious celebratory cake, which was shared by all.
28th June 2017
Visit to Smart Works, Greater Manchester in Stockport
Smart Works (www.smartworks.org.uk) is a lottery funded charity which helps women get back into work.
If you are a woman with a confirmed job interview, Smart works Greater Manchester will give you a complete outfit (yours to keep) and advice on how to get the job. They provide interview advice, a complete quality outfit and accessories and even a voucher for a second dressing.
Each appointment lasts about two hours and includes one to one advice and training. The clothes are donated by other working women or come from their retail partners and they work closely with Job Centre Plus, housing associations etc
It was set up in London four years ago, with a branch in Manchester following two years later.
When Gerry and Joanne were welcomed by Fiona Gunnion, Janet Pickering and the team they learned that there is only one salaried member of staff, the CEO, and the rest of the team are very hard working and experienced volunteers.
Gerry and Joanne had a conducted tour and were amazed by the racks of clothes from which the ladies can choose.
Lots of the ladies come from under-privileged backgrounds, abusive relationships or have had limited education. Smart Works work hard to help them to build up their self esteem and rebuild their confidence.
The success rate of their ladies in securing jobs is an incredible 70%.
Gerry and Joanne were impressed and inspired by the charity's excellent work and promised to spread the word far and wide!
28th June 2017
Youth Mayor Making Ceremony – Oldham
The Mayor Making Ceremony for the new Youth Mayor of Oldham, Mohammed Marouf Ahmed, was held in the Mayor's Parlour and Council Chamber at Oldham Civic Centre.
Marouf lives with his parents and siblings in Coppice and is currently studying Mechanical engineering at the University of Liverpool. He joined the Oldham Youth Council four years ago and has also served as the Member of Youth Parliament for Oldham within the UK Youth Parliament. He has represented Oldham's young people, locally, regionally and even internationally! Maybe we have a future PM on our hands.
Marouf is also into football and shares his skills as a coach for Coppice Rangers.
Gerry & Joanne enjoyed getting to know the Youth Mayor a little better during refreshments in the Mayor's Parlour. They also met the retiring Youth Mayor, Mr T Jay Turner, who is off to Edinburgh University in September to study English.
They were delighted to catch up with the Mayor & Mayoress of Oldham too, whose Mayor Making Ceremony they were honoured to attend in May.
At 6:00pm everyone moved into the Council Chambers for the formal ceremony and the guests were formally welcomed by the Mayor of Oldham.
This was the first time that Gerry & Joanne had ever attended a Youth Mayor Making ceremony.
The retiring Youth Mayor asked for nominations for 2017-18 and there was a show of hands from those in favour. He then stated:
'Youth Councillor Marouf Ahme, I am delighted to inform you that by the unanimous consent of Oldham Youth Council you have been duly elected as Youth Mayor of the Oldham Metropolitan Borough for the forthcoming municipal year'
The new Youth Mayor then made and signed his Declaration of Acceptance of Office with the CEO, Dr C Wilkins OBE.
The new Youth Mayor is blessed with a rather splendid beard, in fact the retiring Mayor went on to make reference to it in his speech! However, at this stage, when the retiring Youth Mayor passed over his chain, the beard was the cause of a slight delay and a few smiles and jokes as the chain became stuck and had to be untangled!!
The retiring Youth Mayor and the new Youth Mayor then changed seats.
Some inspiring speeches followed and the new Youth Mayor stated that he wanted to be a beacon of unity and was looking forward to exploring the wider areas of Oldham and spreading and adding to the love that he already had for his borough.
Refreshments were enjoyed by everyone in the Lees Suite.
29th June 2017
Opening of Nicky Alliance Centre Art Exhibition
Gerry was delighted to be invited to open the Nicky Alliance Centre's Art Exhibition at the Maccabi Sports & Community Centre in Prestwich.
Manchester Jewish Community Care does wonderful work in serving older, disabled and vulnerable members of the community by providing services which promote active, independent living.
Over 200 people attend the Nicky Alliance Centre, some coming several times a week. The Centre offers breakfasts and lunches, as well as a variety of activities: Basic Computing, Keep Fit, Discussion, Talks, Quizzes, Yoga, Reminiscence and Singing – as well as, of course, Art (painting, drawing, tapestry and knitting).
The charity started in 1950's as the Jewish Blind Society and MJCC still produce the Northern Jewish Talking Newspaper.
They also provide a local Meals on Wheels service.
Gerry and Joanne were met by the Chief Executive, Michelle Wiseman, and were very impressed with the standard of the art work which was displayed, especially as some of the ladies and gentlemen had never done this sort of thing before.
Gerry was presented with a lovely gift.
He thanked the volunteers and the members of the Centre enthusiastically, telling them how pleased he was to be there and to meet everyone. He explained his admiration for and his closeness to the Jewish Community in Manchester, not only because many members were customers at Yang Sing, but due to a colleague who he worked with for over twenty years. His long standing solicitor and dentist are also Jewish!
He much admires the fact that the Jewish Community in Manchester is successful and caring. The Nicky Alliance Centre and Heathlands being excellent examples.
He then declared the Art Exhibition open.
After the formalities, Gerry was honoured and inspired to meet Isaac who looks about 70, but who is actually 101 years old, being born on 25th January 1916. He was physically mobile and mentally alert. When Gerry asked Isaac for the secret of his longevity, he was told that it was plenty of fresh air!
He had also contributed to the Art Exhibition by producing a 'collage' of 13 pencil sketches; one of each of the staff at the Centre. When a newspaper reporter asked for a photo of Isaac and Gerry together, he immediately grabbed hold of his zimmer frame to assist him in standing, left it behind, walked unaided over to Gerry, lifted up his art work and happily posed for the camera!
Gerry felt blessed to have met such a wonderful gentleman with a zest for life.
He also had another very pleasant surprise, when he discovered that Lady Smith (his predecessor as High Sheriff) was there. She had visited the Centre at the beginning of the art project and came to the exhibition to enjoy the results. He was delighted to see her and will definitely learn from her example to keep in touch with as many of the people that he meets during his Shrieval Year.
29th June 2017
The Combined High Court Judges' & Circuit Judges Mess'
Gerry was pleased to receive a kind invitation to the traditional Combined High Court Judges' & Circuit Judges' Mess at the Midland Hotel, by Harriet Tighe, Junior of the Northern Circuit.
The meal was held in the Trafford Room and was absolutely delicious.
Michael Hayton QC, the Leader of the Northern Circuit an based in Dean's Court Chambers, spoke most eloquently and with intelligent humour as he introduced the guests. Gerry sincerely admired his talent and complimented him later in the evening. He was amused by his response: 'You do your job well. I do mine!'
Having also seen him in action at Dean's Court on 12th June, Gerry is still convinced that he does his job better!
Gerry was sat next to the Honorary Recorder from Minshull Street, HHJ John Potter, who kindly invited him to sit at court with him in Minshull Street.
During the evening, Gerry was intrigued to witness some traditions which seemed rather 'strange' to him as a non-legal person. He decided that he must do some research and discover their meanings and historical significance!
He talked with many friends that he had already made during his time as High Sheriff, including the Hon Recorder of Manchester HHJ David Stockdale QC and the Bishop of Manchester David Walker.
He was also pleased to make the acquaintance of Lisa Roberts QC who, in February 2017, became the first female Attorney General of the Northern Circuit in its 800 year history. They swapped stories and Gerry commented that he was the first Chinese High Sheriff in the 1,000 year history of the role, to which she responded humorously that she had been 'beaten by 200 years!'
Gerry had a very entertaining evening and was priviliged to spend time with some of the best brains in Britain.
30th June 2017
Greater Manchester Magistrates' Association Year 6 'Mock Trial' Competition
Gerry and Joanne were intrigued to receive an invitation from Gwynneth Bellman JP, the Magistrates in the Community Co-Ordinator of the Greater Manchester Magistrates' Association.
She was delighted to inform them that they had been awarded a Patrons' Grant to fund a Mock Trials Competition for Year 6 pupils in Greater Manchester and there were 10 schools from across the region taking part at the Friends Meeting House in Manchester:
Wellgreen Primary School, Hale
Moss Park Junior School, Stretford
Woodlands Community Primary School, Heywood
St Hugh's RC Primary School, Timperley
Greenbank Primary School, RochdaleWorethington Primary School, Sale Moor
Moorlands Junior School, Sale
St Vincent's RC Junior School, Altrincham
Park Road Junior School, Sale
Bowdon Church School, Bowdon
The competition would provide a wonderful opportunity for the children to participate in an event that would exercise their verbal reasoning and public speaking skills, as well as their ability to work as a team
Gerry and Joanne thought it was an excellent idea and couldn't wait for the day to arrive.
They arrived for lunch at 12 noon and just as trial 2 between Woodlands Community Primary School and St Hugh's RC Primary School had come to a close.
They were welcomed and introduced by Gwynneth Bellman and were soon surrounded by the children and learning how their trial had panned out. Woodlands had been the prosecuting council and St Hugh's the defending council. All the children had enjoyed the experience. They were also fascinated by Gerry's uniform (especially his sword and his hat!) and he told them what it was like to be a High Sheriff. They were soon posing with Gerry and Joanne and taking it in turns to wear his hat!
After lunch, Gerry and Joanne watched Trial 3, between Greenbank Primary School and Worthington Primary School. It was all about the case of a missing iPad.
The children acted out the criminal trial, either prosecuting or defending the case, playing the parts of Magistrates, legal professionals, witnesses and defendants. Marks were awarded based on their abilities to argue effectively and to plead their case, not only on the guilty or innocent verdict.
It was a very finally balanced case, but the final decision was 'not guilty'!
There was a shield and book tokens for the winning school, prizes for the runners up and also a Court Artist and Court Reporter competition.
It was a very enjoyable experience for both children and the High Sheriff alike! The GMA are hoping to organise another competition for older children later in the year.
Gerry and Joanne are hoping that there performance on this occasion will warrant them being invited for a re-visit!
---
May 2017
5th May 2017
The High Sheriff and Joanne arrived at Fairfield Golf & Sailing Club for the Greater Manchester High Sheriff's Police Trust Golf Day to be met by a group of hard working Police Cadets who were doing an excellent job as parking attendants, stewards and even 'caddies ' carrying golf clubs for the contestants.
Gerry and Joanne managed to grab a quick cuppa as the teams gathered near the Club House, were entertained by the GMP Band and prepared to tee off.
Gerry sent them off with some encouraging words. That morning there had been a story on the news about albatrosses (the feathered variety!) being counted by satellites He hoped that there would be many more (the golfing variety!) to be counted during the competition, but none to be found on the menu that evening!
It was a gloriously sunny day, but rather windy which provided quite a challenging day for golf.
Not being golfers, Gerry and Joanne then left the teams to enjoy their afternoon of sport and promised to return for the dinner that evening.
Gerry returned in full uniform, bringing his sword rather than a club!
Ex President, Paul McKee made a warm welcoming speech and Glen Lockett, Head of Income Generation for Greater Manchester High Sheriff's Police Trust also said a few words. Everyone then enjoyed a delicious dinner and excellent company.
After dinner, Gerry made a short speech. He congratulated the winning team. There were actually two teams, Lucas Fettes and Sammon Media, who drew for first place, but Lucas Mettes took the trophy on the back nine.
He also congratulated everyone who took part and helped to raise funds of almost £7,000 for the Greater Manchester High Sheriff's Police Trust, which supports projects in the area that reduce crime and the fear of crime in our communities, as well as providing help to vulnerable people of all ages.
He caused quite a stir by claiming that golf was actually invented in China over 1,000 years ago! His golf jokes also went down well with a very generous audience, though not as well as the ones told by very funny professional comedian, Charlie Hale, after dinner.
An entertaining and successful day was enjoyed by all.
7th May 2017
The 25th Anniversary of Homeland Day Nursery in Altrincham was held on a gloriously warm and sunny day.
Gerry and Joanne arrived safely after waiting for what seemed like an eternity at a nearby level crossing for both trams and trains to cross!
They were greeted by Alice Apel, the owner, and Lisa Roberts, the manager, who showed them around.
The party was set up in a beautiful garden space where families, including grandparents, parents, children and babies, were enjoying cake stalls, climbing frames and bouncy castles.
It was immediately obvious that the nursery was a very happy place. Gerry and Joanne were introduced to staff and guests and were surrounded by lots of smiling faces.
Gerry made a short speech of congratulations and thoroughly enjoyed cutting the delicious and beautifully made cake – not with his sword!
They chatted to lots of parents and children, who shared stories of Homeland. Many of the guests were past parents who came with teenagers who had attended the nursery as small children.
One of the sweetest experiences was meeting a family who had come back specially to see the music teacher, because they used to enjoy her sing along sessions so much. She was sat in a corner with her guitar and some puppets surrounded by a group of children who were thoroughly enjoying joining in with her.
Happy children, some wearing princess dresses and many with their faces painted, had a wonderful day.
It was a joy!
9th May 2017
The High Sheriff met with Amy Stevens from Gifted Philanthropy this afternoon. They had a very interesting conversation about Dippy on Tour.
Apparently, the Natural History Museum's iconic diplodocus skeleton will be visiting Rochdale between February and June 2020.
Gerry enjoyed the discussion and was delighted to talk about something that is actually older than him! The visit of Dippy will be used to help spread the word about the key themes of Origins and Evolution, Biodiversity and Sustainability.
We will keep you updated as to progress.
We all love dinosaurs are very much looking forward to welcoming Dippy to Rochdale.
10th May 2017
The Dean of Manchester, the Very Reverend Rogers Govender, graciously invited the High Sheriff to his office at Manchester Cathedral.
Gerry very much enjoyed meeting the Dean and learned a lot about Manchester and especially about the Cathedral.
The Dean's belief in justice and inclusiveness has exemplifies itself in his engagement with the various stakeholders and communities in Manchester. Like Gerry, he has made Manchester his home. He has made many connections with all the other faith communities.
During his time as Dean, with the help of his team (including the High Steward, who is Warren Smith, the Lord Lieutenant), he has raised an incredible £10,000,000 for Manchester Cathedral.
Under his aegis, a continuous restoration programme has been carried out, including the installation of under-floor heating, a new organ etc.
During 2016 Manchester Cathedral had a new organ built, generously sponsored by the Stoller Charitable Trust. The total cost was approximately £2.6m. The Stoller Organ will be at the centre of Cathedral music and in use virtually every day of the year for services, concerts, recitals, recordings and teaching. The building works were completed in the winter of 2016/17, and the voicing and sounding of the instrument is still taking place.
The Hope Window was generously sponsored by the Oglesby Charitable Trust. The glorious new stained glass window was dedicated in December and replaced an existing plain glass window.
The Dean kindly took Gerry on a tour of the Cathedral and told him all about the history of the beautiful church.
In 1215 Robert Greslet, Lord of the Manor and 5th Baron of Manchester decided to build the current church next to his manor house (now Chetham's Library). By 1360 the delicately carved arch into the Lady Chapel was built, as well as the former tower. Over many years the Parish Church was extended, but it was only in 1847 that the Diocese of Manchester was created and the church became a Cathedral.
By 1864 the tower was in a dangerous condition, it was demolished and the foundation stone was laid for a new one. The new tower was a replica of the old one, but six feet taller and completed in 1868.
Many parts of the Cathedral were replaced over the next 80 or so years, as well as extensions and a refectory and Choir School.
The Manchester Cathedral Choir comes from Chetham's School, built on the same site.
In 1940 a German bomb destroyed most of the North East of the Cathedral as well as damage to the rest of the building. It took almost twenty years to restore. One of the stained glass windows is called the Window of fire and depicts the Blitz.
In 1996 an IRA bomb exploded close to the Cathedral and caused further damage.
Over the last ten years much of the stonework has been cleaned and the building has become 'open' with large amounts of public space.
It is an open and welcoming community space as well as a beautiful and inspirational place of worship.
Gerry enjoyed a fascinating learning experience and very much looks forward to working with the Dean during his year as High Sheriff.
11th May 2017
Manchester & Salford Universities Royal Naval Unit's Annual Reception
The event was held in the University Barracks on Boundary Lane in Manchester. They are just behind the University of Salford. The High Sheriff had travelled along that road dozens of times and yet he had never noticed that there was a barracks there!
Gerry and Joanne were greeted warmly by Lt Phil Curry and groups of very enthusiastic young naval cadets.
The idea of the Annual Reception is to provide a training evolution for the cadets and provides an opportunity to expose them to a more formal 'meet and greet'. The event mimics the kind of receptions that are routinely held on board Her Majesty's Warships when they visit foreign ports; they allow dignitaries and heads of business to meet the ship's company and to discuss British interests in the local area. This event showcased what the Manchester & Salford Universities Royal Naval Unit has achieved over the last 12 months.
The cadets are all university undergraduates, some were new recruits and some had been cadets for a few years.
Every week they come to the barracks for training; physical, leadership and social. Every summer they are assigned tasks of various types, they could even become part of the crew of a patrol boat. The tasks can lead to promotion within the cadets.
Some of the cadets decide to enter the Navy as a career and apply in the usual way. Some choose other career paths. Whichever way, becoming a Naval Cadet is a tremendous experience.
The cadets were bright, cheerful, polite, proud and sociable – a credit to the Navy.
Gerry and Joanne really enjoyed the evening and their company. They send their very best wishes to all of them for their future.
15th May 2017
Broughton House Centenary Service at Manchester Cathedral
The High Sheriff and Joanne were honoured to attend a service commemorating the 100th anniversary of Broughton House at Manchester Cathedral.
Broughton House was opened in 1916 and since then it has cared for more than 8000 veterans of our armed forces – 'caring for those who cared for us'.
A huge congregation was seated in the cathedral as they arrived, Joanne took her seat and Gerry joined the civic line up awaiting the arrival of HRH The Duke of York.
The Royal Car arrived at the West Door and the Lord Lieutenant introduced HRH The Duke of York to the Dean of Manchester, The Very Revd. Rogers Govender and the Sub-Dean, The Rev'd Canon Philip Barratt.
He then presented The Bishop of Manchester, The Bishop of Middleton, The Lord Mayor of Manchester, The Mayor of Salford and the Chairman of Broughton House, Professor Sir Netar Mallick DL MB FRCP as well as two residents from Broughton House.
The service was dignified and beautiful, led by the Dean of Manchester, sung by the Choir of Manchester Cathedral conducted by Christopher Stokes, the organ was played majestically by Geoffrey Woollatt and Gary Hulme, Organist for Broughton House. Stirring music was played before and during the service by the Band of the Royal Regiment of Fusiliers (Lancashire).
The CEO of Broughton House, Mr Ty Platten spoke from the heart about the plans for Broughton House for the next 100 years, including fund raising for a complete rebuild.
After refreshments, the civic line up re-formed as HRH The Duke of York left the Cathedral, this time including the grandson of the founder of Broughton House.
It was a very moving and inspirational experience.
16th May 2017
The Annual Council Meeting and the Civic Reception of The Mayor of Stockport, Cllr Linda Holt and her consort, Mr Ken Holt.
Stockport is Gerry's home borough and this was the first time that he had ever attended an Annual Meeting of the Council. He enjoyed observing and absorbing the tradition and formality of the event.
In attendance were the Vice Lord Lieutenant, many fellow DLs from Stockport as well as the retiring Mayor, Councillor Chris Gordon and his Mayoress, Dr Margaret Gordon, the retiring Deputy Mayor, all the Council Members and friends and family of the incoming Mayor, Cllr Linda Holt and her consort, Ken Holt.
The retiring Mayor opened the meeting by announcing his retirement. The incoming Mayor and her consort were then elected and returned thanks. The past Mayor & Mayoress were then thanked for their services and given a replica of their badges as a memento.
The incoming Deputy Mayor & Mayoress were then appointed in the same way.
Council business was then conducted by the Leader of the Council, Cllr Alex Ganotis.
Gerry later learned that the current Mayoral Consort, Ken Holt, had been the Mayor of Stockport some years ago and the present Mayor, Cllr Linda Holt was his Mayoress. This year they will enjoy role reversal!
He also learned that Cllr Alex Ganotis's ward is Heaton North, Gerry's home ward.
During the Civic Reception and afternoon tea after the meeting and listening to the powerful music of The Mighty Wurlitzer, played with style by Charles Brown, Gerry sat next to Cllr Alex Ganotis, who was a delightful young man and really embodied the spirit of serving the community. He felt that his home ward of Heaton North was definitely in good hands!
17th May 2017
The Mayor Making Ceremony of The Mayor of Oldham, Councillor Shadab Qumer and his Mayoress, Mrs Sobia Arshi
Today Gerry experienced his second annual General Meeting as he and Joanne attended the Mayor Making Ceremony and Lunch of the Mayor of Oldham.
Oldham has a very modern Town Hall, built in the 1960's and, as they arrived at the Council Chambers, they spoke with the retiring Mayor & Mayoress, Cllr Derek Heffernan and his Mayoress, Mrs Di Heffernan .They also met with good friends, Sir Norman & Lady Sheila Stoller and the Vice Lord Lieutenant, Edith Conn.
The incoming Mayor, who is a traditional family man, attended the University of Leicester, after which he set up a very successful furniture business. He is a very enthusiastic, inclusive and diligent councillor and when he was on the Planning Committee , he visited the site related to every application!
His wife will support him as Mayoress , with the help of his 16 year old daughter, Fiza.
After the Mayor Making, a delicious luncheon was provided in the Queen Elizabeth Hall with a choice between English and Indian food. Gerry and Joanne enjoyed the Chicken Tikka, Vegetable Pakora Salad and the Lamb Karahi.
During the meal they spoke with the first ever CEO of Oldham Council, Carolyn Wilkins, who has carried out a lot of good work on the regeneration of Oldham Town Centre.
Both Gerry & Joanne were amused and fully understood the Mayor's comment that they would be so busy this year that they would have no time for cooking, so to feed the family they he would need to download the Pizza Express app onto his phone and order on the way home from engagements!
18th May 2017
The High Sheriff and Joanne were honoured to host their first Judges'Dinner at Yang Sing Restaurant.
Gerry pulled out all the stops, created the menu and asked his wine guru from Gerrard Seel, who also attended the dinner, to pair the dishes with just the right wines.
Gerry & Joanne were ably supported by a small group of friends – good food, good wine and good company!
19th May 2017
The High Sheriff and Joanne were invited by the Confucius Institute and the University of Manchester to attend the premiere of From Shore to Shore, a multilingual theatre event , incorporating food and music, which tells the story of the UK Chinese Community through English, Mandarin and Cantonese and was performed by a Chinese cast.
The afternoon premiere was held at the Yang Sing Restaurant.
From Shore to Shore is possibly the first ever play written about Chinese migration to UK. It was very well performed – with emotion, humour, romance and songs.
Both Gerry and Joanne were privileged to be there and felt a great affinity with the play and the characters, not only because it is the dramatisation of many real life stories that they have come across over the years, but also because they possibly made a minor contribution.
They were both interviewed by the playwright, award winning writer, Mary Cooper and her collaborator, Mimi W Sun (a friend of Gerry from university days) , and maybe some of their life experiences found their way into the play.
The essence of the play is the question of home – and how you find it. There are many perspectives in that search, but if you look at it through the eyes of migrants, like Gerry and Joanne, it is as much about retaining their Chinese heritage as being part of the mainstream society and culture.
Gerry was particularly pleased to see the Chinese actors on the day. For whilst the Chinese second generation is well integrated and extremely successful, there are relatively few Chinese who have found their way into the acting profession. They are real trailblazers.
Gerry and Joanne congratulated the cast on a very moving performance and left them some wine to celebrate with after the evening performance that day. They hope that the play will be adopted into mainstream theatre one day.
20th May 2017
Chinese Song UK at Manchester Central
The High Sheriff and Joanne had an amazing evening – really enjoyable!
Chinese Song UK was set up three years ago , organised by the UK Young Chinese Entrepreneur Association and sponsored by the Confucius Institutes as an event to encourage cultural exchange. The competitors are all non-Chinese, but they sing Chinese songs.
The competition commences with auditions before the day and by Saturday there were 10 finalists of various ages (from 20s to 60s)and backgrounds. They could be language students studying Mandarin or people simply learning Mandarin as a hobby, some of them through the Confucius Institute.
One competitor was from North Wales. He loves singing and went to a Chinese party, where they encouraged him to sing in Chinese. He said that if they would teach him, he would do it. They did and he was hooked!
The songs performed were many varied, from modern popular songs, to 1980's Chinese pop by Teresa Teng, to traditional songs performed in masked costumes which were first sung over 2000 years ago. There was even one guy who was rapping!
The judges were professionals: opera singers, song writers and a lecturer from Royal Northern College of Music. The compères were presenters from Propeller TV and Phoenix TV.
The standard of singing was superb, their mastery of Mandarin incredible and the competition very high .
The £3,000 First Prize was eventually awarded to Alec Loane from North Wales and Gerry awarded the Second Prize of £2,000 to Emily Williams.
After the awards were presented, lots of the competitors and organisers wanted to have their photos taken with Gerry in his uniform!
Gerry and Joanne are very much hoping that they will be able to go again next year!
21st May 2017
At 11am on 21st May at Manchester Cathedral the Civic Service took place in the presence of the Right Worshipful, The Lord Mayor of the City of Manchester, Councillor Eddy Newman.
The Lord Mayor will be supported by two Lady Mayoresses for the year, his daughter Naomi for the first six months and his wife, Sheila for the second.
A fanfare was sounded and the dignitaries, including the High Sheriff, processed into the cathedral, whilst the congregation sang Amazing Grace.
The Lord Mayor was greeted by representatives of Manchester's faith communities:-
The Rt. Rev. David Walker, Bishop of Manchester on behalf of the Christian community.
Mrs Sharon Banister on behalf of the Jewish community.
Mr A K Sinha on behalf of the Hindu community
Afzal Khan CBE MEP on behalf of the Muslim community
The Venerable Miao Di, Director of Fu Guan Shan Temple on behalf of the Buddhist community
and the Dean of Manchester welcomed the congregation to the service.
It was an uplifting, inclusive and inspirational experience.
The Civic Service was followed by a delicious buffet in the Great Hall at Manchester Town Hall.
Later on 21st May, the High Sheriff and Joanne were honoured to attend the Civic Sunday Celebration of The Right Worshipful The Ceremonial Mayor of Salford, Councillor Peter Connor at St Paul's Parish Church, Moor Lane, Kersal.
The Mayor was sixth in a family of ten children and was born and grew up in Salford. He left school aged 15 and started work. His political career started by joining the trade union in the engineering industry, he was later appointed shop steward and convenor.
His wife, Mary, is a writer and a painter . Together they have six children, fourteen grandchildren and five great grandchildren. They also worked as foster parents in Salford for over 20 years.
The Mayor was accompanied by his two Mayoresses, his wife Mrs Mary Connor and his daughter in law, Mrs Claire Connor.
Job sharing seems to be the in thing for Mayoresses this year!
The Mayor was welcomed by the Redd Canon Lisa Battye, Area Dean of Salford and Rabbi Benjamin Simmonds from Manchester Great and New Synagogue.
Following prayers for Salford were readings from both the Hebrew Scriptures and the New Testament.
The Mayor made a moving address.
After Prayers of Dedication, a Blessing and a rousing verse of the National Anthem the service came to a close.
It was followed by afternoon tea in the social area of St Paul's Church, which was relaxed warm and friendly.
23rd May 2017
On this poignant, painful and respectful day, a day overflowing with sadness and reverberating with shock, the people of Manchester came together in Albert Square .
We expressed our sorrow for the victims of the dreadful atrocities carried out in Manchester Arena and our support and solidarity for their families and for Manchester.
We paid our respects and laid flowers which rapidly grew into a sea of colour in a dark and sombre city.
The Vigil brought together people from all ages, ethnicities, faiths and cultures, bound by emotion and complete unity. In the midst of sorrow was pride, passion, defiance and the true diversity of Manchester.
It was attended by the Mayors of all the ten boroughs, the CEOs of local authorities, community leaders from all the ethnic groups, the leaders of all the faith groups, the Lord Lieutenant, Chief Constable, Honorary Recorder of Manchester and a number of local and national politicians.
It was attended by the people of Manchester in solidarity.
As High Sheriff, I joined the Vigil. The city was reflective and there was a real sadness, with everyone speaking in hushed respectful tones.
When the Vigil started, the mood of the thousands of us who came together in Albert Square was palpable. Someone in the crowd shouted 'thank you' to the Police and the Emergency Services and everyone burst into spontaneous applause. In fact there was applause at various times in response to the the speeches which were made.
The powerful reading of the poem, This is the Place, by Tony Walsh captured the hearts of everyone in Albert Square and encapsulated our feelings.
The Bishop of Manchester, who was born in the city, spoke most movingly and eloquently from the heart.
No-one can ever fathom the mindset of people who carry out such acts of terror.
We all need to be truly thankful that we live in a country where we have effective institutions and efficient and caring emergency services who respond tirelessly and wholeheartedly and upon whom we can rely entirely.
The whole of the Manchester community has united and responded to this dreadful atrocity with true and unequalled Manchester spirit – grit, pride and togetherness.
'Always remember. Never forget. Forever Manchester'
Tony Walsh aka Longfella This is the Place
25th May 2017
Reception at the Grand Hall, the Old Bailey, London
The High Sheriff and Joanne with all the High Sheriffs of England & Wales were invited by The Sheriffs of the City of London, Alderman William Russell and Alderman Peter Estlin to attend a reception in the Grand Hall of the Old Bailey .
55 High Sheriffs from all across the country travelled to London with their spouses or partners.
Gerry and Joanne entered the building through a very small and unimpressive doorway, were thoroughly security checked and directed along a little passageway which, when they opened the door at the end of the corridor, felt as though they were going through the back of the wardrobe into Narnia!
The door opened into a more open area where glimpses of grandeur were already apparent.
They then walked up a beautiful marble staircase, on which was a bust of Mendelssohn, a gift from the people of Berlin.
The staircase lead to the Grand Hall, which was palatial, awesome and took their breath away.
Waiters stood elegantly, offering champagne and canapés.
Alderman William Russell gave a very interesting address on the history of the Old Bailey and of the role of High Sheriff.
Gerry & Joanne met up with the other High Sheriffs from the Duchy of Lancaster, The High Sheriff of Lancashire, Robert Mitchel Webb JP DL and the High Sheriff of Merseyside, Stephen Burrows DL and their wives, as well as the High Sheriffs of Cheshire and Cumbria and made a date to meet up in the near future.
They also enjoyed conversations with many other High Sheriffs, including those of North Wales and Bedfordshire.
They had a good chat with Alderman Peter Estlin and his wife, who actually live at the Old Bailey. The role of Sheriff of the City of London is a six year appointment. Peter was a banker and was posted to Hong Kong 1996-1998. He remembers the ceremony when Hong Kong was handed back to China, which was a very rainy day! Their children were very young at the time and don't remember anything about life in Hong Kong. From there the family returned to UK, but Peter was posted to New York and came home to the family every weekend!
Many High Sheriffs came over to us and offered heartfelt words of comfort after the dreadful atrocities in Manchester. We all shared our shock, sorrow and unity.
28th May 2017
The Great Manchester Run
As High Sheriff of Greater Manchester, one of Gerry's most important tasks is to support the good causes in our communities so, as he mentioned at his Installation, he decided to go for 'crowd funding' and to ask all his generous family, friends and colleagues to sponsor him as he took part in the Great Manchester Run!
His chosen charities are:
Disabled Living (www.disabledliving.co.uk)
Gerry has been President of Disabled Living for over 10 years. The charity is in its 120th year and their aim is to support people to maintain independence and enhance and improve their lives.
Re:Dish (www.re-dish.org)
Re:dish is a community based charity, set up by Gerry's Chaplain, Rev. Angie Stanton of St Elisabeth's Church, Reddish to improve the lives of everyone in Reddish.
Wai Yin Society (www.waiyin.org.uk)
Wai Yin was set up in 1988 and provides women and parenting, employment, education and crisis support services to Chinese individuals and families, as well as other ethnic minority groups. The charity aims to challenge all forms of discrimination and social exclusion.
Greater Manchester High Sheriff's Police Trust (www.gmhspt.org)
The Trust supports projects that reduce crime and fear of crime in our communities, so that together we can find practical solutions to crime challenges and make Greater Manchester a better place to live and work.
Chinese Health Information Centre (www.chinese-health.org.uk)
CHIC was established in 1987 to help the Chinese community in Manchester to access the Health Service.
Local Chinese Sunday Schools
Which teach British born Chinese not only their mother tongue but also traditions and history.
His aims were to complete the run in less than an hour and to raise over £20,000 to share between the charities.
The atmosphere in Manchester was electric. There were over 30,000 competitors and over 3,000 from University of Manchester alone, who were given their own Purple starting wave!
After the terrible happenings on 22nd May, it was as though everyone came out to support and stand in solidarity with Manchester.
Gerry was in the Blue Wave which set off at 2pm. Before they started a minute's silence was held and, despite the roads being lined with people at least five deep, the silence was complete and you could hear a pin drop.
Joanne and their daughter, So Yi also took part in the Run, but because they were in the Pink Wave they could cheer Gerry on before it was their turn.
After considerable effort and a lot of sweat, Gerry was delighted to learn that he had achieved his first aim and went over the finishing line at 00:58:34!
If you would like to help him achieve his second aim, you can support him by donating on his Virgin Money Giving Page
http://uk.virginmoneygiving.com/KuiManGerryYeung
Thank you
29th May 2017
The Saga of the High Sheriff's Sword!!!!
On Bank Holiday Monday, Gerry and Joanne travelled to London by train in preparation for an engagement on the following day and the Royal Garden Party on 1st June.
Included in their luggage was Gerry's uniform and his ceremonial sword in its special bag. Their daughter, So Yi, who lives in London , was on the train too travelling home after taking part with them in the Great Manchester Run.
As you can imagine, they were all rather tired after the previous day's exertions……well that's their story and they are sticking to it!
Late in the evening, they arrived in Euston, gathered their luggage together, left the train and headed off to So Yi's apartment. But………. Just before midnight, Margaret, the High Sheriff's PA , who is the contact for the High Sheriff's Office received a call, which she answered very sleepily! It was a wonderful Police Constable from the British Transport Police at London Euston!
The High Sheriff's sword had been found on the train. So, they hadn't gathered all their luggage together after all!!
Luckily, the sword is engraved with Gerry's name and the clever PC (who it turns out was a local lad and born in Preston) looked him up on the High Sheriff's website and called the High Sheriff's Office. He commented that he has seen many unusual pieces of lost property, but this was the first time that he had ever taken custody of a ceremonial sword! Whereupon the High Sheriff explained that it was in fact an 1897 pattern British infantry officer's sword!!
Gerry and his sword were reunited, he thanked the PC profusely and there was a very happy ending.
Our emergency services are incredible!
30th May 2017
The Inauguration of the 23rd Committee of the Confederation of Chinese Associations
The Confederation of Chinese Associations UK was formed in 1968. Its aim is to integrate the Chinese community in UK into mainstream society but also to ensure that they do not forget their roots. They also promote Chinese culture to the younger generation. The Confederation acts as a bridge between Chinese and UK bilateral trades and encourages friendship between the two countries.
It is an umbrella organisation, whose members are made up of 42 other Chinese associations from all over UK.
Gerry and Joanne were invited to the Inauguration, which was held at the Golden Dragon Restaurant on Gerrard Street by the President Mr Kevin Kaman Tsang who met them on arrival.
It was attended by many people from the various associations, many from afar, and by many dignitaries including Mr John Smith DL (representing the Lord Lieutenant of East Sussex), Councillor Par Hearn, the Mayor of Eastbourne, the Chinese Embassy representative, Counsellor and Consul General, Mr Fei Ming Xing and Ms Priscilla To, the Director General of the Hong Kong Economic & Trade Office in London.
Gerry was also very grateful to the High Sheriff of Greater London, Mr James Furber, who graciously gave his permission for Gerry to enter the bailiwick of Greater London in his official role and wearing his High Sheriff's regalia.
The inauguration ceremony took place and speeches were given.
Gerry congratulated the new committee members and the Confederation on the tremendous contributions that it has made to the wellbeing and welfare of the Chinese communities across the country over the years.
He commented on the rise of economic activities in UK, the engaging of the Chinese communities in a wide range of professional careers outside the traditional businesses of restaurants and takeaways and the new Mandarin speaking entrepreneurs who have ventured into import and export, logistics, property and travel. He also touched upon huge state owned enterprises such as Huawei and Beijing Construction.
However, he also encouraged the guests, many of whom were leaders of Chinese communites, to be proactive in engaging, connecting and partaking in mainstream community affairs, civic events. He said that there were two major things to achieve: to be an integral part of the British society and to bring benefits to local Chinese communities by doing that.
The formal proceedings were followed by a delicious lunch and a karaoke session, both were enjoyed immensely by the guests!
---
April 2017
13th April 2017
The Installation of the High Sheriff took place at the Whitworth Hall, University of Manchester.
The High Sheriff and his wife, Joanne, were privileged and delighted to share such a special day with officials, honoured guests, friends and family (some from as far away as Sweden) and even the High Sheriff's school friends who had travelled from Hong Kong for the occasion.
Gerry, describing himself as a Chinese Mancunian, told his guests how humbled he was to be made the custodian of one of the most ancient offices in the land. He illustrated his love for this country and sincerely thanked the Under Sheriff for expertly guiding them through the ceremony, as well as the Pro-Chancellor of University of Manchester and her team for their superb hospitality.
Gerry also announced his decision to go for 'crowd funding' and that he would take part on the Greater Manchester Run at the end of May to raise funds for some of the community causes in Greater Manchester.
15th April 2017
The High Sheriff and Joanne attended the Easter Camp Visitors' Day of the Greater Manchester Army Cadet Force at the Colonel Mary Creagh County Headquarters and Cadet Training Centre at Hawkshaw, Bury where they were greeted by Colonel Paul A Irvine and had a wonderful afternoon awarding prizes, watching first aid courses, visiting the firing range and getting to know the very fit and dedicated cadets; along with the Lord Lieutenant, the Mayor & Mayoress of Bolton, the forthcoming Mayor of Bury and some former High Sheriffs.
Gerry and Joanne were made very welcome and thoroughly enjoyed their first engagement.
Friday 21st April 2017
The St George's Day Dinner was held by the Royal Society of St George at the historical Gorton Monastery .
In 1997 the Monastery was placed on the World Monuments Fund Watch List of the 100 Most Endangered Sites in the World alongside Pompeii, the Taj Mahal and the Valley of the Kings. Since then the church and associated friary buildings have undergone a £6 million restoration programme supported by funds from the Heritage Lottery Fund, English Heritage and European Regional Development Fund. A beautiful new Welcome Wing was also added in 2014 thanks to Sir Norman Stoller and the Heritage Lottery Fund.
An inspirational venue for a patriotic and uplifting evening which was attended by the great and the good of Greater Manchester.
Gerry was very honoured to be seated next to the President of the RSSG, Mr William Firth, Bill described his role as 'to promote all things English within the framework of tolerance and open-mindedness and to explore common humanity'.
Gerry and Joanne had lots of fun, with speeches, good company, good food and good wine!
Amongst the rousing hymns – I Vow to the My Country, Jerusalem and more, everyone sang a very heartfelt Happy Birthday to Her Majesty the Queen. The patriotic music played ably by the Cadishead Public Band and the enthusiastic singing raised the historical rafters of Gorton Monastery and gave the evening a real celebratory and 'Last Night of the Proms' atmosphere as everyone waved the flag of St George in time to the music.
A great evening!
Sunday 23rd April 2017
Having had a very jolly evening on Friday, Sunday began on an altogether more sombre note, as Gerry and Joanne were honoured to be invited by the Northenden Branch of the Royal British Legion to attend the ANZAC Remembrance Service at Southern Cemetery.
It was the 102nd anniversary of the landings on the Gallipoli Peninsula on 25th April 1915, when Australian and New Zealand Forces fought for the first time under united command as the ANZACs. In both countries ANZAC Day, 25th April, commemorates not only those first landings but all the Australians and New Zealanders who have given their lives in the service of their countries since.
Gerry and Joanne were greeted by Mr Graham McIsaac, the Branch President and also by their good friends, and fellow DL, Kath Robinson and her husband, Stuart.
Having told Kath that he had researched the history of ANZAC Day and the Gallipoli Landings, Kath explained to Gerry that there are war graves at Southern Cemetery for soldiers from both WWI and WWII . He also learned that a number of injured soldiers from the ANZACs were brought to Wythenshawe Hospital and the ones that did not recover from their injuries are amongst the war graves.
The service was very moving and Gerry and Joanne were especially touched by some of the words read out from the inscription on the memorial at ANZAC Cove in the Dardanelles, ending with…
'You, the mothers, who sent your sons from faraway countries , wipe away your tears; your sons are now lying in our bosom and are in peace, after having lost their lives on this land they have become our sons as well.'
The service was attended by Lieutenant Commander Rob Thompson, Royal Australian Navy and Flight Lieutenant Sam Bradley, New Zealand Defence Forces.
Lieutenant Commander Rob Thompson is on an exchange programme from Australia with the British Navy, is based in Bristol and had travelled to Manchester specially for the day with his wife and beautiful children. He laid a wreath in memory of the fallen Australian soldiers.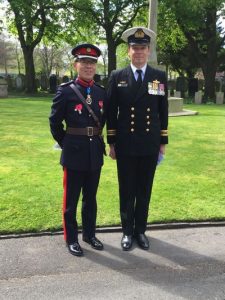 Flight Lieutenant Sam Bradley had also travelled from the south of England accompanied by his fiancée. He is currently studying for a Masters Degree in Engineering in UK. He laid a wreath in memory of the fallen soldiers from New Zealand.
Gerry was also delighted to meet the Standard Bearer, Mr Stephen Duncan from Hulme and his son, Kaine.
During his engagements, Gerry is learning more and more about the city and the people of Manchester.
Sunday afternoon brought another auspicious occasion when Gerry and Joanne attended the opening of the most impressive Stoller Hall.
They entered through Chetham's School across a specially constructed bridge which enters the new building at balcony level. There they joined the Civic Line Up with the Lord Mayor of Manchester, Councillor Carl Austin- Behan and his Consort , Mr Simon Austin-Behan as they awaited the presence of HRH The Earl of Wessex, the Patron of Chetham's School of Music.
The construction of the building was gifted by the Oglesby Family Trust and it has previously been used by Chetham's School to house practice rooms. The school then had a vision to create a space to match the unique talents of Chetham's young players and to enhance Manchester's reputation as a destination for every type of music. In 2014, the Stoller Charitable Trust offered to turn that dream into a reality and expertise in architectural and acoustic design was brought together to create an incredible performance space. The final fit out taking place in Autumn 2016.
It was a wonderful experience to raise a glass to such a unique venue.
The guests were seated, HRH the Earl of Wessex arrived, was sincerely welcomed and was accompanied onto the stage where, with charm and wit he formally opened Stoller Hall. To everyone's amusement he commented that this was the second time that he had visited the building, so he must had done a decent job the first time because he had been invited back!
The opening Celebration Concert was attended by the benefactor, Sir Norman Stoller. Conductor Sir Mark Elder and Director of Music at Chetham's, Stephen Threlfall directed a host of superb musicians in a specially formed orchestra of alumni, family and friends in a performance beginning with Walton's Henry V, Brahms Alto Rhapsody led by mezzo soprano Kitty Whately, and Ginastera's Variaciones Concertantes.
Gerry's personal highlight was the relaxed, effortless and enchanting performance of alumnus and internationally renowned pianist, Paul Lewis, who completed the line up playing Beethoven's Piano Concerto No.2.
When the concert was over, the Civic Line Up reassembled and a comment was made by one of the Security Officers that the Royal Schedule was a little delayed. Gerry responded that it was only because the music had been so good and the performances so outstanding that encores had been demanded by the delighted audience. The laughing Security Officer said that was an excellent excuse and if any comments were made he would definitely blame the audience!
Sir Norman and Lady Sheila Stoller joined the Civic Line Up to say goodbye to HRH the Earl of Wessex, who was most charming. His presence was hugely appreciated by all
Gerry also learned on the day that the next project at Chetham's School of Music is to extend the library building – so watch this space!
26th April 2017
At 7pm Gerry arrived at BBC Quay House to meet with Juanita Yau to record an interview for the radio programme, Eastern Horizon (95.1). Eastern Horizon was first broadcast on 15th December 1983 as a recorded 30 minute programme once a month. It now broadcasts live on BBC Radio Manchester (as well as on the internet) every Saturday between midnight and 1am.
It is a community access programme produced by and for the Chinese Community in Greater Manchester and the North West and was founded, and is still run by, a group of Chinese volunteers and described as 'a communication channel between the Chinese community and the host community'.
Juanita has been a researcher, producer, editor, interviewer and presenter since 1990. She spends one day a week at Media City and gives her extensive skills entirely voluntarily. She is also chairs the Wai Yin Society – one of the largest BME community centres in UK, which has developed a range of employment, education and community services for Chinese men and women, as well as other ethnic minority groups; as well as aiming to challenge all forms of discrimination and social exclusion.
She is a very public spirited and a very busy lady!
This was the first time that Gerry had been interviewed in BBC Quay House, a modern open plan building in Media City, which has a huge atrium in the centre and also some rather cool looking circular pods in which people can meet!
He explained to Juanita how honoured and privileged he felt to be chosen by the Queen to be the High Sheriff of Greater Manchester and to be the custodian of such an ancient office and that being 'part of history' is very exciting. If that wasn't enough, he is also the first ethnic Chinese High Sheriff, which creates an extra duty and pressure. He can't let the side down!
He described the duties of being High Sheriff and told her about some of the engagements that he and Joanne had enjoyed so far. Every day he is learning more and more about Greater Manchester and its different institutions and organisations.
She also asked about Gerry's family crest and how it was designed. He and Joanne went to London to visit Timothy Duke, the Norroy and Ulster King of Arms, to plan it in detail.
It is made up of a goat, symbolising Guangzhou (the 'City of the Goats') where Gerry was born; bauhinia flowers , the symbols of Hong Kong where Joanne was born and to where Gerry's family moved when he was a young child; four bees (bees being symbols of Manchester and four to represent Gerry, Joanne and their two children) and camellia flowers, because Gerry and Joanne's family home is called Camellia House. It also contains dragon fire and includes the colours of the Ching Army Military Flag for the Han People to which the Yeung family historically belongs.
In the past mottos on family crests have traditionally been in English or Latin. Gerry believes that his could be the first ever motto in Chinese. It translates as: Positive and diligent in all endeavours. Accepting and magnanimous of heart'
She then asked him whether he had any other maxims by which he lives.
As a migrant to UK Gerry has always lived by his goal 'to learn, to understand, to participate in and to enjoy British life'. However, at the Installation of a previous High Sheriff he learned the motto; ' Integrity, humility & generosity' and adopted it as an aspiration that he always tries to live up to.
Juanita was intrigued to find out how Gerry manages to juggle the duties of the High Sheriff with running a busy restaurant! He said that he was lucky to have a good team behind him!
When asked whether there was anything he would like to add, Gerry commented that Eastern Horizon is a programme aimed at second generation British born Chinese and that he would like to encourage them to get involved in their communities, which would not only help to enrich their communities but also enrich their own lives in return.
More essential team work!
29th April 2017
As the High Sheriff and Joanne arrived at Sedgley Park Training Centre for the Greater Manchester Police Cadets Annual Competition 2017, they were honoured to be met by the Chief Constable, Mr Ian Hopkins.
Gerry was in full uniform and asked whether his sword was required for the day. The Chief Constable commented that he believed that the High Sheriff was in a very safe place already, so Gerry left it in the car!
Before the parade, Gerry and Joanne were talking with a number of guests and learned that we have 800 Special Constables in GMP. They are all volunteers and provide a minimum of four hours service per week. They are yet another fine example of community spirit in action in the area. Apparently, many Police Forces in the country come to Greater Manchester to learn more about the success of our Special Constables.
Teams of Cadets from many areas of Greater Manchester, including Oldham, Irlam, Hyde, Trafford, Bolton, Ashton & Blackley, were tested in many different policing skills and prizes were awarded for each category. Prizes were presented by, amongst others, The Chief Constable, The Police Commissioner, Tony Lloyd and the Lord Mayor of Manchester, Councillor Carl Austin-Behan. Gerry was delighted to award the prize for Drill skills.
He congratulated the winning team from Trafford and told everyone that, at the risk of sounding cheesy, they were all winners. Politely, nobody groaned! The winning team received a huge trophy and all the team members were given gold medals. Having presented all the medals to the winners and the runners up, Gerry finally realised that all the bowing from the Cadets wasn't because he was High Sheriff, but because they were all taller than him and it was the only way that he could get the medals over their heads!
After the presentations, Gerry sought out his own Cadets, Shannon Donnelly and Natasha Watkins, who were competing in the team from Oldham, to pass on his personal congratulations.